Having trouble viewing this email? Read it online.
(You will also find links to great websites for families there.)
Music & Movement (Ages birth-3 years) Monday, October 05, 2015 9:45 AM - 10:15 AM Music & Movement (Ages birth-3 years) Monday, October 05, 2015 10:30 AM - 11:00 AM. Registration is required. Clap your hands, stomp your feet, and feel the beat of a fun, lively music class! Led by Beth Stone of Kids' MusicRound.

Tail Waggin' Tutors: Children Reading to Dogs (Ages 4+) Tuesday, October 06, 2015 4:00 PM - 5:00 PM Registration required. Registration in-person or by phone only. Did you know that dogs like listening to stories as much as kids do? Come to the Bridgewater Library for Tail Waggin' Tutors, where children will have the opportunity to practice their reading skills by reading a story to Xena the Therapy Dog, a friendly, eight-year-old chocolate labradoodle. Each child will have 10 minutes to read a favorite story to his or her new, canine friend.

Storytimes (Tues. 10 & 1:30), Toddler Times (Wed. & Fri. 10), and Baby Times (Thur. 9:30) continue through Oct. 16th. No registration required.
Click HERE to register for October Programs.
Around the Community:
An Imagination Celebration! REALLY ROSIE
Book and Lyrics by Maurice Sendak
Music by Carole King
October 2 – 18, 2015
Fridays at 7:30PM
Saturdays and Sundays at 4:00PM
Rosie, the sassiest kid on her block of Brooklyn's Avenue P, entertains herself and her friends by acting out show biz fantasies, notably directing and starring in an Oscar winning movie. Written by the author and illustrator of Where the Wild Things Are and other popular children's books, Really Rosie is a jewel for children and adults. Author, Maurice Sendak, is a winner of a Caldecott Medal, National Book Award, and a National Medal of the Arts. Composer, Carole King, is a winner of a National Academy of Songwriters Lifetime Achievement Award, a Grammy Trustees Award, the Songwriters Hall of Fame, and the Library of Congress's Gershwin Award for Popular Song. Age Recommendation: Pre-K through Adult PURCHASE TICKETS
---

Did you know the State Theatre offers students special discounts on tickets to select upcoming performances?!

Click here to take advantage of some of the best deals in town >
Get discounts on tickets to shows like Munich Symphony Orchestra, Hal Holbrook in "Mark Twain Tonight!," Compañia Flamenca Jose Porcel, Cirque de la Symphonie with the NJSO, Peking Dreams, and more! For a complete list visit: StateTheatreNJ.org/students

* Astronomy Day - October 17
* Skies over Hogwarts - October 30
* 3M Observatory
* The Sky Above - a program for those with autism or other developmental disabilities.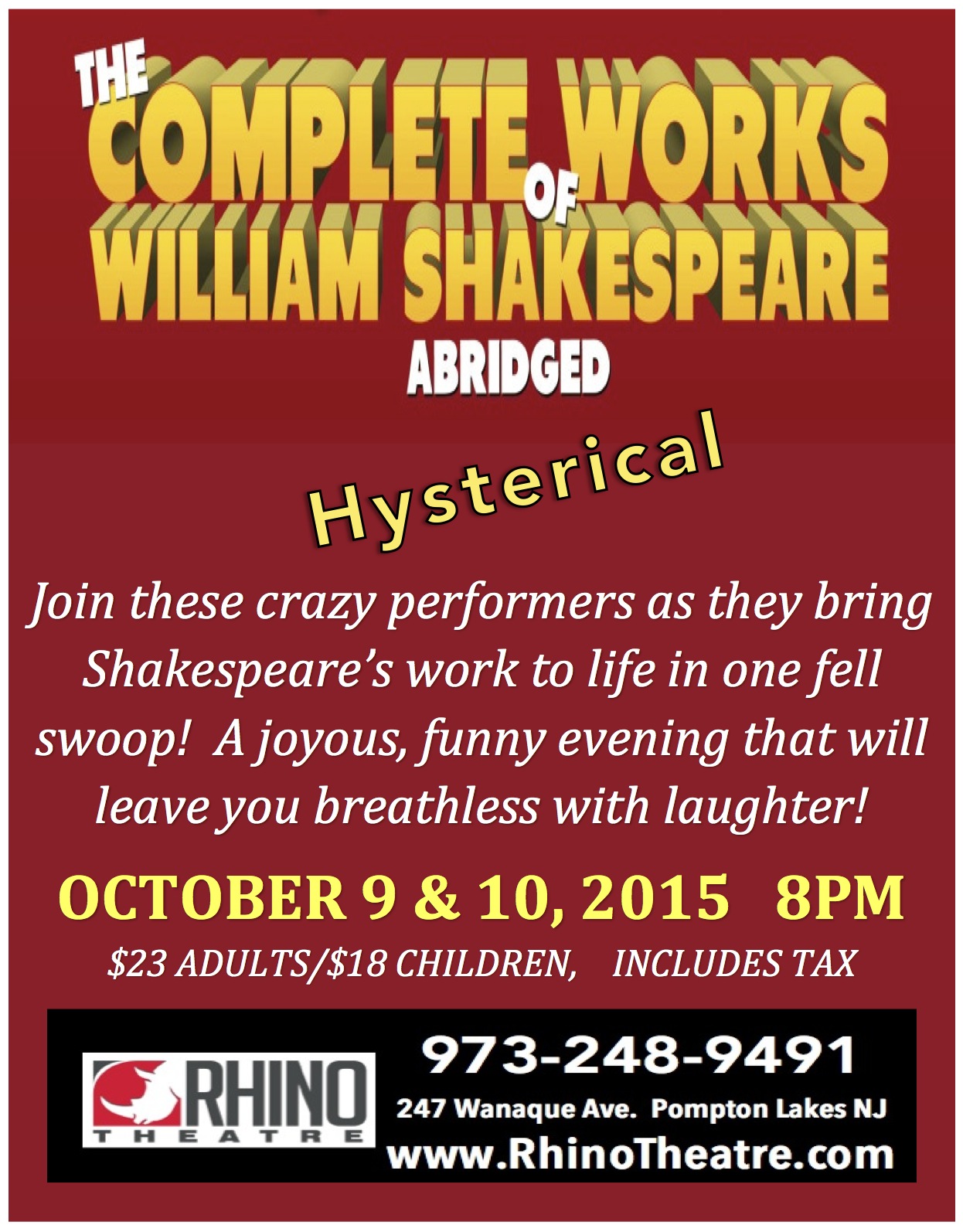 CLICK HERE FOR INFORMATION ON COURSE OFFERINGS
Postcard design: Brian B. Crowe Artwork: Scott McKowen
Flashdance - The Musical
WHEN: Saturday, Oct. 10 at 8PM
WHERE: RVCC Theater, 118 Lamington Rd., Branchburg
Columbia Artists Theatricals
Flashdance - The Musical features a score that includes the biggest hit songs from the movie, including "Flashdance - What a Feeling," "Maniac," "Gloria," "Manhunt," and "I Love Rock & Roll."
Here's your chance to find the value of that antique weird item from great aunt Edna! or find great Halloween Costume items…
Visiting Nurse Association (VNA) of Somerset Hills Rummage Sale
Antiques Roadshow appraiser, Nick Dawes, will be making a return appearance at our Rummage Sale on Friday, October 2 from 10:00 a.m. to 2:00 p.m. This is a great opportunity to bring one or two of your special treasures or family heirlooms from home for appraisal! The $10 per item fee will be generously donated to the VNA by Dawes.
FALL SALE DATES: October 2, 3 & 4, 2015 TIME: Friday & Saturday: 9:30 a.m. – 3:30 p.m., Sunday: 12:30 p.m. – 3:30 p.m. LOCATION: Far Hills Fairgrounds, Intersection of U.S. 202 & Peapack Road (CR 512) Far Hills, NJ
Thanks to Ruth Ross at http://www.njartsmaven.com/ for some of these listings.
Let Your Fingers do More Walking:
For children with allergies, an idea that's NUTS.
Joining the push to expose more kids to peanuts to prevent allergies
Jonel Aleccia, The Seattle Times on Sep 10, 2015 Published in Health & Fitness
Allergists report a "revolutionary change" after a landmark study suggests peanut allergies may be prevented by exposing children to the food in infancy.
SEATTLE -- It may look like just another lunch, but when 11-month-old Reese Couty bites into a peanut-butter sandwich at her Renton home, it's nothing less than revolutionary.
The wispy-haired toddler is at high risk for food allergies, after having severe eczema as a newborn and a scary reaction the first time her mom fed her scrambled eggs.
"She was puffed up like a big old balloon fish, hives everywhere, on her face," recalled Meghan Couty, 29. "We had paramedics, the whole 9 yards."
With that kind of history, parents of babies like Reese were told for years to avoid feeding their kids peanuts until age 3, for fear of inducing the potentially deadly allergy and a lifetime of worry.
But a landmark study published this year turned that conventional notion on its head, suggesting that many peanut allergies may be prevented by exposing children to the food in infancy.
…This is a revolutionary change," said Dr. Kevin Dooms, an allergist with Allergy & Asthma Associates in Bellevue, Wash., and with Swedish Medical Center in Seattle. "This would have been heretical a year or two ago."
The change comes amid an alarming rise in peanut allergies, particularly among children in the U.S., where the condition has quadrupled in the past 13 years.
The LEAP trial was led by Dr. Gideon Lack, a professor of pediatric allergy at King's College, London. He had begun questioning avoidance of peanuts early in life after finding that the rate of peanut allergy in Israeli children was about one-tenth the rate among kids in Britain. The difference, he concluded in a 2008 study, was likely because Israeli babies ate high amounts of peanut protein in the first year of life, while British parents avoided giving such foods. ...continued

The Bedtime Pass Helps Parents And Kids Skip The Sleep Struggles
Children often don't want to go to sleep, and parents don't like to put them to bed. A simple card makes it much less of a struggle, researchers say, giving everyone in the family some control.
Don't Toss That Sour Milk! And Other Tips To Cut Kitchen Food Waste
The typical American family tosses out some $1,500 of food yearly. From smarter fridge packing to sauteing soggy lettuce, a new book is full of tips to rescue edibles from landing in the trash.
Do you know how to ride a bike? It looks hard if you've never done it: how do people keep from tipping over? But once you learn you never forget how to ride one. Somehow we do keep ourselves from tipping over -- and now there's a robot who can do the same trick. As we see in this video, the remote-controlled robot Primer V2 pushes the pedals just like people do to turn them, and steers the handlebars to keep from falling to either side. It even drags his toe to stop. The "roboticist" who built it, Masahiko Yamaguchi, says it's the first robot that rides just like a human. Primer can ride at up to 6 miles an hour...let's see if you can keep up with it!
Wee ones: If you ride 8 feet on your bike and Primer rides 5 feet, who rode further?
Little kids: If Primer tips to the right, then to the right again, then to the left, then starts the pattern again tipping to the right...which way does the robot tip on the 10th tip? Bonus: If Primer can ride at 6 miles per hour and you can ride twice as fast, how fast are you?
Big kids: If Primer was able to ride 4 feet without falling over on his first try, then doubled his distance with each new try, how far did he ride in total by the end of the 3rd try? Bonus: Primer moves his legs pretty fast to pedal. If he pedals all the way around twice every second, how many times does he pedal in a minute? (Reminder: a minute has 60 seconds.)
The sky's the limit: If Primer rides in a circle at 6 miles an hour and you ride at 10 miles an hour, and you both start at the same point, after how many times around will you pass Primer at the starting point again?
Answers (and information about how you can get a Bedtime Math problem every day) Click here
Looking for inspiring reads? Check out these suggestions:

"Top 150 Read Aloud Books Starring Mighty Girls
"Top 100 Mighty Girl Picture Books"
Tips for parents on reading aloud: "Reading Aloud Handbook"
Plus their "Literacy / Book Club" parenting section.