Holiday Hours: The Bridgewater Library will be CLOSED Christmas and New Year's Day. We will be OPEN New Year's Eve 9-5.
Garden State Glow
BY ANNA SANDLER
The lights shine bright…deep in the heart of Jersey!
Taking an annual holiday drive around the neighborhood to see the splendor of lights is a tradition for many of us. For some families, nothing beats piling in the car and bundling under flannel blankets while enjoying an off-tune sing-along. (Holiday CDs work just as well for the less theatrical of us.) It's a fantastic way to spend some inexpensive time together and appeals to kids of any age, as well as all the kid-at-heart in all of us. Read MORE about best locations for a drive around this week.
"Cool" Math & Science
Can math be fun and cool? Museum wants to prove it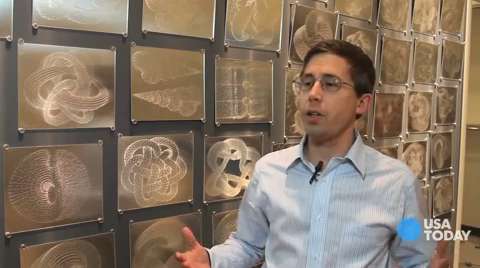 The $15 million collection of interactive exhibits, nicknamed MoMath, is ready to open in Manhattan. (read full article)
Eureka! a U.S. museum devoted to mysteries of math
An "Enigma Cafe" offering "food for the mind, not the body"
NEW YORK — Glen Whitney, its founder and director, knows he's battling "a web of cultural myths that math is boring and was all discovered by dead Greek guys 2,000 years ago."
Whitney, 42, is a former math professor and hedge fund quantitative analyst who believes that not only can math "be cool and beautiful and fun," but it also lends itself to a "full-body experience."
MoMath will not be filled with dusty artifacts — no scratchings from Euclid or ancient adding machines. Instead, it's intended to as "a kind of playground" and a "work of theater" that plays with geometry, art and algorithms, says Tim Nissen, its designer and architect.
The 10,000- square- foot museum, on the bottom two floors of a former furnishings showroom, is designed primarily for students in fourth through eighth grades, or ages 8 to 13.
The museum has more than 30 interactive exhibits:
• Square-Wheel Trike lets kids ride a square-wheeled tricycle on a bumpy track and yet still have a smooth ride. It has to do with a track made of catenary curves that keep the wheel axles perfectly level.
• Wall of Fire allows kids and adults to walk through a plane of laser light that illuminates a cross-section of their bodies. Lawrence asks, "Did you know you can slice a cube and get a perfectly shaped six-sided shape known as a hexagon?"
• Enigma Café offers "food for the mind, not the body," Whitney says, at tables filled with new and classic physical puzzles.
The museum's organizers raised $23 million from individuals as well as companies such as Google that have lamented the shortage of workers well-versed in math.
During a preview of the museum, Whitney was asked, "Isn't math hard for most people?"
"Sure it is," he says. "But skiing is hard, too. Yet people wait in lines for hours to do it. We think math can be just as much fun. And the more you do it, especially as a kid, the better you get at it. Just like skiing."
The museum, at 11 E. 26 St. in Manhattan, will be open 10 a.m. to 5 p.m. every day. Starting Dec. 17, admission is $15 for adults, $10 for children and seniors. Tickets opening weekend are $20 and $14. Telephone: 212-542-0566, more details at momath.org.
Suddenly There's A Meadow In The Ocean With 'Flowers' Everywhere by ROBERT KRULWICH
Enlarge image Courtesy of Matthias Wietz
It was three, maybe four o'clock in the morning when he first saw them. Grad student Jeff Bowman was on the deck of a ship; he and a University of Washington biology team were on their way back from the North Pole. It was cold outside, the temperature had just dropped, and as the dawn broke, he could see a few, then more, then even more of these little flowery things, growing on the frozen sea.
"I was absolutely astounded," he says. They were little protrusions of ice, delicate, like snowflakes. They began growing in the dry, cold air "like a meadow spreading off in all directions. Every available surface was covered with them." What are they?
"Frost flowers," he was told. "I'd never heard of them," Jeff says, "but they were everywhere."
They aren't flowers, of course. They are more like ice sculptures that grow on the border between the sea and air. Read more about these amazing natural wonders.

@ the Library: Programs for Children:

Retro Game Night (All Ages) (For all ages—families welcome!) Wednesday, December 26th from 5:00 pm - 8:00 pm No registration required It's a blast from the past! Come to our Retro Game Night and play video games from the past 30 years! We will raffle off gift cards to Game Stop! And yes, there will be snacks!
New Years at Noon (Ages 3+) Friday, December 28th
from 11:15 am - 12:00 pm Registration begins December 14
We're ringing in the new year a few days early! Join us for stories, games, crafts, and our very own countdown to noon, complete with a New Year's ball!
Looking toward January 2013:
Storytimes resume the week of January 7th. Family Storytimes (ages 2-6) Tuesdays at 10 and 1:30, Toddler Times (ages 18-36 months) Wednesdays at 10 & 11 and Thursdays at 10:30 & 11:30, Baby Times (Birth-18 months) Thursdays at 9:30. No registration is required but we ask that you only attend one session each week. Full details are posted our January Calendar or you can call us at 908 526-4016 x126. We also offer a satellite storytime/craft on Wednesday mornings at 10:30 a.m. at the Neshanic Station Library.
Gotta Dance Classes: Angelina Ballerina (Ages 4-5) Monday, January 7 from 3:30 pm - 4:15 pm Registration is required and begins December 26 Story and dance class led by an instructor from the Gotta Dance school.
Gotta Dance Classes: Brontorina (Ages 6-8) Monday, January 7 from 4:30 pm - 5:30 pm Registration is required and begins December 26 Story and dance class led by an instructor from the Gotta Dance school.
Rocket Readers: 'Poppleton in Winter' (Grades 1-2) Wednesday, January 9 from 4:30 pm - 5:30 pm Registration is required and begins December 19 An exciting program for brand new readers! At each program we will discuss a book, play some games or create a story related craft. Students should read the book prior to the program. Copies of the books will be available at the Youth Services Reference Desk. Poppleton In Winter By Cynthia Rylant Join Poppleton the pig in three wintery adventures. Learn how he makes a new friend after an icicle accident, creates a bust of Cherry Sue, and gets a pleasant surprise from his pals.
Tail Waggin' Tutors: Children Reading to Dogs (For Children of All Ages) on Thursday, January 10th. 4-5pm. Telephone or In-
Person Registration Only starting Dec. 27th. Call the library at 908 526-4016 x126 for more information. Did you know that dogs like listening to stories as much as kids do?Come to the Bridgewater Library for Tail Waggin' Tutors, our new program where children will have the opportunity to practice their reading skills by reading a story to Xena the Therapy Dog, a friendly, six-year-old chocolate labradoodle. Each child will have 10 minutes to read a favorite story to his or her new, canine friend. For more information, please visit www.tdi-dog.org.

Lego Club (Grades K-6) Thursday, January 10 4:30 pm - 5:30 pm Registration is required and begins December 27. Hey LEGO fans, here's a club just for you! Get together with other LEGO-maniacs, share
ideas and tips on building, and have a great time! Library LEGOS will be available for building, so you do not need to bring your own.Please Note: Parents are welcome to stay; however, younger siblings cannot be permitted to join this program.
Music with Miss Jamie (Ages 2-5) Saturday, January 12 10:30-11 am, repeats from 11:15-11:45. Registration is required and begins December 28. Join Jamie Fawcett as she helps shake away what's left of the winter blues with some upbeat, fun, and exciting music that'll have you up and dancing around in no time!
Kids' Club (Grades 3-4) Tuesday, January 15 from 4:30 pm - 5:30 pm Registration is required and begins January 2 This month, we will get together for games, including Apples to Apples and Would You Rather.
Local Hero Storytime (All Ages) Saturday, January 19
at 10:30 am Registration is required and begins January 4 Listen to tales of heroism and adventure from our own local heroes — a firefighter, a police officer, a soldier and teacher, and a Seeing Eye trainer and dog!
Let it Snow (Ages 3-8) Wednesday, January 23
from 4:30 pm - 5:15 pm Registration is required and begins January 9 Celebrate winter with songs, stories and a seasonal craft.
Incredible Adventures: 'The Boy Who Harnessed the Wind (Ages 5-12) Saturday, January 26 at 10:30 am Registration is required and begins January 11. Join us as we listen to the story of a 14-year-old boy in an African village who figured out how to build a windmill from items in a local junkyard, then help us make collage art and take apart some broken appliances to reassemble the pieces into other forms.

There are ADDITIONAL PROGRAMS at other system libraries for children & teens…find their online calendars under the "events/programs" tab on our home page. Planning ahead for January? -- Check out our library calendar.
There are ADDITIONAL PROGRAMS at other system libraries for children & teens…find their online calendars under the "events/programs" tab on our home page.

If you register for a program and realize that you won't be able to come, please call (908 526-4016x126) or email us (bwljuv@sclibnj.org) as early as possible so we can make someone on the waitlist very happy. Next time that waitlisted participant might be your child!



@ Bridgewater Library for Teens:
Retro Game Night (All Ages) (For all ages—families welcome!) Wednesday, December 26th from 5:00 pm - 8:00 pm No registration required It's a blast from the past! Come to our Retro Game Night and play video games from the past 30 years! We will raffle off gift cards to Game Stop! And yes, there will be snacks!
5th & 6th Grade Volunteers Monday January 7th from 7-8pm Registration required. ATTENTION STUDENTS IN GRADES 5 AND 6: Here is your chance to make a difference by volunteering at the library! You can help the library with special projects including creating bookmarks for young children, organizing and tidying up the Children's Room, and much more!
Play With Your Food (Grades 6-12) Monday, January 14 6:30 pm - 8:00 pm Registration required and begins December 26 An entire program dedicated to playing with food! We'll be building edible snowmen, making candy necklaces, decorating cookies, and even trying candy sushi. We'll also be building and testing our very own marshmallow launchers!
Open Mic Night presents: A Night for Newtown Thursday January 17, 2013 6:00 PM to 8:00 PMA Concert Benefiting the Families of Newtown, CT more information to follow.
TAB Meeting (Grades 6-8 Tuesday, January 22nd 5:30-6:30pm TAB Meeting (Grades 9-12) Tuesday, January 22nd 6:30 PM to 7:30 PM Registration required
Do you want to make a difference at your library? Do you have suggestions for programs, new books, movies, or video games? Then come to one of our upcoming T.A.B. meetings! Community service hours will be awarded for attendance and snacks will be served!
Want more info about upcoming programs? Check out our January teen calendar here.


Around the Community:
12 Days of Science Liberty Science Center in Jersey City, NJ Get ready for 12 days of science celebration! You'll meet live penguins and an Arctic gray wolf, watch amazing soap bubble manipulations, taste ice cream made with liquid nitrogen, and much more. Different activities every day.
Fun events for families at Liberty Science Center during holiday school vacation By The Jersey Journal

The Jersey Journal Gautam Ganesh, 11, of North Brunswick, measures for the right amount of water to combine with a synthetic polymer to make "Insta-Snow." -- Reena Rose Sibayan/The Jersey Journal12 Days of Science at the Liberty Science Center in Jersey City gallery (9 photos)
Guests won't find any partridges or pear trees, but they can chill with live penguins and make liquid nitrogen ice cream during Liberty Science Center's "Twelve Days of Science!" celebration between Dec. 21 and Jan. 1.
Curious George (Dec. 28-29) and Sid the Science Kid (Dec. 26-27) will make appearances and pose for pictures with guests. One lucky guest who shares their photos on Facebook or Twitter will win free admission to the center for the entire year.
Guests will also be able to meet penguins from Jenkinson's Aquarium (Dec. 27-29) and wolves from the New York's Wolf Conservation Center (Dec. 26 and 30) And Casey Carle, a comic bubble-ologist, returns to LSC with his one-man show "BubbleMania," a blend of comedy, science and music, Dec. 28-29.
Retro Science (daily) will challenge families to work together and use simple machines to complete fun tasks. Young learners will be pleased to find new programs each day just for them: films in the Kids' Cinema, interactive science lessons in We Explore, and LSC's very own high-tech Story Time.
There are also more than 25 interactive stations in the current traveling exhibition, Cartoon Network's "Animation," which ends Jan. 4.
"The Polar Express: An IMAX Experience," pulls into the nation's largest IMAX Dome Theater for a limited engagement just in time for the holidays. Showings will be Dec. 26-30 at 6:15 p.m. $8.50 for children 2- to 12-years-old, and seniors 62 and over. The cost is $11.25 for everyone else. The center is closed Christmas Day.

Morris Museum and Bickford Theatre
6 Normandy Heights Road | Morristown | NJ | 07960
Winter Vacation Week Fun Every Day! December 27 - 29, 2012
Thursday, Dec. 27 | 11 AM - 4 PM Toyland Family Festival featuring Mega Model Trains
A day of indoor fun for the whole family, with toys, crafts and story activities. Come visit the new Mega Model Train display, the Storybook Forest and the Museum Mind Bender puzzle stations. Museum Members: Free
Non-members: $7 Child/$10 Adults. Special combination ticket: for Festival + Journey to Candyland (see info below): Members: $9; Non-members: $15
Thursday, Dec. 27 | 11:00 & 1:30 pm
Journey to Candyland with Goowin's Balloowins
Balloon artist Allyn Gooen fills the stage with extraordinary balloons as he takes the entire audience to Candy Land. Tickets: Members $10 | Non-members $12 Special combination ticket with Toyland Family Festival (see info above): Members: $9 | Non-Members: $15 Box office: 973.971.3706
Winter Vacation Workshops December 28 & 29
School's Out! Enjoy a day at the museum and participate in a range of fun programs.
If you've never been to Grounds for Sculpture, you are in for a treat – over 200 family-friendly sculptures. Check out their new promo video for Winter Wonders! They are open after Christmas on the 26-30. There is also plenty to do indoors and hot cocoa at the cafe. And remember, the Somerset County Libraries circulate free museum passes – you can reserve them here.


ANNUAL TRAIN SHOW PULLS INTO BARRON ARTS CENTER IN WOODBRIDGE THIS HOLIDAY SEASON
22nd Annual Holiday Model Train Exhibit
WHEN: On View Dec. 1-28
Mon – Fri 11 AM-4 PM; Sat & Sun 2-4 PM; CLOSED CHRISTMAS DAY ~ DEC. 25
WHERE: Barron Arts Center, 582 Rahway Avenue, Woodbridge
ADMISSION: free to the public but donations are always greatly appreciated. Exhibit is available to schools & groups. Call 732.634.0413 to make a reservation.
For the 22nd year, the Barron Arts Center presents its Holiday Train Show. This exquisitely detailed model train display is a treat for all ages, and many recognizable landmarks are represented, from Hershey Park to our beloved Jersey Shore. The display of over 300 feet of track will feature a moving operating playground and three towns including Main Street U.S.A., a small town in the snowy mountains, The Boardwalk with a Ferris Wheel and Tilt-A-Whirl surrounded by an operating monorail. Eleven different trains will be used in the display with four trains operating at all times.
In the spirit of giving, The Barron Arts Center will be collecting non-perishable food items for The Mayor's Food Bank & supplies for The Woodbridge Animal Shelter.

Looking for more things to do? -- check out their web calendar.
REVIEW: PAPER MILL PLAYHOUSE'S "THE SOUND OF MUSIC" A DELECTABLE CONFECTION FOR THE HOLIDAY SEASON
The Sound of Music will be performed at the Paper Mill Playhouse in Millburn through December 30. For information and tickets, call 973.376.4343 or visit www.papermill.org.
"The hills are alive with the sound of music." Okay, it's not the Austrian Alps, but more like the Short Hills that "rise" above Millburn where, just in time for the holidays, the Paper Mill Playhouse has mounted an enchanting production of Rodgers and Hammerstein's musical fable about the von Trapp Family Singers, The Sound of Music. With beautiful melodies, sprightly dancing, a suspenseful plot and polished performances, it's the perfect gift for the entire family.
Director James Brennan has assembled a top-notch production team to provide a "canvas" for this enchantment. Read More of this Review.
Trout Fishing in America Ezra Idlet and Keith Grimwood ~ Music for people who take their fun seriously ~
Friday, December 28, 8:00 pm
Morristown Unitarian Fellowship 21 Normandy Heights Road Morristown, NJ Tickets: $17.00 in advance $20.00 at the door (if available)
TFIA makes "Music for People Who Take Their Fun Seriously." The band is Ezra Idlet on guitar teamed with Keith Grimwood on bass. Their music is an infectious mix of folk/pop and family music, tempered by the diverse influences of reggae, Latin, blues, jazz, and classical music. The concert on December 28 will be folk/pop. Children and family groups are welcome. Advanced tickets can be purchased through our web site or using the PayPal button above.. There are no discounted tickets for children. If you have any questions please call 732-841-1348. For more information about TFIA, please visit their web site.

Children's and Adult classes available. Check out their offerings in their brochure. More information about exhibitions and classes also available on their website. http://ccabedminster.org/
The Children's Museum (of Somerset County NJ) The museum is in the cafeteria of the PeopleCare Center, 120 Finderne Avenue, Bridgewater (just south of Rt 28); entrance is in the back of the building. Admission to the program is $3 per child; there is no charge for those in need. For additional information, please call the museum at 908-595-0001.



There are lots more things to do around our community. Look at the "Useful Websites for Families" (on the right side of this blog – click the headline if you are reading this as an email) for many more options!
Let Your Fingers Do More Walking:
Here's an idea for the new year: