Having trouble viewing this email? Read it online.
(You will also find links to great websites for families there.)
Head over to Bound Brook Memorial Library to celebrate:
Star Wars Reads Day Saturday, October 10, 2015 10:00 AM - 4:00 PMAges 4+ Craft activity stations will be set up throughout the day. No registration required.
Star Wars Reads Day Ages 7-12 Saturday, October 10, 2015 1:00 PM - 2:30 PM Registration Required. A special drawing program will be presented by artist Edward Dippolito.
Star Wars Reads Day Grades 6-12 2:30 PM - 3:30 PM. Registration Required. Teens will have the opportunity to make a Star Wars craft with Perler Beads.

From the future to the past… have your children solve "history mysteries" on a historical detective hunt this weekend..
SOMERSET COUNTY'S "WEEKEND JOURNEY THROUGH THE PAST"
30 Mysteries to solve ! -- Test your powers of deduction to solve 30 mysteries. One unique item from the past will be featured, displayed and identified, along with its description, at each of the 30 participating historic sites during this year's event. As a rookie detective enlisted to investigate, you are assigned to reveal the true identity and function of each mystery item.

Make it multi-generational outing for parents and grandparents alike, sharing stories and experiences about "the old days" as you travel from one historic site to the next.
Download an "Official Investigative Task Booklet" here then go to as many participating historic sites as you can on Saturday, Oct. 10 from 10:00A.M.-5:00P.M. and /or Sunday, Oct. 11 from Noon to 4:00P.M. searching the premises to locate the mystery item. More details and a list of participating sites here.
Last week for storytimes in October – they will resume November 3rd. Storytimes (Tues. 10 & 1:30), Toddler Times (Wed. & Fri. 10), and Baby Times (Thur. 9:30) continue through Oct. 16th. No registration required.
Click HERE to register for October Programs.
Around the Community: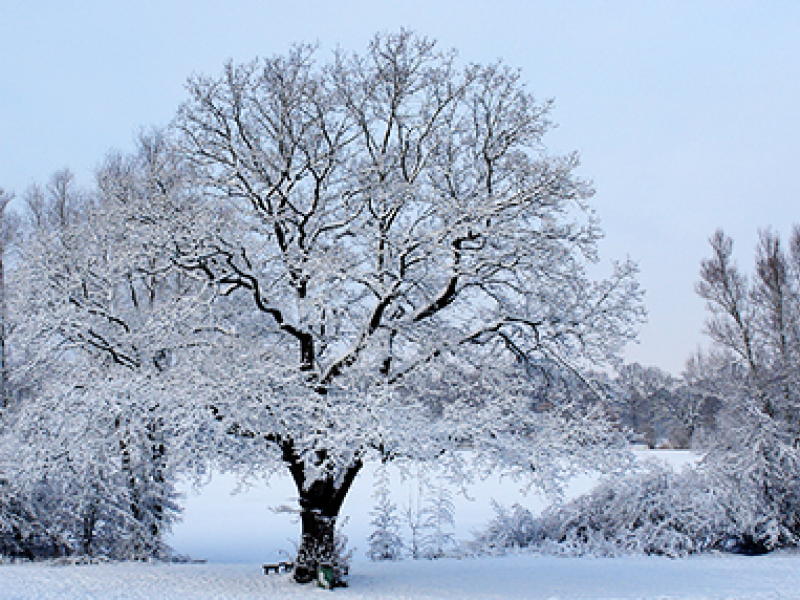 'Project Warm Your Heart' in Somerset County Collects Winter Clothes for Kids
Donations accepted through Oct. 30...
HILARIOUS "TAKE" ON SHAKESPEARE RUNS 2 PERFORMANCES ONLY @ RHINO THEATRE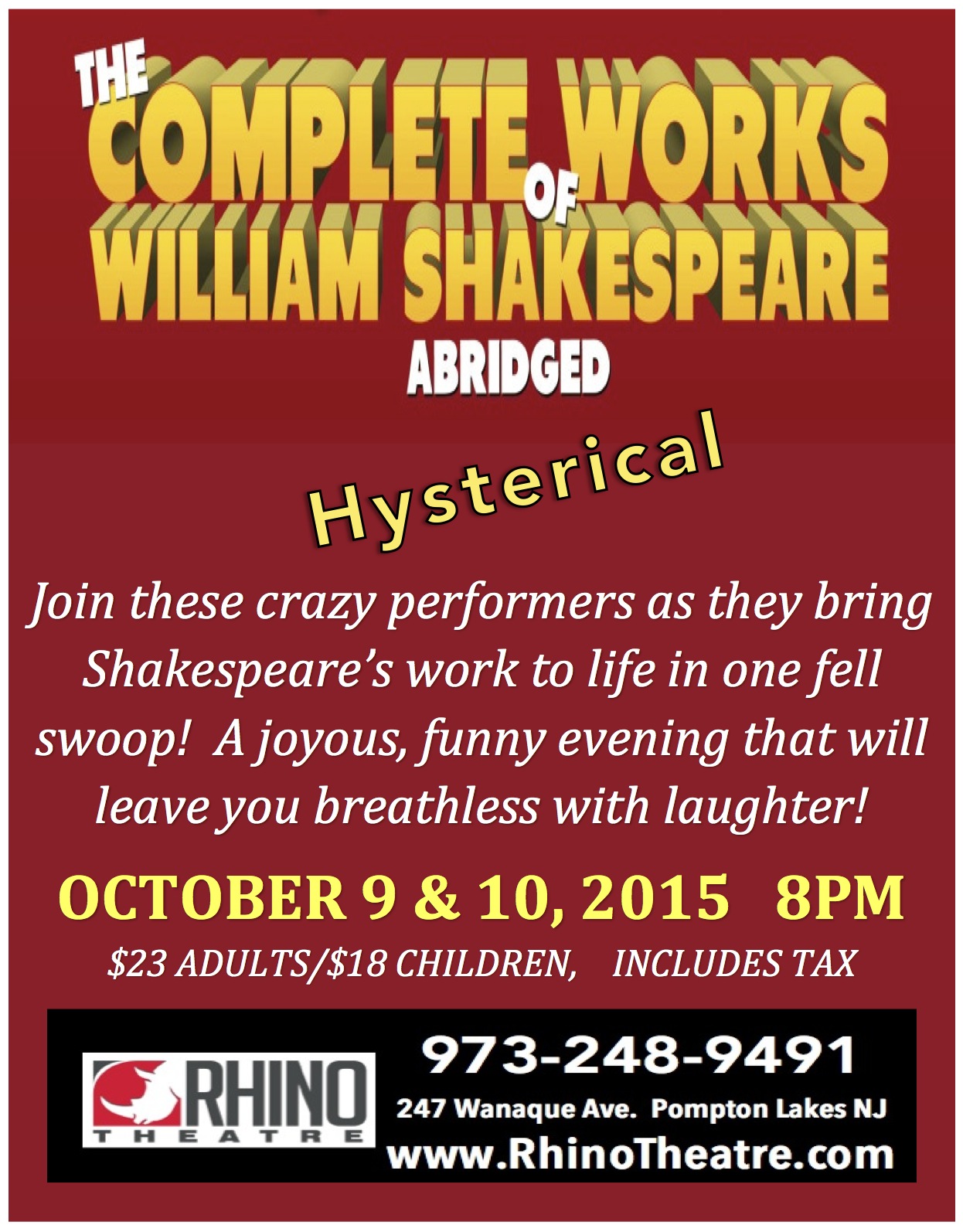 This Fall at PaperMill Playhouse
Click HERE for more information on Paper Mill's performances.
An Imagination Celebration! REALLY ROSIE
Book and Lyrics by Maurice Sendak
Music by Carole King
October 2 – 18, 2015
Fridays at 7:30PM
Saturdays and Sundays at 4:00PM
Rosie, the sassiest kid on her block of Brooklyn's Avenue P, entertains herself and her friends by acting out show biz fantasies, notably directing and starring in an Oscar winning movie. Written by the author and illustrator of Where the Wild Things Are and other popular children's books, Really Rosie is a jewel for children and adults. PURCHASE TICKETS
Flashdance - The Musical
WHEN: Saturday, Oct. 10 at 8PM
WHERE: RVCC Theater, 118 Lamington Rd., Branchburg
Columbia Artists Theatricals
Flashdance - The Musical features a score that includes the biggest hit songs from the movie, including "Flashdance - What a Feeling," "Maniac," "Gloria," "Manhunt," and "I Love Rock & Roll."
---

Did you know the State Theatre offers students special discounts on tickets to select upcoming performances?!

Click here to take advantage of some of the best deals in town >
Get discounts on tickets to shows like Munich Symphony Orchestra, Hal Holbrook in "Mark Twain Tonight!," Compañia Flamenca Jose Porcel, Cirque de la Symphonie with the NJSO, Peking Dreams, and more! For a complete list visit: StateTheatreNJ.org/students

* Astronomy Day - October 17
* Skies over Hogwarts - October 30
* 3M Observatory
* The Sky Above - a program for those with autism or other developmental disabilities.
Planetarium News:
Laser Halloween!
Oct. 17, 18, 24, 25 & 31 1:00 pm
Planetarium, lower level
NJSM is horrified to premiere its new Laser Halloween show!
This terrifyingly fun laser experience will send chills up your spine as you witness prowling vampires and haunting demons. Dazzling lights jump out from the darkness in fun renditions of seasonal music such as Purple People Eater and Monster Mash. Laser Halloween is a ghoulish way to celebrate the Halloween season... if you dare! To print a coupon valid for $1 all public shows and for complete show descriptions, click here.
Special Event: International Archaeology Day
Oct. 17 10:00 am - 4:00 pm
Immerse yourself in New Jersey archaeology! Enjoy a full day featuring activities for all ages. Older children and adults will enjoy a gallery tour in the New Jersey's Original People exhibit, where you'll discover what life was like for prehistoric inhabitants, their tools, and more.
Stop by the A Much Moved People exhibit, where you can watch the film "Raritan Landing, A Road to the Past," the story about the first port in the New Brunswick area and how it was re-discovered through archaeology.
Visit the Imagination Studio where children of all ages can participate in a pottery "reconstruction" activity, a scavenger hunt, and a sandbox archaeology program. And get hands-on while you talk with experts at a prehistoric artifact identification table. For a complete schedule, visit our website.
Storytime: How The Dinosaur Got To The Museum Oct. 17 & 18 2:00 pm
Imagination Studio, lower level
In celebration of Earth Science Week (October 11-17), this fascinating story explains how many people it takes to find, excavate, prepare and mount a dinosaur for exhibition.
Did you know? The first nearly complete dinosaur skeleton was found in Haddonfield NJ! The Hadrosaurus foulkii became the New Jersey State Dinosaur in 1989. Visit the Paleo Lab to see real fossils collected by our working scientists in the field and ask questions. Make a dinosaur craft to take home. Join us on the 3rd weekend of every month for a story and a craft activity. Storytime is designed for families with children ages 4 to 8.
Special Event: NJSM's Halloween Spooktacular!
Oct. 31 10:00 am - 3:00 pm
It's a Creepy Crawly Halloween! Celebrate Halloween with a day of fun activities at the Museum, including a children's costume contest, stage show, and free Planetarium show! For a complete schedule of events click here.
Big Apple Circus Embraces Autism
Sun, November 8, 2015 at 2pm & 5pm
Ladies and gentlemen! Step right up and see the greatest, most amazing show in town! Created by New York's Big Apple Circus especially for audiences on the autism spectrum, this crowd-pleasing performance features world-class artists and acts, with incredible feats of juggling, balancing, plate spinning, and aerials… and—of course—the Ringmaster! More details HERE.
More Autism-Friendly Performances available.
Thanks to Ruth Ross at http://www.njartsmaven.com/ for some of these listings.
Let Your Fingers do More Walking:

PRAIRIE DOG PARTY
These animals munching on carrots look like they'd make cute pets. They're actually prairie dogs, those funny, furry critters that poke up from holes in the…you guessed it, the prairie. They dig "burrows," or tunnels, in the flat, grassy fields where they live. These tunnels keep the prairie dogs cool during the hot summer and comfy through the cold winter. They also help them hide from other animals who might eat them. The tunnels can be more than 30 feet long, and connect to make whole underground "towns." The biggest known town stretched for 25,000 square miles in Texas, and was home to about 400 million prairie dogs — more than the number of people in the whole U.S.! That sounds awfully crowded…no wonder these guys here came out from underground.
Wee ones: How many prairie dogs can you count in the picture?
Little kids: If you're the 12th prairie dog to show up for snacks, how many showed up before you? Bonus: If there are just 20 carrot pieces and each prairie dog gets 1, how many more can get a snack after you?
Big kids: If a prairie dog town has 42 dogs the first day, 53 the next day, and 64 the day after that, what number do you guess comes next? Bonus: How many more prairie dogs were in that 400-million-dog town than the 320 million people in America?
For more wacky math problems, click HERE.