IMPORTANT NOTICE:
WE CANNOT OPEN UNLESS OUR PATRONS CAN ENTER SAFELY.
A combination of lots of snow and staff cuts affecting Bridgewater Township's Maintenance Staff this winter has resulted in the library's parking lots, sidewalks and steps not always being plowed in time for us to open as early as we might like. Accordingly, please call us at 908 526-4016 (or check our website www.somerset.lib.nj.us) before coming to the library if snow or icy rain has fallen to verify our opening times.
AT THE LIBRARY THIS SATURDAY -- A REMINDER: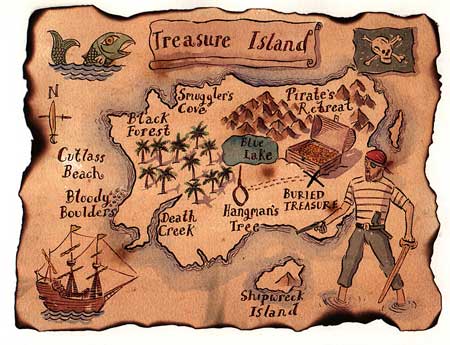 'TREASURE ISLAND' presented by the Trilogy Repertory Company (For ages 4 and up) Saturday Jan. 22, 10:30-11:15 No Registration Required. Join Trilogy Repertory Company as they perform their version of Robert Louis Stevenson's TREASURE ISLAND! An exciting and interactive theater experience for young children!
AROUND THE COMMUNITY - ADDITIONS
(Be sure to check our last entry for lots of other events at the library & around the community this month --
http://bwlibys.blogspot.com/
):
The Children's Museum's second program of the year,
Journey Back in Time: Rocks, Minerals, and Dinosaurs
, is happening this Saturday January 22nd, from 1 to 4PM at The PeopleCare Center in Bridgewater.
The program, for children ages 3 to 9, is designed to introduce children to Dinosaurs and will feature numerous interactive stations including fossil making, wooden dinosaur models, dinosaur buttons, a timeline of the earth's history, a rock and mineral quiz, fossils, and a "dino" ring toss game. A number of the museum's standing exhibits, including Odyssey of the Spheres, Bernoulli blower, and bubble machine, will also be on display. The recommended donation for the program is $3 per child. There is no charge for those in need.
The Children's Museum is a nonprofit corporation. Information on the Children's Museum, including their complete listing of winter and spring 2011 programs, is available at
www.childrensmuseumnj.org
The Frelinghuysen Arboretum
53 E. Hanover Ave.
Morristown, NJ
presents Cabin Fever Movie Series for Children
Sunday, January 23 2 p.m. - 4 p.m. Cost: $5
About this time of year, the four walls start closing in and its "cabin fever" time. If you are looking for a pleasant way to spend a Sunday afternoon, join us for thought- provoking, environmentally-themed movies and some excellent snacks. Perhaps you will be inspired to take a winter walk through the arboretum's grounds before or after the film to shake those couch potato cobwebs away. Movies are shown on the big screen, in the warm and comfortable Haggerty Education Center Auditorium.
Kids get cabin fever too! This trio of shorts is sure to keep the short crowd engaged.
Appropriate for grades K-3.
Ana in the Rainforest Our heroine, young Ana, goes on an imaginary journey to a tropical rainforest to find a cure for her sick iguana.
Journey of the Blob This wordless film illustrates the water cycle and tells an age appropriate cautionary tale about water pollution.
The Sandbox This is urban planning for the sandbox set as two friends create a world in theirs. How did it get so overpopulated and noisy? Making a space for the wild creatures is the lesson here, charmingly taught in simple words and captivating animation.