Programs for Children @ the Library:
Join us for our weekly storytimes. Family Storytimes (ages 2-6) Tuesdays at 10 and 1:30, Toddler Times (ages 18-36 months) Wednesdays at 10 & 11 and Thursdays at 10:30 & 11:30, Baby Times (Birth-18 months) Thursdays at 9:30. No registration is required but we ask that you only attend one session each week. Note: Even though we have four Toddler Times each week, they are quite crowded. If your child is over 3 years old, we ask that they com to the Family Storytime instead. Thanks! Full details are posted our Calendar or you can call us at 908 526-4016 x126. We also offer a satellite storytime/craft on Wednesday mornings at 10:30 a.m. at the Neshanic Station Library.
If you register for a program and realize that you won't be able to come, please call (908 526-4016x126) or email us (bwljuv@sclibnj.org) as early as possible so we can make someone on the waitlist very happy. Next time that waitlisted participant might be your child!
Saturday, February 2nd is National Take Your Child to the Library Day. It is also Groundhog Day! Celebrate both these events by joining us for our
Shadowplay (Ages 2+) program. Saturday, February 2nd at 10:30 am Registration is required. Celebrate Groundhog Day with stories, songs, and crafts. And, as in the movie "Groundhog Day", we hope you make repeat visits to the Bridgewater Library often!
Play Group (For parents or caregivers and children ages birth to 3 years) Registration Required.
Monday, February 4th 10 a.m.: How to Make Your Own Baby Food
Monday, February 11th 10:00am: Best Online Resources for Families Join our new group where you can meet other parents, get ideas, and learn from experts! Each week will have a different theme and discussion led by a speaker. There will be some toys available for the children.
Toddler Dance Party (Ages 2-6) Monday, February 4 from 4:30 pm - 5:00 pm Registration is required. Read, rock, and roll at the library! Toddlers, ages 2-6, and their caregivers are invited to get their groove on at the library. Shimmy and shake to your favorite toddler tunes!
Rocket Readers: 'Abe's Lincoln's Hat' (Grades 1-2) Wednesday, February 6 from 4:30 pm - 5:30 pm. Registration is required.
An exciting program for brand new readers! At each program we will discuss a book, play some games or create a story related craft. Students should read the book prior to the program. Copies of the books will be available at the Youth Services Reference Desk.
Abe's Lincoln's Hat By Martha Brenner. Abraham Lincoln always wore a tall black hat. But do you know what else he did with it? You'd never guess a hat could be so useful – or so important. Read all about our 16th
president in this wonderful true story.
Tail Waggin' Tutors: Children Reading to Dogs (For Children of All Ages) on Thursday, February 7 th. 4-5pm. Telephone or In-
Person Registration Only. Call the library at 908 526-4016 x126 for more information. Did you know that dogs like listening to stories as much as kids do?Come to the Bridgewater Library for Tail Waggin' Tutors, our new program where children will have the opportunity to practice their reading skills by reading a story to Xena the Therapy Dog, a friendly, six-year-old chocolate labradoodle. Each child will have 10 minutes to read a favorite story to his or her new, canine friend. For more information, please visit www.tdi-dog.org.
Tween (Un)Valentine's Day Party (Grades 4-6) Friday, February 8
from 6:00 pm - 8:00 pm. Registration is required. Tweens, grades 4-6, wear black or red and get locked in the library after hours! Whether you LOVE Valentine's Day or HATE it, we'll have activities for EVERYONE to enjoy, including a Valentine's Day candy trivia challenge, a scavenger hunt, a movie, video games, and snacks! Please Note: No admittance after 6:15 pm.
Advance notice required if tween must leave the program early.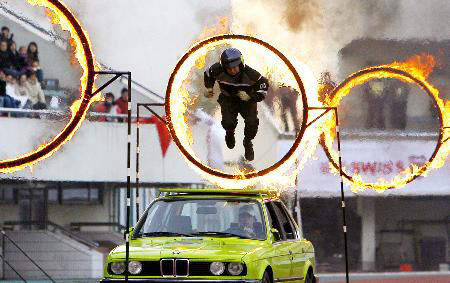 Meet the Stunt Master! (Ages 6-10) Saturday, February 9
at 2:00 pm. Registration is required. Join us for an exciting peek inside the amazing world of stuntmen and stuntwomen! Our special guest, David Surgent of Surgent's Elite Gymnastics in Westfield, has worked as a stuntman and stunt coordinator in films such as Elf, I Am Legend, and When in Rome.
Mardi Gras Fun (Ages 4+) Monday, February 11 from 4:30 pm - 5:30 pm Registration is required and begins January 28. Laisesez Les Bons Temps Rouler! Let the Good Times Roll! Come and celebrate Mardi Gras at the Bridgewater Library! Beads, feathers and fun! Make a Mardi Gras mask and enjoy songs and stories for the holiday! Allons! Let's Go! As Buckwheat Zydeco says, ―Put on Your Dancing Pants!
Kids' Club (Grades 3-4) Tuesday, February 12 from 4:30 pm - 5:30 pm. Registration is required and begins January 29. This month, we will get together for a Valentine's Day fiesta that includes crafts, funny stories and a contest.
Picture This: Animal Valentine's Day Craft (Ages 3-10) Wednesday, February 13 at 4:30 pm. Registration is required and begins January 30 Join us as we read the book My Heart is Like a Zoo, then assemble paper hearts into animal cards for your family and friends.
There are ADDITIONAL PROGRAMS at other system libraries for children & teens…find their online calendars under the "events/programs" tab on our home page. Planning ahead for February? -- Check out our library calendar.


@ Bridgewater Library for Teens:
FREE SAT Strategies Workshop (Grades 9-12) Monday, February 4th 7:00 pm - 8:00 pm Registration is required.
Ed Carroll, who has worked in Research and Development for Princeton Review, is offering a FREE one hour workshop on SAT strategies. Learn tips and tricks that will help you do your very best on test day! During his time at Princeton Review, Ed developed materials (books, practice tests, iPhone apps, test-taking strategies, etc.) and used to take the SAT and ACT several times a year.
5th & 6th Grade Volunteers Tuesday February 5th from 7-8pm Registration required. ATTENTION STUDENTS IN GRADES 5 AND 6: Here is your chance to make a difference by volunteering at the library! You can help the library with special projects including creating bookmarks for young children, organizing and tidying up the Children's Room, and much more!
Open Mic Cafe Night (Ages 13+) Thursday, February 7. From 7-8:30pm. Registration required TO PERFORM.
Think you've got what it takes to get up on stage in front of your peers with nothing but your voice and guitar? Want to share your poetry, comedy, or original music? Not an artist, but would like to witness some of the most inspiring artists Somerset County has to offer? Then join us for this one of a kind experience, and help local musicians and writers have their voices heard. Depending on registration, artists will receive 10-15 minute slots to play music or recite poetry. Sign ups will be on a first-come, first-served basis. **Please help support local artists and musicians – you don't need to be an artist to enjoy our Open Mic Night!**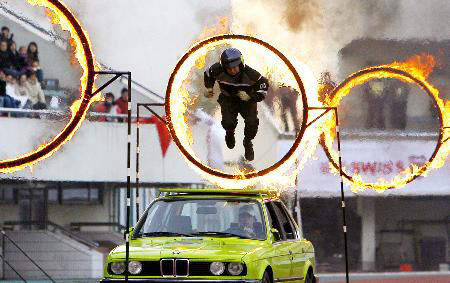 Meet the Stunt Master! (Ages 11+) Saturday, February 9
at 3:30 pm Registration is required. Join us for an exciting peek inside the amazing world of stuntmen and stuntwomen! Our special guest, David Surgent of Surgent's Elite Gymnastics in Westfield, has worked as a stuntman and stunt coordinator in films such as Elf, I Am Legend, and When in Rome.
Cupid is Stupid (Grades 6-12) Wednesday, February 13 7:00 - 8:00 pm. Registration required and begins January 30. Join us for an Anti-Valentine's Day party that will include gorging on sweets and mocking all things associated with the day.
TAB Meeting (Grades 6-8 Tuesday, February 19th 5:30-6:30pm TAB Meeting (Grades 9-12) Tuesday, February 19th 6:30 PM to 7:30 PM Registration required Do you want to make a difference at your library? Do you have suggestions for programs, new books, movies, or video games? Then come to one of our upcoming T.A.B. meetings! Community service hours will be awarded for attendance and snacks will be served!
Practice SAT (Grades 7-12) Saturday, February 23 1:00 pm - 5:00 pm. Registration is required and begins February 1 A FREE practice test is one of the best ways to get ready for the real thing! By taking this practice test, you will learn exactly what to expect on test day and receive a complete individual analysis of your results (which will be mailed to you 7-10 business days following the test).
**Don't forget a #2 pencil and calculator! ** The practice test begins at 1 PM and is 4 hours long. Please come to the library 15 minutes early so we can start the test promptly at 1 PM. The library closes at 5 PM on Saturdays. All participants must have a ride home at 5 PM.
Want more info about upcoming programs? Check out our February teen calendar here.


Around the Community:
IMPROVAPALOOZA
TEENS Saturday, February 2, 10 AM – 12 PM
WHERE: Oakes Center 120 Morris Avenue, Summit Directions (entrance on Russell Place, parking lot on Ashwood Ave.)
TUITION: $30 in advance $35 at the door Register now Note: enrollment is limited and is on a first come, first served basis. Meet the IMPROV MASTER on our Web site
Intro to Improv Comedy for Teens -- Get your comedy groove on while gaining confidence and having FUN!

Do you envy the ease at which some people face a crowd? Are you an actor exploring comedy? If yes, NOW IS YOUR CHANCE... this course is just for you!
GREAT OPPORTUNITY to try improv comedy in this two-hour workshop taught by professional improv master Dave Maulbeck.
The teen class is for grades 7 - 12.
NO EXPERIENCE REQUIRED!
Learn traditional improv games
Develop spontaneity and learn how to shed your inhibitions
For actors who want to try another angle on performing
Not just for actors: for anyone who wants to develop these skills
IMPROVAPALOOZA Info
All shows run approximately 40 minutes.
Admission: $7 for one show, $12 for two shows on the same day
Call 908-231-8805 for reservations.
Night of Lasers Come see one or up to FOUR laser concerts in one marathon event! Friday, February 1
7:00 p.m. Beatles
8:15 p.m. ELO
9:30 p.m. Led Zeppelin
10:30 p.m. Best of Pink Floyd
$7 for one show, $12 for two shows, $16 for three shows, $20 for all four shows in one night.
Special Events
Follow the Drinking Gourd
Sunday, February 10
3:00 p.m.
Go back in time as a slave trying to follow the Big Dipper through a frightful but rewarding voyage out of slavery. Based on Jeanette Winter's book by the same title, this show describes the astronomy behind the slave song "Follow the Drinking Gourd." Recommended for ages 6 and older.
The Sky Above
A planetarium show for families with children on the Autism Spectrum or with other developmental disabilities.
Sunday, February 10, 2013 Sunday, March 17, 2013 4:30 - 5:30 p.m. Ticket Price: $5.00 per person
All ages are welcome to this one-hour sensory-friendly program. The show will provide a comfortable and judgment-free space that is welcoming to all families. The doors will remain open so that children will be able to come and go. Lights will be left dim and audio will be lowered and at a consistent level. The sky show will include: music, videos, planets, the Moon, constellations and laser lights. Please call 908-231-8805 to make a reservation as we are limiting the number of visitors for each show.

Check out their list of classes and programs HERE.
Center for Contemporary Art
Children's and Adult classes available. Check out their offerings in their
brochure.
More information about exhibitions and classes also available on their website.
http://ccabedminster.org/
MUSIC, THEATRE, AND FAMILY FUN IN FEBRUARY AT CENTENARY STAGE
Centenary Stage Company keeps things rolling in February with an entertainment packed schedule. A variety of family shows, two big musical acts, and a professional Equity show about a young Irishman just in time to get ready for St. Patrick's Day.
The Solo Circus
WHEN: Saturday, February 2, at 2 PM
WHERE: Sitnik Theatre in Lackland Center, 715 Grand Ave., Hackettstown
TICKETS: $­­­­­17.50-$20 in advance and $22.50-$25 at the door
To purchase tickets or to find more information on other performances in the 2012-2013 season, visitwww.centenarystageco.org or call 908.979.0900. Patrons are encouraged to check the age recommendations for individual shows.
Michael DuBois' show is a fast-paced, audience interactive variety show featuring an all-original presentation of magic, juggling, mind tricks, with comedic circus and sideshow stunts. "I fell in love with the circus when I was four at Ringling Brothers and Barnum and Bailey," said DuBois. In a career based on thrills, DuBois has had some of his own, including performing twice on Jay Leno's television programs. The show is appropriate for all ages.
LE VENT DU NORD
WHEN: Saturday, February 9th at 8 PM
WHERE: Sitnik Theatre in the David and Carol Lackland Center
TICKETS: $­­­­­17.50-$20 in advance and $22.50-$25 at the door
With its roots in the Celtic tradition,Le Vent du Nord brings their high energy folk music to the Centenary Stage Company. This group composed of singers and multi-instrumentalists play a unique blend of original compositions and traditional Quebecois folk songs with a spirited Celtic flair, also incorporating familiar Cajun melodies and rhythms. The Boston Herald described the band's sound, featuring button accordion, foot percussion, guitar and fiddle, as "defined by the hurdy-gurdy, which adds an earthy, rough-hewn flavor to even the most buoyant dance tunes." Members of Le Vent du Nord include Nicolas Boulerice, Simon Beaudry, Olivier Demers, and Réjean Brunet.
IF YOU GIVE A MOUSE A COOKIE
WHEN: Saturday, February 16, at 11 AM
WHERE: Little Theater on 400 Jefferson Street, Centenary College campus, Hackettstown
TICKETS: $12.50 for adults and $10 for children under 12
Centenary Stage Company's Third Saturday Series for Young Audiences is highlighting If You Give a Mouse a Cookie, based on the popular children's book written by Laura Joffe Numeroff. A young boy is run ragged by an energetic little mouse with cookies and milk on the brains adapted for the stage by Jody Davidson.
The Children's Museum (of Somerset County NJ)
WHERE: in the cafeteria of the PeopleCare Center, 120 Finderne Avenue, Bridgewater (just south of Rt 28); entrance is in the back of the building.
ADMISSION: $3 per child; there is no charge for those in need.
For additional information, please call the museum at 908.595.0001.
PLANNING AHEAD:
Speaking of books – Don't forget to check out the new Continuous Book Sale near the Adult Music collection. The sale is sponsored by the Friends of the Bridgewater Library.
Thanks to Ruth Ross at NJARTSMAVEN.COM for some of these listings.
There are lots more things to do around our community. Look at the "Useful Websites for Families" (on the right side of this blog – click the headline if you are reading this as an email) for many more options!
Let Your Fingers Do More Walking:
Click on the item for more info. Tractor beam , Temperature of the universe , DNA storage , Dung beetles , Proto-bird , Quadruple helix DNA
By Brian At Parenting.Com January 29, 2013
© Veer
An updated schedule of recommended children's vaccinations was published today in the journal Pediatrics, with the aim of simplifying the list of shots that kids need to stay healthy and avoid preventable diseases.
Gone are the old schedules, which covered children from birth through 6 years and then from 7 through 18 years. The new scheme has merged those into a single schedule, covering people ages 0 to 18.
The redesign was made necessary by the increasing complexity of the old schedules and the need for more space in the footnotes to elaborate on certain recommendations, authors from the American Academy of Pediatrics' (AAP) infectious diseases committee wrote in Pediatrics.
The Recommended Childhood and Adolescent Immunization Schedule has been approved by the AAP as well as the Advisory Committee on Immunization Practices of the Centers for Disease Control and Prevention, and the American Academy of Family Physicians.
Plus: 10 Vaccine Myths – Busted
The schedule features several changes from the 2012 edition, including the new recommendation that pregnant women or teens be given the combined tetanus, diphtheria and acellular pertussis (Tdap) vaccination during each pregnancy to protect their infant from pertussis (whooping cough), even if they have previously had a Tdap shot.
"The rationale is that by vaccinating the mother during pregnancy, she'll make antibodies that will cross the placenta and pass to the baby," said H. Cody Meissner, a pediatric infectious-disease specialist at Tufts Medical Center and a contributor to the statement. This will give infants protection "for the first few months of life, when they are too young" to get their own shots, he told USA Today.
In related news, the recommended schedule of vaccines for children was determined to be safe and doing much to dramatically lower the incidence of devastating illnesses, according to a new national scientific study.
"Vaccines are among the most effective and safe public health interventions to prevent serious disease and death. Because of the success of vaccines, most Americans have no firsthand experience with such devastating illnesses as polio or diphtheria," according to the Institute of Medicine's report titled, "The Childhood Immunization Schedule and Safety: Stakeholder Concerns, Scientific Evidence, and Future Studies." The Institute of Medicine is an independent, nonprofit group that is the health arm of the National Academy of Science.
Also from Parenting.com:
From Dr. Seuss classics to newer books like If I Built a Car, here are the Parenting editor picks of the best children's reads
© goodreads.com
Where The Wild Things Are Maurice Sendak "I loved it when I was little -- you get that awesome full circle moment when you read it. Also I love the message that even when you're being very naughty, your parents still love you -- and keep your dinner hot." Sasha Emmons,Senior Editor, Parenting.com See the whole list (though it is annoying because you have to click through) and add your own favorites to the comments!
Going to a baby shower? Take a look at their list:
For a more user-friendly annotated list of great read-alouds for the 3-6 year old set, check out this Father's Recommended Books for Children.
February is Black History Month. Read books featured on the ALA's list of Coretta Scott King Book Award Recipients and connect them with MiM activities. Try 'Before John Was a Jazz Giant' by Carole Boston Weatherford and then play Catch the Beat.

From EepyBird : Time to deal with the prospect of two more solid months of winter. That's 60 days of snow, slush and eyeball-freezing temperatures. Even if we haven't had much snow here, we can dream…take a look at these 12 Face Freezingly Cool Snow Creations
Did you know that George Washington camped out for the winter in Somerset County during the Revolutionary War? This February, visit the places where the most important generals stayed one cold winter.

Towards the end of 1778, George Washington and four of his top generals made various houses in Somerset County their winter encampment, bringing almost 10,000 troops to the area. Today these houses have been preserved and, thanks to the Heritage Trail Association, have been linked together for one history-filled bus tour this February!
These houses have been a part of Somerset County for centuries, so take this unique opportunity to learn about the important role Somerset County played in the Revolutionary War. Tour the Van Horne House, Van Veghten House,Abraham Staats House, Jacobus Vanderveer House, and the Wallace House where Washington himself stayed and learn about the houses and the generals who borrowed them for this important time in history.
This tour comes around just one time a year, so be sure to reserve your spot in one of the five timeslots throughout the day on February 17th. Buses leave at 10 am, 11 am, noon, 1 pm, and 2 pm, and if you register with advanced payment, tickets are just $5.
The library is hosting a stunt man program in February, so to get you in the mood, we are sharing this problem.

As bad as ads on TV can be, it's probably even worse to be an ad for an ad. But here at Bedtime Math we can't help talking about this one commercial. In a recent ad for car maker Kia, basketball star Blake Griffin straps on rollerblades, grabs a rope tied to a car (a Kia, of course), and hangs on for dear life as the Kia drives up the road, dragging him up a giant ramp. As Blake sails off the ramp into the air, a cannon shoots a basketball to him, which he catches in midair and slam-dunks into a basketball hoop. But do the numbers add up? Can this stunt really be done? Watch the video and see what you think – but as always, don't try this at home…
Wee ones (counting on fingers/hands/objects): If the car has 4 wheels and Blake's roller blades each have 4 wheels, how many wheels are rolling in total?
Little kids: If Blake starts rolling up the ramp 8 seconds into the commercial and flies off it at 16 seconds, how many seconds did it take him to get to the top of the ramp? Bonus: If he slam-dunks the ball at 23 seconds, how many seconds did he spend in the air?
Big kids: If the top of the ramp is 15 feet off the ground, and Blake's peak height in the air is 33 feet, how many feet higher than the ramp does he fly? Bonus: If Blake sails through the air from 16 seconds until 23 seconds, and flies 308 feet to reach the hoop, how many feet per second did he travel? Megabonus: How many miles per hour is that? (Remember: there are 60 seconds in a minute, 60 minutes in an hour, and 5,280 feet in a mile… the numbers will work out perfectly.)
Answers:
Wee ones: 12 wheels.
Little kids: 8 seconds. Bonus: 7 seconds.
Big kids: 18 feet. Bonus: 44 feet per second. Megabonus: That's 2,640 feet per minute, exactly half a mile…putting him at a very doable 30 miles per hour.