Programs at the Bridgewater Library and Around the Community for children, teens, and families.
@ Bridgewater Library: Programs
Note: Our Winter/Spring storytime sessions ended April 5th, storytimes resume April 24th.
Friends' Concert: Sharlys Dugan 'Celtic Storytelling, Song, and Dance'
Saturday April 14, 2012 2:00 PM to 3:00 PM
No Registration Required Youth & Adults welcomed.
Join us on April 14th for a very special performance from
Sharlys Dugan
. Her one-woman program will incorporate Celtic storytelling with musical accompaniment, Celtic dance, singing, and more! Sharlys can sing in Scottish and Irish Gaelic, and is an experienced dancer and storyteller - part of the program will involve teaching kids how to learn some of her moves!
This program was made possible by the Friends of the Bridgewater Library.
After-School Special: Titanic (Grades 2-5)
Monday, April 16th
From 4:30-5:30pm Registration begins April 2nd.
We will commemorate the 100th anniversary of the sinking of the Titanic by sharing the story of this ill-fated voyage, exploring myth, truth and trivia, as well as creating our own mini-iceberg!
Sing-A-Long: Happy Earth Day (Children of all ages)
Thursday, April 19th From 10:00am-11:00am Registration begins April 5th.
Celebrate our beautiful planet on Earth Day with some springtime tunes!
Poetry Class for Kidz (Grades 3-5)
Monday, April 23rd From 4:30pm - 5:45pm. Registration begins April 9th.
Flowers are in full bloom, and the warmer weather is finally here to stay. Let's say goodbye to those April showers and celebrate National Poetry Month by learning how to write our very own Haiku poems. Once we're all Haiku experts, we'll create greeting cards to show how excited we are about spring!
Winter's almost through
We'll all be together soon
See you in April!
Rocket Readers: 'Good Night Good Knight' by Shelley Moore Thomas (For grades 1-3) Tuesday, April 24th From 4:30pm – 5:30pm. Registration required.
The Good Knight is on his watch when he hears a sound. Roar! Is it a dragon? A great big dragon? He searches the woods and finds a surprise. Join us for a discussion and a craft.
Lego Club (Grades K-6)
Wednesday, April 25th From 4:30-5:30pm Registration begins April 11th.
Hey LEGO fans, here's a club just for you! Get together with other LEGO-maniacs, share ideas and tips on building, and have a great time! Library LEGOS will be available for building, so you do not need to bring your own.
Talk It Up: 'Dragon's Tooth' by N.D. Wilson (Grades 5-8)
Thursday, April 26th From 7:00pm – 8:00pm
Registration begins April 12th.
For two years, Cyrus and Antigone Smith have run a sagging roadside motel with their older brother where nothing ever seems to happen. But things strike up quickly when a strange old man with bone tattoos arrives, demanding a specific room. Less than 24 hours later, the old man is dead. The motel has burned, and their older brother Daniel is missing. Cyrus and Antigone find themselves kneeling in a crowded hall, swearing an oath to an order of explorers who have long served as caretakers of the world's secrets, keepers of powerful relics from lost civilizations, and jailers to unkillable criminals who have terrorized the world for millennia.
Tween Party: After Hours (Grades 4-6)
Friday, April 27 from 6:00 pm - 8:00 pm.
Registration begins April 13th.
Tweens, grades 4-6, get locked in the library after hours! We'll have a movie, video games, crafts and snacks! No admittance after 6:15 pm. Advance notice required if tween must leave the program early.
Garden Club May Day Baskets
(For ages 3+) Saturday, April 28th From 9:30am – 10:30am
Registration begins April 13th.
Get ready for the merry month of May by joining the Bridgewater Garden Club in the old-fashion tradition of May Day baskets. We'll have all the supplies you'll need to make a lovely little container chock-full of spring!
Jedi Training Camp (Grades K-4)
Monday, April 30
from 4:30 pm - 5:30 pm
Registration begins April 16th.
Attention Star Wars fans: prepare to become one with the Force! Create your own light saber and Jedi tunic, and put your skills to the test with our Jedi games! Dressing up as your favorite character is encouraged. May the Force be with you.
There are also LOTS OF PROGRAMS at other system libraries for children & teens…find their online calendars under the "events/programs" tab on our
home page
.
@ Bridgewater Library for Teens:
Teens who want to volunteer at the library this summer need to get their forms in this month… click HERE to download registration forms.

Forms must be returned to the library in person by April 30th.
There is still time to submit your poetry to our compilation.
Here are the
submission guidelines.
Teen Advisory Board (For Students in Grades 6-8) Tuesday, April 17th 5:30-6:30pm Teen Advisory Board (For Students in Grades 9-12) 6:30-7:30pm Registration required
Do you want to make a difference at your library? Do you have suggestions for programs, new books, movies, or video games? Then come to one of our upcoming T.A.B. meetings!
Community service hours will be awarded
for attendance and snacks will be served!
@ the Library: Displays:
Come see the
finalists for the Children's Choice Book Awards
on display near the reshelving area…then cast your vote in person or at:
http://www.bookweekonline.com/
We also have lots of games, story-starters, and fun ways to celebrate children's books – take a look!
Explorers and Pirates and Shipwrecks Oh My!
Just in time for the 100th Anniversary of the Titanic disaster, we have a display of sea-faring books above the magazine section.
Batter Up!
Lots of books on a favorite spring past-time await eager readers at our display behind the Youth Services Reference Desk.
April is National Poetry Month –
Read some wonderful poems and get tips for writing some of your own at our display in the front lobby.
April is also Autism Awareness Month
-- We have information on this condition which affects so many of our young people in our Parent-Teacher Display Area.
Paper Mill Playhouse is also doing a play for children with Autism & Developmental Disabilities...see below!
Around the Community:
Please note: due to a change in interpretation of library bulletin board display policy, we can no longer post information on events by for-profit entities (e.g. Lowe's, Home Depot, and similar store-based programs) even if those events are free. Macaroni Kid of
Hillsborough
&
Warren
do post these events (as well as Easter Egg Hunts and the like). We will continue to post events done by non-profits like museums and theaters.
Henry & Mudge
TheatreworksUSA (for children ages 5 and up)
WHEN: Sat, April 14
,
10 AM
WHERE:
Paper Mill Playhouse, 22 Brookside Drive, Millburn
TICKETS:
$12, $15, or $20
Click here for tickets.
Sometimes it's tough being a kid, but life is a lot easier — and a lot more fun — when you've got a great big canine buddy to share your adventures!
Red Riding Hood & Other Stories
Pushcart Players
WHEN: On Sat, April 21, 10 AM
WHERE:
Paper Mill Playhouse, 22 Brookside Drive, Millburn
TICKETS:
$12, $15, or $20
Click here for tickets.
A Sensory Friendly Performance planned in cooperation with Autism NJ and the Douglass Developmental Disabilities Center at Rutgers University
This is an enchanting collection of classic tales —
Little Red Riding Hood
,
The Emperor's New Clothes
,
The Princess and the Pea
, and Hans Christian Andersen's
All's Well That Ends Well
.
Paper Mill Playhouse's "Theater for Everyone" is designed in cooperation with AUTISM NEW JERSEY, THE DOUGLASS DEVELOPMENTAL DISABILITIES CENTER AT RUTGERS UNIVERSITY, and PUSHCART PLAYERS. At this special performance, the theater environment will be altered to offer a comfortable, judgment-free space that is welcoming for all families.
Click here to learn more.
on the Princeton Campus presents Princyclopedia 2012 Robin Hood
Here comes
Princyclopedia
, Cotsen's huge, annual event where we bring a book to life through a multitude of hands-on projects, activities, live shows, and demonstrations. This year's book is
Robin Hood
, and we plan to bring the medieval world to life in all its splendor and glory! See period weapons in action, sample mead, storm a castle, test your survival skills in Sherwood Forest, illuminate a manuscript, meet live falcons, discover the science of stained glass, examine a longbow, explore an alchemist's workshop, and rock out to musicians playing hits from merrie olde England!
We are delighted to announce that, in the spirit of Robin Hood, Labyrinth Books will be hosting a food drive table at
Princyclopedia
. We invite you to bring non-perishable food items that will be distributed to the Crisis Ministry of Princeton and Trenton (click
here
for a list of the most-needed items). Labyrinth Books is a year-round collection site for the Crisis Ministry, and we are proud to support their initiative. Thank you for giving.
Saturday, April 14th
10:00am – 3:00pm
No registration required. Open to the public and free of charge.
All ages
Event occurs at Dillon Gym on the Princeton University campus.
Free parking available nearby in Lot # 7 (click here for map).
For driving directions to Princeton, click here.
For information about accessible entrances to venue, please contact Erin Metro Phone: 609-258-5144; E-mail: emetro@princeton.edu
Civil War Era Weekend at the Red Mill Museum Village in Clinton
April 14 - 15, 2012 10:00-4:00
Experience a weekend of living history at the Red Mill Museum Village, featuring Federal and Confederate encampments, drill and weapon demonstrations, displays of Civil War artifacts, interpretative tours, and hands-on demonstrations.
The Red Mill blacksmiths will also be hard at work at the forge during the weekend, while museum interpreters demonstrate candle-making and weaving. Ridley & Anne Enslow will enliven the day's atmosphere by performing music from the Civil War Era.
Admission to Civil War Days will be $9/adults, $7/seniors, active military, and veterans, $5/children (6-12), FREE for Red Mill members and children under 6. For more information about Civil War Days at the Red Mill, please contact
programs@theredmill.org
or call 908-735-4101 x102
GROUNDS FOR SCULPTURE – DAY AT THE FAIR
Day at the Fair Sun., April 15th from 11am – 4pm
Hamilton NJ
Rain or shine! Included with park admission. (Adults $12, Children $8)
Bring the whole family to celebrate our down home roots as the site of the New Jersey State Fairgrounds as they turn the sculpture park into a fun-filled fantasy fair! Tour the park and its historic buildings where activities are sprinkled throughout. Visit the balloon artist, relax to music, take part in nostalgic workshops or a pie-making demo, end enjoy loads of popcorn, cotton candy, hot dogs, and more.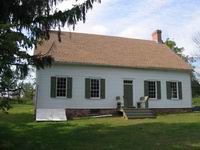 A Touch of Dutch - Grand Opening
Saturday, April 14, 10:00 am - 5:00 pm, and
Sunday, 1:00 pm - 3:00 pm
Wyckoff-Garretson House
215 S. Middlebush Rd., Franklin Township, NJ
Constructed in 1730/1805, the Wyckoff-Garretson House is a rare example of Dutch construction from the earliest period of Dutch American settlement in Somerset County. "The house survives remarkably intact for almost 300 years with a considerable amount of original fabric," "… most remarkable of which is the anchor-bent frame, built in two nearly identical building campaigns almost 100 years apart. The timber frame is a marvel of European-influenced building craft…a major showplace of Dutch American vernacular architecture in NJ."
On April 14 and 15, there will be a grand opening celebration of the building's restoration. There will be house tours, hearthside cooking demonstrations, period music, and re-enactors from Outwater's Militia.
This is a perfect opportunity for a family outing and a unique educational experience for young and old alike. There is no admission charge, but a parking donation will be gratefully accepted.
For more information about the Wyckoff-Garretson House, visit the Meadows Foundation web site:
www.themeadowsfoundation.org
.
The last program at the
Children's Museum
this Spring is Robotics Day Saturday April 21st from 10-2:30. Families can arrive and leave at any time.
Parents and/or caregivers are expected to stay with children during the museum visit. Please use discretion in bringing very young children, as the museum is NOT baby-proof (some craft items are small and could present a choking hazard).
Location: The PeopleCare Center, 120 Finderne Avenue, Bridgewater, NJ 08807 (parking and entrance are in the rear of the building).
Cost: A $3/ per child donation is suggested for those who can afford it. More info: somersetcminfo@gmail.com or call 908-595-0001.
TEENS, they are looking for lots of VOLUNTEERS for this program if you want to help.

C

heck
here
for volunteer opportunities at The
Children's Museum
. More info. contact: Tom Davidson, volunteer coordinator 908-725-4677
tadavidson@gmail.com
RUTGERS DAY
April 28
10:00am - 4:00pm
- The day offers an array of fun and fascinating programs for the entire family including story tellers, animal shows, art projects, a petting zoo, music and dance performance, hands-on activities, and amazing science demonstrations. Admission and parking are free. More information is available at
http://rutgersday.rutgers.edu
Thanks to
njartsmaven.com
and
njfamily.com
for some of these listings. Visit them for many more ideas!
Summer is Coming…Here are some local camp ideas:
SOMERSET COUNTY VO-TECH ANNOUNCES SUMMER PERFORMING ARTS CAMPS
Performing Arts Camp for grades 6th-9th

July 9-20 2-week

9am-3pm $550
Dance Intensive for dancers grades 6th-9th

July 23-27 1-week

9am-3pm $285
TaDa! KIDS for ages 8-12 yrs

July 23-27 1-week

9am-3pm $285
CLICK HERE FOR MORE INFO. OR CALL 908.526.8900 x 7125
Center for Contemporary Art has many Summer Art Programs
The Center for Contemporary Art in Bedminster has announced a variety of summer art classes for children. Click
here
to view their brochure.
For more information about Summer Camps, review the last few issues of this newsletter and check out the "Camps" link in the "useful links for families" section on the right side of this newsletter (If you are receiving this by email, clicking on the headline will open to our bookcase format -- the "useful links" are on the right side of the page.)
As seen in a Harvard Graduate Education
article
…
"In some ways, this headline is almost funny, the idea of a young Einstein, wild hair flying, throwing his mother's quilt over a couple of chairs and crawling underneath.
But to Elizabeth Goodenough, a headline like this is not a joke. We're a busy-by-design society that's become so concerned with turning kids into baby Einsteins that something critical to childhood, something that Goodenough holds sacred, is fast becoming extinct: free play.
This is why Goodenough raised money to start a project called Where Do the Children Play? which includes a PBS documentary that will air in the fall, as well as a companion book and website. In addition, with a coalition of national children's organizations, she hopes to start a national dialogue about the issue. The project, which grew out of her earlier book called Secret
Spaces of Childhood
, is aimed at raising public awareness about the critical importance of play. Beyond the obvious — play helps kids stay in shape — it also promotes creativity and teaches skills such as negotiating and how to be around others.
"Play takes many forms. It may be best defined from within as a spontaneous human expression that relies on imagination and a sense of freedom," Goodenough says. "Players invent alternative contexts for conversation, visualization, movement, and interaction with real objects. They discover release and engagement, stimulation, and peace. Although play can arise anywhere, even in a cement cell, children are naturally beckoned by the living world to enjoy perception and the sensations of being alive." Read the rest of this fascinating article about the importance of play in children's lives:
http://www.gse.harvard.edu/news_events/ed/2007/spring/features/einstein.html
April is Math Appreciation Month!
And
Mixing in Math
has
lots of ideas
to celebrate!!! How about some math with your family?
Family versions of MiM activities:
Wonder of the Day #555: Does Your Food Make the Grade?
Does the food you eat get straight A's? Today's Wonder puts food grading to the test!
Have you ever wondered…
Does your food make the grade?
Do food grades necessarily mean higher quality?
How are different types of foods graded?
Did you know?
Do you help your parents shop for groceries? If you spend much time in a grocery store — or looking at the foods in your refrigerator and freezer — you'll notice that some foods have grades.
For example, you might see Grade "A" eggs in your refrigerator. Did the eggs have to pass a test? Or did the chicken have to take the test? What does the Grade "A" on eggs even mean?
What do these grades and terms mean when it comes to the food you eat? Are some foods better, safer or healthier than others? Find out
HERE
.