Food for Thought: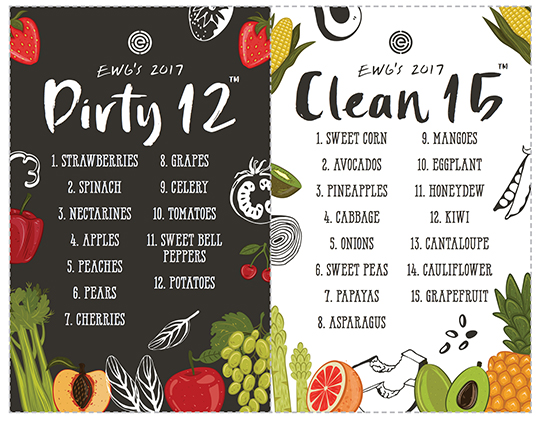 More details in the EWG's Shopper's Guide to Pesticides in Produce.
---
Dear Gap -- My name is Alice Jacob and I am almost 5½ years old. I like cool shirts like Superman and Batman shirts and race car shirts, too. All your girl shirts are pink and princesses and stuff like that. The boys' shirts are really cool. They have Superman, Batman, rock-and-roll and sports. What about girls who like those things like me, and my friend Olivia? Can you make some cool girls' shirts please? Or, can you make a 'no boys or girls' section — only a kids' section? Thank you, Alice Jacob
… what about all the families who don't have the money or patience to look beyond the local big box store? What should they do for girls who love Iron Man? What about the boys who want a shirt with Rey from Star Wars, not Kylo Ren? Well, they're finally getting a few options. It seems at least some retailers are catching on that not every boy loves skulls and danger, and not every girl wants ponies or pink.
Beyond the boy and girl aisles: How funneling kids into a category can hurt
---
Places to Go & Things to Do:
1. St. Patrick's Day Parade, Downtown Somerville
2. Winter Market, Duke Farms
3. Around the World Wine Tasting, The Bernards Inn
4. The Five Irish Tenors, State Theatre New Jersey
5. School House Rock Live! JR - opening weekend, Villagers Theatre
6. American Repertory Ballet, The Theatre at RVCC
7. Genealogy Workshop, Jacobus Vanderveer House
8. Irish Festivities, Mannion's Pub
9. Astronomy & Flight Program, Children's Museum of Somerset County
10. Rumors - opening weekend, Somerset Valley Players
Check out a full calendar of events!
Sunday in Somerville: The parade will be held at 1:30 p.m. and along Main Street in Somerville. Specials will be offered at local restaurants, including Alfonso's, Central Pizzeria & Restaurant, Mannion's Irish Pub, McCormick's Pub and Verve. More details here.
Next up at the Children's Museum – Astronomy March 12th
A printable copy of the schedule: childrensmuseumnj.org/CMNJschedule.pdf
---
---
Planetarium News:
Magic Tree House: Space Mission Returns
weekends from March 4 – 26 Visit the Planetarium this weekend to enjoy an out of this world experience!
Magic Tree House: Space Mission has returned to the schedule. Visit the Museum website for show descriptions, trailers and more.
Coming in April - special weekday presentations during Spring Break!
Special Event:
SMASH: Prehistoric Adventures!
March 25, 10 am - 3 pm
Come discover New Jersey's ancient life - there's so much more than dinosaurs! The March SMASH event, featuring cool, hands-on projects with an Ice Age theme, is held in conjunction with NJ Makers Day. Projects will be offered throughout the day and include the following:
Make a saber tooth tiger puppet
Dig up fossil puzzles and piece together a giant sloth, woolly mammoth or armadillo-like glyptodon
Create an imaginative Cretaceous world complete with a glacial landscape and snow
Meet the curator of Natural History and learn where you can find your own Ice Age fossils
Play games to discover which fossils come from which time period in Earth's 4.5 billion year history
Cave paint in the Imagination Studio
Our youngest visitors can explore sand and snow sensory bins
Speaking of Maker Day – dozens of events at all the libraries in the Somerset County Library System and around the state – pick up a brochure at the library or see a list here!

UPCOMING PROGRAMS AT THE BRIDGEWATER LIBRARY:
"Everything Green" Storytime/Craft. Geared to Ages 3-8 Tuesday March 14th 10 a.m. & 4 p.m. – Drop in for stories, songs, and a craft celebrating the start of Spring!

---
"Rain & Mud" Storytime/Craft. Geared to Ages 3-8 Tuesday March 23rd 10 a.m. & 4 p.m. – Drop in for stories, songs, and make a rainstick craft!

---
A few pictures from our Pizza & Pasta program this week:
Check out more pix here: http://carolsimonlevin.blogspot.com/2014/12/pre-school-storytime-pizza-pasta.html
---
---
TEEN VOLUNTEER OPPORTUNITIES
Download our schedule for January through June 2017
schedule here.
For 2017 we are once again offering a mix of Saturday and Sunday programs in order to provide opportunities for families with different schedules. All programs will be offered in the PeopleCare Center (SE corner of Rt 28 and Finderne Avenue in Bridgewater). If you would like to help out as a volunteer for these programs, please call Tom Davidson at 908.725.4677.

---
CALL FOR VOLUNTEERS!
On Saturday, May 13th from 1 p.m. - 4 p.m. The Center for Contemporary Art is hosting a free family art event, "Hooray for May!" We are looking for volunteers to help the day of the event from 12 p.m. - 5 p.m.
Volunteers are needed for:
helping with the art activities
handing out refreshments
monitoring the galleries
clean-up
If interested, please contact Leigh Zona at lzona@ccabedminster.org
Summer Art Camps Volunteers Needed!
The Center for Contemporary Art is seeking students age 15 and older to volunteer at our Summer Art Camps!
Students may volunteer for as many weeks as they wish, however, they must commit to coming for the entire week from 9:15 a.m. to 4:45 p.m. The duties include helping the instructor hand out art supplies to the students, keeping the room in order, cleaning art brushes and putting away art supplies each day. Volunteers also help students with their projects as needed.
We are looking for volunteers who love kids and are outgoing. This is fun way to accumulate Community Service hours!
Click here to view the full list of camp dates.
If interested, please contact Norma Rahn, Education Director at nrahn@ccabedminster.org