Around the Community:
HISTORY ON THE HOOF – BRING THE WHOLE FAMILY TO THE NEW JERSEY STATE HISTORY FAIR May 14th
Now in its 12th year, the Fair will again be held from 11 a.m. to 5 p.m. on Saturday May 14th at Monmouth Battlefield State Park, Manalapan, NJ, Rain or Shine.

The 2016 Fair will feature some familiar faces from the past like Clara Barton, George Washington and Walt Whitman as well as such favorite activities as 19th baseball, horse-drawn plowing demonstrations, Phydeaux's flying flea circus and period music.
New to the Fair will be several Civil War themed programs to coincide with the exhibit of President Lincoln's replica casket. A local Civil War reenactment unit, the 14th NJ Volunteers, Co. H, will provide an honor guard for the casket and the Fort Delaware Cornet Band will perform music of the era on period instruments.
Another exciting new program will be a fictional U.S. Army radio and live show, "SPAM Time", which is modeled on actual entertainment presented to U.S. military personnel from WWII to the Viet Nam War era. A full day of pre-recorded and live musical entertainment will be presented.
There is something for everyone - so come on out and enjoy the Fair! It's a fun-filled experience for the whole family! You don't want to miss it.
---
Special Events: SMASH Series May 14, 10:00 am - 3:00 pm
SMASH stands for Spectacularly Merging Art, Science & History and explores the fascinating intersection of these topics through events in the series. The May 14 event will focus on animals - movement, adaptations, migrations, diet, habitat and more. There will be crafts, games and activities, plus we'll be celebrating National Astronomy Day in the Planetarium with help from the Amateur Astronomers Association of Princeton.
Philadelphia Zoo's "Zoo on Wheels" will be on hand with performances at 1:00 and 2:00 pm; don't miss special demonstrations and exhibits from community partners Jenkinson's Aquarium, Trenton chapter of the American Chemical Society, and Princeton Graduate Women in Science & Engineering. Visit our Paleo Lab for an up close look at the fossils being prepared and more!
And stay tuned: additional SMASH events will take place August 20 and November 12. Visit our website for additional information.
Planetarium News & Events:
FREE Public Sky Observing
May 13 & 27, 8:00 pm
Join Bill Murray of the NJSM Planetarium staff and the Amateur Astronomers Association of Princeton (AAAP) for an evening of sky observing at the Simpson Observatory, Washington Crossing State Park, New Jersey. View craters on the moon and the planets Mars and Jupiter through AAAP's high-tech computerized telescopes.
The AAAP and Museum staff will be on hand to guide participants and answer astronomy-related questions. Please visit the Amateur Astronomers Association of Princeton web site for a downloadable map with directions to the Simpson Observatory. This event takes place weather permitting.
Planetarium Schedule:
Weekends from April 30 - May 29
Visit the Museum and see a Planetarium show! Planetarium shows are available to the public on Saturdays and Sundays, and during school break weeks.
---
JUNIE B'S ESSENTIAL SURVIVIAL GUIDE TO SCHOOL
Saturday, May 14, 2016, at 10AM Theatreworks USA
For ages 4 & up
Now that Junie B. Jones has been going to school for over a year, who better to write the book on EVERTHING you need to know? From bus rules to Band-Aids, carpools to cookies, Junie B. and friends deliver the definitive word on surviving and thriving in stlye, showing us all how school is sometimes scary, sometimes super-fun, and ALWAYS something to sing about!
WHERE: Paper Mill Playhouse, 22 Brookside Drive, Millburn
TICKETS: All tickets are only $12.75.
Tickets may be purchased by calling 973-376-4343, or at the Paper Mill Box Office on Brookside Drive in Millburn, or online at www.papermill.org.
Upcoming: SEUSSICAL Saturday, June 11, 2016, at 10AM
Theatreworks USA For ages 5 & up
"Oh, the thinks you can think" when Dr. Seuss' best-loved characters and stories hit the stage in this unforgettable musical. The noble Horton the Elephant, the one-feathered bird Gertrude McFuzz and the antics of the Cat in the Hat steal the spotlight!
A SPECIAL AUTISM-FRIENDLY PRESENTATION
HENRY AND MUDGE Sunday, June 12, 2016, at 10AM Theatreworks USA For ages 4 & up
Sometimes it's tough being a kid, but life is a lot easier and a lot more fun when you've got a great big canine buddy to share your adventures! Follow the exploits of Henry and Mudge in this musical based on Cynthia Rylant's best-selling books.
An Autism-Friendly Performance planned in cooperation with the Paper Mill Autism Advisory Team. "Meet Your Seat" Open House Friday, June 10, 2016, 4:00 – 6:00 pm
Major funding for autism-friendly programs is provided by the Merck Foundation, with additional support from C.R. Bard Foundation, The Karma Foundation, MetLife Foundation, Nordstrom, and PSEG Foundation.
---
Do you like Manga & Anime? -- CloverCon 2016! is this Sunday, May 15th
CloverCon is a small, non profit, New Jersey anime convention run by the Somerset County 4-H Anime and Manga Club! We've got an Artist Alley/Dealer Room, game room, manga library, panels, special guests, and much more!
This year's convention will be held on Sunday, May 15th, from 10:00 am to 5:00 pm at the Somerset County 4-H Center at 310 Milltown Road in Bridgewater Registration info.
You can follow us on Facebook, Twitter, or Tumblr for updates and information on this year's convention!
---
RHYTHMS TRANSPORT YOU @ NJIO FREE CONCERTSUNDAY IN SUMMIT
---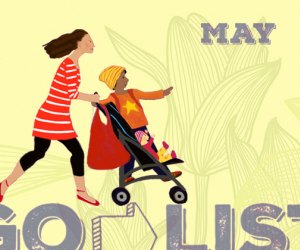 Looking for more fun ideas to do with your family? Take a look at:
"MOMMY POPPINS-NJ"
, "
FREE FAMILY FUN NJ
" and
FUN LINKS FOR FAMILIES -- EVENT LISTINGS
(see list on the right side of the blog).

---
---
@ Bridgewater Library
Baby/toddler/PJ/storytime programs...
Storytime (For Ages 3-6, siblings welcome) Tuesdays 10:00 a.m. Second session at 1:30pm.
Toddler Time (For Ages 18 months-36 months) Wednesdays, and Fridays at 10:00 a.m.
Baby Time (For ages birth - 18 months) Thursdays 9:30 a.m.
Pajama Time (all ages) Wednesdays at 7:00 p.m. (PJs optional)
No Registration Required for any of these. Join us for stories, songs, movement and fun!
Click HERE to register for these programs.

Let Your Fingers Do More Walking:
From the blog Katywrites:

8 Small Tools That Make Reading A Big Deal
…There are simple things YOU can use, right now, right away, to rebuild a culture of readers from the ground up. One child, one family, one neighborhood, one community at a time. But to build – or rebuild – of course calls for tools.
You probably already have these tools. Now's the time to dust them off and put them to work.
Your library card: When you check books out of the library – for yourself, your kids, your spouse – even if you don't read every book (or get it back on time) you have just made a change. You've increased library circulation. And those circulation numbers are key in factoring library funding and resources. Want more readers? Fund more and better libraries. Want more and better libraries? Use the ones we have!!
Your Facebook account: and your Instagram and your Twitter and so on. You've seen how social media changes what people think about, how they spend their time, how they spend their money. You post about what you had for dinner – and a friend tries that new Thai place. You post about the TV series you just binge-watched – and 3 friends stay up all night doing the same. So post about the books you just read. Or the ones your kids loved. Or the book-signing you're attending next week. Ask for book suggestions for your 4th grade son or something you and your teen daughter will love to read together. Follow and encourage teens to follow accounts that highlight books from genres you enjoy. Shift the social media focus.
Your wallet: You can make donations to non-profits that support literacy, but I'm talking about something much more down to earth. I'm talking about buying books. E-books, hardcovers, paperbacks and comics. Books for you, books for your kids, books for birthday and holiday gifts. Nothing moves culture like economics. If people are buying books, then books are what America is selling. When you have books in your house, kids are more likely to read them. When you prioritize budget for books over lattes, kids see how you value reading. When you ask your child to help pick out a book for Grandma, you are modeling life-long reading.
Your opinions: You've offered your opinion on everything from organic strawberries to Uber drivers to presidential hopefuls. You once spent an hour telling Comcast just what you thought of their customer service. But when is the last time you reviewed a book? Better yet, when's the last time you reviewed one with your kids? When you involve your children in writing a book review, not only do you extend the reading experience, you show them that their opinions about books matter. Plus, you show authors, publishers, and booksellers that they matter, too!
Your downtime: If your kids see you reach for your tablet or smart phone every time you have a free minute, they are even MORE likely to do the same. If you model reading for enjoyment, you'll see that example pay off with kids who reach for books. Sure, it's not quite that simple. For further discussion, check out my Copy Cat Kids post.
Your open mind: The books your child (or grandchild, or student) enjoys reading may not always be the books you WISH he would read. (I'd personally give a lot of money to not have to discuss Captain Underpants any further!) But giving children the right to choose books that interest them, without judgement or criticism based on reading level or subject matter, is crucial. Ask questions about what your child is reading, and be enthusiastic about their choices. In this way you build confident, empowered readers – who are more likely to KEEP reading.
Your bedtimes: We all love to listen to stories read aloud – no matter how old we are. Why else would the audio book business be such a booming industry, even with adults? Read to or with your child as part of a bedtime routine. Older children and teens benefit from continued read-aloud time – so don't stop just because your child can read independently. Or because you'd rather be watching Game of Thrones.(Click here for more on reading aloud with older kids.)
Your attention: Listen when the children and teens in your life talk about the books they read – but also when they talk about their favorite shows, the social causes that concern them, the funny thing that happened at school today. Listen attentively to kids, and when appropriate, bring books into the conversation. Reflect their interest with your own – and help them find reading materials that support and expand upon their interests.
You have the tools, you have the blueprints. Let's get building a culture of readers. --Katy

kateywrites.wordpress.com has many more posts on books and reading and families.
(iStock) By Deborah Farmer Kris Having strong spatial skills — the ability to understand and mentally manipulate shapes and figures — has been identified by researchers as characteristic of those who find success in STEM fields and creative pursuits. Developing those skills can start early through activities and the language that caregivers use with children. Parents can also support young children's spatial reasoning skills by reading them "spatially challenging picture books," says Temple University's Nora Newcombe. These includes books that examine scenes from various angles or perspectives, that include maps and spatial language, or whose illustrations require close attention to decipher their meaning.
The power of these books is both in the illustrations themselves and in how parents and educators talk about the pictures with children, says Julie Dillemuth, a spatial cognition geographer. Researchers have found a "vast range in the amount of spatial language that children are exposed to," says Dillemuth, and this has the potential of creating an early spatial skills gap.
With these studies in mind, Dillemuth asked herself, "What if I could write a kids book that would lay the foundation for spatial thinking?" The result, "Lucy in the City," follows a lost racoon who engages in three spatial activities to find her way home: retracing one's steps, interpreting a map and being aware of one's surroundings. She hopes books like hers will help parents talk about spatial concepts with their children and offer "a little extra nudge to help kids acquire these skills."
MindShift asked Julie Dillemuth and Kathleen T. Horning, director of the Cooperative Children's Book Center at the University of Wisconsin–Madison, to recommend some engaging, spatially challenging picture books for young children. Here are the 15 they selected.
---
Speaking of Children's Books – Check out this real "Make Way for Ducklings" story. Grade School Helps Mama Duck Get Ducklings to Safety for 13 Amazing Years
Vanessa knows a good thing when she sees it, and she loves the courtyard at the Village Elementary School in Hartland, Mich. She feels so safe and secure there, she returns like clockwork every year.
That school courtyard is where she raises her babies every year. You see, Vanessa is a mallard duck. She's a fixture at the school each spring. For an incredible 13 years now, she's hidden herself under her favorite shrub and laid her eggs.
The most surprising thing, though, is what Vanessa and her ducklings do every year when they're ready to head to water for the first time. With the help of the entire school, the duck family waddles from the courtyard through the school corridors to the outside door. See it happen for yourself here. It's adorable. More duckling rescues HERE. And if you want to read the original story Make Way for Duckings story by Robert McCloskey, the Somerset County Library System has it in book, e-book, cd-book, and DVD – check them out HERE. You might also enjoy Lucky Ducklings by Eva Moore.

---
When Storytime Blows Kids' Minds: The Power Of The Plot Twist
When you're entrusted with revealing literature's most powerful secrets, like the identity of Luke Skywalker's father, storytime can be just as fun for parents as it is for kids.
One of the profound pleasures of reading to children, says Barrie Hardymon, is the thrill of sharing a story's secrets for the first time.
---
News you can use -- with the recent findings of lead in area drinking fountains, here is:

---
OUTDOOR FUN:
All This Rain Has Made for Amazing Waterfall Viewing. Head Out to See Them At Their Peak.
Where to go to find the best waterfalls in NJ.