Please note, the library will be closed on Tuesday May 24th for staff training.
There will be
NO Baby/toddler/PJ/storytime programs
the week of May 23rd.
Programs will resume May 30th.
Coming Soon @ Bridgewater Library:
There will be NO Baby/toddler/PJ/storytime programs the week of May 23rd. Programs will resume May 30th.
Storytime (For Ages 3-6, siblings welcome) Tuesdays 10:00 a.m. Second session at 1:30pm.
Toddler Time (For Ages 18 months-36 months) Wednesdays, and Fridays at 10:00 a.m.
Baby Time (For ages birth - 18 months) Thursdays 9:30 a.m.
Pajama Time (all ages) Wednesdays at 7:00 p.m. (PJs optional)
No Registration Required for any of these.
Join us for stories, songs, movement and fun!
Click HERE to register for these programs.
Homework help through the end of May:
Around the Community:
ENJOY FAMILY DAY 2016 @ THE PRINCETON ART MUSEUM SATURDAY, MAY 21
WHERE: Princeton University Art Museum, Princeton
ADMISSION: free
If you attend the event, tell them you learned about it from the NJ Arts Maven! Subscribe to get free daily updates!
It's comedy fit for a king! Lovingly ripped off from the classic film comedy MONTY PYTHON AND THE HOLY GRAIL, SPAMALOT retells the legend of King Arthur and his Knights of the Round Table, and features a bevy of beautiful show girls, "a chorus line of legless knights", men in tights (with legs), not to mention cows, killer rabbits, and French taunters. This show features one of the most energetic, tuneful scores of the last decade. The 2005 Broadway production won three Tony Awards, including "Best Musical," and received 14 Tony Award nominations.
Monty Python's own Eric Idle wrote the book & lyrics and composed the score with John Du Prez. "Spamalot" takes liberties with everything and everyone, including history, royalty, decorum, bravery, musical theater and just about everything else. Audiences also will meet showgirls, flying cows, dancing monks, coarse French soldiers, an armless and legless knight and a killer rabbit. Does this sound like a something you would want to miss?
PERFORMANCE DATES
FRI, May 20 @ 8:00 pm
SAT, May 21 @ 8:00 pm
Tickets are $25 for adults and $23 for youth/senior. For more information, visit ChathamPlayers.org. Hearing impaired listening devices are available. Please inquire at the box office.
SEUSSICAL Saturday, June 11, 2016, at 10AM
Theatreworks USA For ages 5 & up
"Oh, the thinks you can think" when Dr. Seuss' best-loved characters and stories hit the stage in this unforgettable musical. The noble Horton the Elephant, the one-feathered bird Gertrude McFuzz and the antics of the Cat in the Hat steal the spotlight!
WHERE:
Paper Mill Playhouse, 22 Brookside Drive, Millburn
TICKETS:
All tickets are only $12.75.
Tickets may be purchased by calling 973-376-4343, or at the Paper Mill Box Office on Brookside Drive in Millburn, or online at
www.papermill.org
.
A SPECIAL AUTISM-FRIENDLY PRESENTATION
HENRY AND MUDGE Sunday, June 12, 2016, at 10AM Theatreworks USA For ages 4 & up
Sometimes it's tough being a kid, but life is a lot easier and a lot more fun when you've got a great big canine buddy to share your adventures! Follow the exploits of Henry and Mudge in this musical based on Cynthia Rylant's best-selling books.
An Autism-Friendly Performance planned in cooperation with the Paper Mill Autism Advisory Team. "Meet Your Seat" Open House Friday, June 10, 2016, 4:00 – 6:00 pm
Major funding for autism-friendly programs is provided by the Merck Foundation, with additional support from C.R. Bard Foundation, The Karma Foundation, MetLife Foundation, Nordstrom, and PSEG Foundation.
---
BRING THE KIDS TO RED BANK TO SEE "WHERE THE WILD THINGS ARE"—TICKETS ON SALE NOW FOR LIMITED RUN
CLICK HERE TO PURCHASE TICKETS!
WHERE: Two River Theater, 21 Bridge Avenue, Red Bank, NJ 07701 732.345.1400 tworivertheater.org info@trtc.org
---
CRAFTS SERIES THIS SUMMER @ HISTORIC SPEEDWELL VILLAGE
---
WHERE: Liberty Hall Museum is located at 1003 Morris Ave, Union, NJ 07083
Toys Through Time: History of American Fun
Our toy exhibit Toys Through Time: The History of American Fun encompasses five rooms in the museum and has interactive and hands-on features. The collection ranges from about 1850 to 1950 and includes board games, dolls, trucks, rocking horses, puppets, doll houses and so much more!
WHEN: Monday – Saturday 10 a.m. to 3 p.m. Tours leave every hour.
FEE: $12 for Adults; $10 for Kean Alumni; $8 for Seniors & Children (3-17).
Afternoon Tea in the Gardens
Back by popular demand, enjoy our tremendously popular tea service outside in our beautiful gardens! The tea includes a sumptuous selection of scones, assorted pastries, traditional finger sandwiches, and the freshest of fruit. As you enjoy your afternoon tea experience, listen to a talk about the history of the gardens of Liberty Hall and receive gardening tips on the proper care of roses. A tour of Liberty Hall Museum including the exhibit Toys Through Time: The History of American Fun will immediately follow the tea.
WHEN: Sunday, June 12 from 2 p.m. to 4 p.m.
FEE: $40 per person. Reservations required, call 908-527-0400.
A Child's View of History
In this unique tour, children and their parents will view the Museum through the eyes of its youngest former occupants: the children who inhabited Liberty Hall over the past 240 years. History has never been so "hands-on," with each room your child visits featuring a variety of artifacts they are welcome to touch! The tour also includes our interactive exhibit Toys Through Time: History of American Fun and light refreshments, and are all conducted by our friendly and knowledgeable staff in period clothing. Recommended for ages 6 - 12.
WHEN: Tuesdays in Jul & Aug at 11 a.m., 1 p.m., or 3 p.m.
FEE: $8 per child; $10 per adult. Reservations required, call 908-527-0400.
---
Put Your Wallets Away! Enjoy Some Family Fun This Month Without Spending a Cent
We've rounded up the best things to do this month for free.

---
MORE OUTDOOR FUN:
All This Rain Has Made for Amazing Waterfall Viewing. Head Out to See Them At Their Peak.
Where to go to find the best waterfalls in NJ.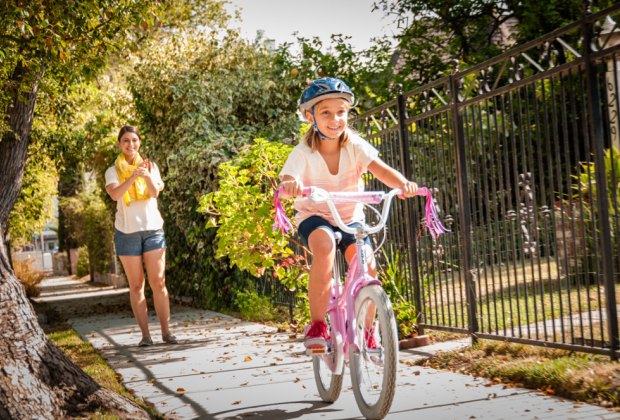 ---
Let Your Fingers Do More Walking:
KNOW SOMEONE WITH AN ANAPHYLATIC FOOD ALLERGY? READ THIS.
Sometimes you don't recognize anaphylaxis right away. Heather Braverman, age 19, shares her experience with her first anaphylactic reaction in 16 years, and what she and her family learned about not hesitating to use epinephrine, the first line treatment for anaphylaxis.
This powerful video is important to share with people with food allergies, especially teenagers, who are at the highest risk for fatal food allergy reactions.
☑ Learn more about anaphylaxis at http://www.foodallergy.org/anaphylaxis
☑ Download an Emergency Care Plan at http://www.foodallergy.org/faap
---
Stop telling kids you're bad at math. You are spreading math anxiety 'like a virus.'

(Photo by Bill O'Leary/The Washington Post)
By Petra Bonfert-Taylor
"How was skiing?" I asked my 14-year old daughter as she hauled her boot bag into the car. "Well, the ratio of snow to ground was definitely low," she replied, adding that she had tried to figure the ratio of snow-to-ground during practice but had received only mystified looks. "Stop the math!" demanded a coach. "You are confusing us!"
Why do smart people enjoy saying that they are bad at math? Few people would consider proudly announcing that they are bad at writing or reading. Our country's communal math hatred may seem rather innocuous, but a more critical factor is at stake: we are passing on from generation to generation the phobia for mathematics and with that are priming our children for mathematical anxiety. As a result, too many of us have lost the ability to examine a real-world problem, translate it into numbers, solve the problem and interpret the solution. READ MORE.
Looking for a fun way to keep your kids math skills sharp? Check out the daily problem at Bedtimemath.org
From chocolate chip cookies, to unmatched socks, from the real facts behind what it took to build Mt. Rushmore to the hypothetical number of snacks it would take to fill the planet earth – everything is fair game for math puzzling!