Having trouble viewing this email? Read it online.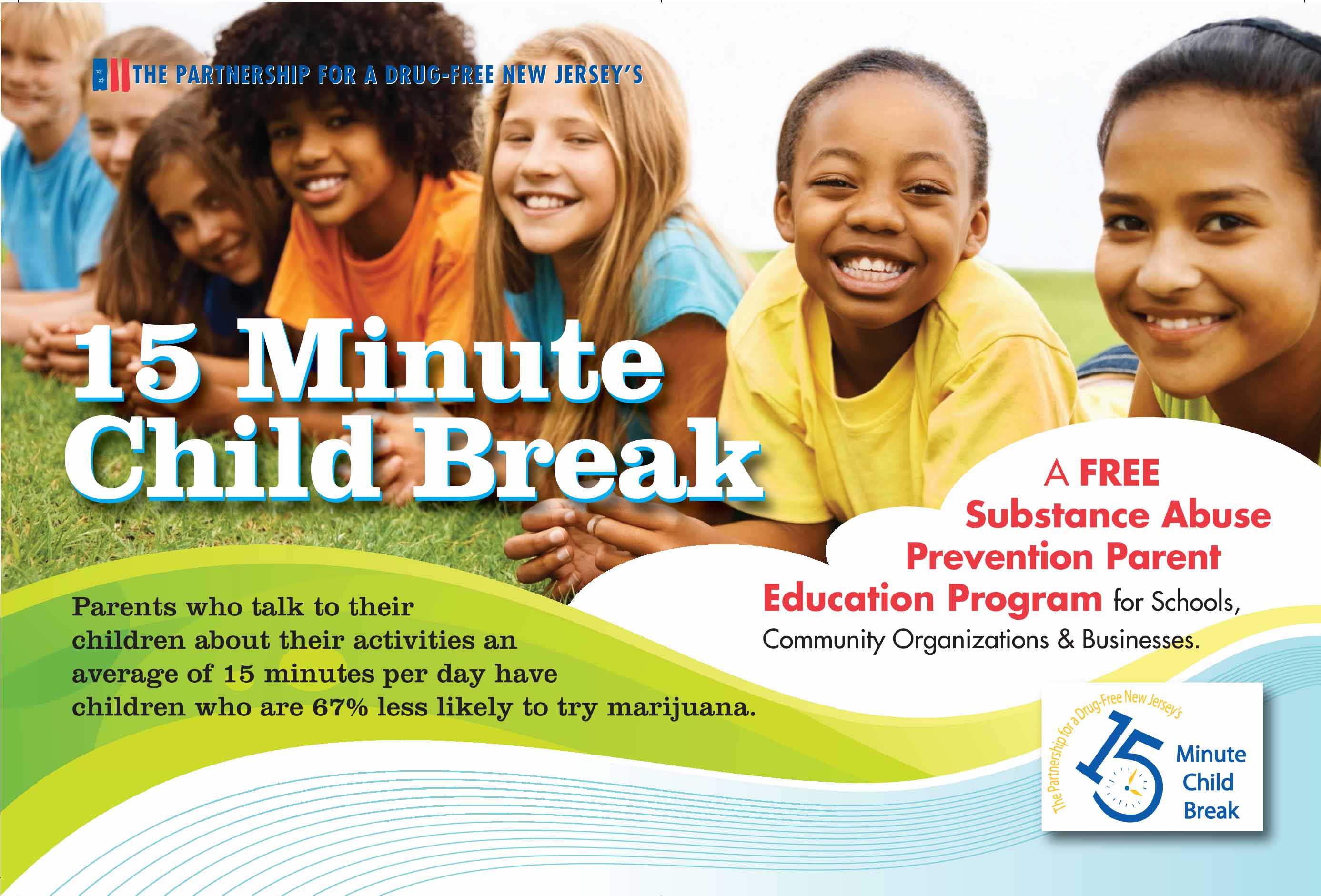 Parent Teacher Workshop- 15-Minute Child Break: A Substance Abuse Prevention Program Presented by the Partnership for a Drug-Free New Jersey. Choose your date and location:
Hillsborough Library: Thursday, March 19, 7:00-8:30 pm
Warren Township Library: Thursday, March 26, 7:00-8:30 pm
Bridgewater Library: Tuesday, March 31, 7:00-8:30 pm
Registration is required and begins for all locations on Monday, March 2.
The 15-minute Child Break is an interactive presentation for parents, teachers, and caregivers who are concerned about children (of any age) and substance abuse. Participants will receive age-specific information and communication skills concerning substance abuse in this informative, engaging, and educational presentation.
1.5 professional development hours will be awarded to attendees.

Upcoming Programs for Kids at Bridgewater Library:
Sing Along: Get A Move On! (all ages) Saturday, March 14
11:00-11:30 am No registration required.
Warm up your muscles as we "shake our sillies out", "freeze" dance, and play parachute games on a cold March morning!

Join us for stories, songs, movement and fun! Please come to the program most age-appropriate for your child.
Storytime (For Ages 3-6, siblings welcome) Tuesdays 10:00 a.m. Second session at 1:30pm.
Toddler Time (For Ages 18 months-36 months) Wednesdays, 10:00 a.m., repeats at 11:00 a.m. Also Thursdays and Fridays at 10:30 a.m.
Baby Time (For ages birth - 18 months) Thursdays 9:30 a.m. No Registration Required for any of these.

Rocket Readers (Grades 1-2) Pearl and Wagner: Two Good Friends
by Kate McMullan Tuesday, March 17 4:30-5:30 pm. Registration required.
Pearl and Wagner, a rabbit and a mouse, work together to build a robot for their science project.
After the story, we will build our very own robots!

NJ Maker Day
Saturday, March 21 1:00-4:00 PM
We invite all to stop in to explore and discover your inner maker! We will have stations set up for adults, teens, and kids with a variety of crafts to create.
Michael's craft store in Watchung will be demonstrating how to make beaded bracelets. The Bridgewater Library will supply all the materials needed. Patrons will be provided assistance with their creations.
See what you can do with an Arduino and play with a RetroPie programmed Raspberry Pi.
Come See a 120 lb robot from St. Joseph High School's robotics team.
Music & Movement (Ages birth-3 years) Monday, March 23, 2015 9:45 AM - 10:15 AM, Repeats 10:30-11:00 AM. Registration required and begins March 9. Clap your hands, stomp your feet, and feel the beat of a fun, lively music class! Led by Beth Stone of Kids' MusicRound.

Lego Club (ages 5-12) Thursday, March 26th 4:30 - 5:30 pm Registration is required. Hey LEGO fans, here's a club just for you! Get together with other LEGO-maniacs, share ideas and tips on building, and have a great time!
Family Storytime (all ages) Saturday, March 28 11:00-11:30 am. No registration required. Stories the whole family can enjoy together!
Toddler Dance Party (ages 2-6) Toddler Dance Party Monday, March 30. 4:30-5:15 PM Read, rock and roll to your favorite toddler tunes! No registration required.
Family Movie: Big Hero 6 (All Ages) Tuesday, March 31, 2015 2:00 PM - 4:00 PM. When a criminal plot threatens the hi-tech metropolis of San Fransokyo, brilliant young robotics whiz Hiro Hamada leaps into action with his tech-savvy friends, and his robot companion Baymax. Rated: PG for action and peril, some rude humor, and thematic elements. For more information please visit CommonSenseMedia.org. Runtime: 1 hour 42 minutes. No registration is required.
Picture This: April Fool's! (Grades K-5) Wednesday, April 1st. 3:00-4:00 pm. Registration is required and begins March 18. Come hear the story of these expressionist painters and create your own brilliantly colored paintings!

Upcoming Programs for Tweens & Teens at Bridgewater Library:

Tween Book Club: Harry Potter and the Sorcerer's Stone (Grades 4-6) Monday, March 23
7:00-8:00 pm Registration is required and begins February 23.
Come to our Tween Book Club! This month we'll discuss: Harry Potter and the Sorcerer's Stone by J.K. Rowling. Stop by the youth services desk beginning February 23 to pick up a copy!

Teen Advisory Board (Grades 7 - 12) Tuesday, March 24th 7:00 pm - 8:00 pm. Registration required and begins February 24.
TEENS: YOUR OPINION MATTERS! Do you have suggestions for programs, new books, movies, or video games? Then come to one of our TAB meetings! Community service hours will be awarded for attendance and snacks will be served!


Tween Robot Challenge: Ozobots! (Grades 4-6) Thursday, March 26
7:00-8:00 pm. Registration is required and begins March 5
Let's work together to build the ultimate track for our tiny robots! No robotics knowledge necessary- you'll learn all you need to know about Ozobots in this program!
Creative Writing: Short Stories (Grades 7-12)
Monday, March 30th 6:30-8:00 pm. Registration is required and begins March 9th.
Write a short story on any topic you'd like (time travel, the end of the world, romance, anything!) We will first discuss ideas, decide on a topic, write, share and then edit if time permits!
Tween Volunteers (Grades 4-6) Monday, April 6
from 7:00 - 8:00 pm Registration required and begins March 2
Make a difference by volunteering at the library! Help out with special projects and earn community service hours.
Tween Advisory Board (Grades 4-6) Tuesday, April 14 7:00 pm-8:00 pm. Registration is required and begins March 10. Earn community service hours by making the library a better place for you and your fellow Tweens! Come tell us what books, movies, video games, and programs you'd like at the library!



AROUND THE COMMUNITY:

There is still time to enter this invention challenge, but deadline is March 27th. Check out the rules here.
LAST WEEKEND TO SEE LEGO EXHIBIT AND MEGA MODEL TRAINS AT THE MORRIS MUSEUM!
Summer Camp July and August 2015 -

week-long, fun filled camps with themed activities around magic, fashion, science and more! We also offer one-day camp options. Advance registration is required. For further information, visit morrismuseum.org/summer-camp.
http://www.morrismuseum.org Morris Museum | 6 Normandy Heights Road | Morristown | NJ | 07960 VISIT SUPPORT EXHIBITIONS THEATRE ART CLASSES
Visit the museum for free (you still need to pay for theater admissions) using the library museum pass if available. The Morris Museum also participates in the Bank of America Museums on Us program. During the first full weekend of every month, each Bank of America card holder is entitled to one free general admission to the Museum. For further information, visit museums.bankofamerica.com/
www.growingstage.com boxoffice@growingstage.com (973) 347-4946.
7 Ledgewood Avenue Netcong NJ 07857
BRING THE FAMILY TO GO MAPLE SUGARING IN THE GREAT SWAMP!
DISCOVER "OCEANS" A WEEK FROM SUNDAY AT THE CHILDREN'S MUSEUM.
The Children's Museum programs in the Cafeteria at the PeopleCare Center 120 Finderne Ave.Bridgewater, NJ 08807 908-725-4677 http://childrensmuseumnj.org/

Star Shows and Laser Concerts AT RVCC PLANETARIUM!
Call 908-231-8805 for reservations! RESERVATIONS HIGHLY RECOMMENDED FOR ALL SHOWS!
Stages Festival – Now in its 18th year, the New Jersey Theatre Alliance's Stages Festival offers free and discounted performances, workshops, play readings and behind-the-scenes events for all ages every March. Events are presented by professional Equity theatres; some take place at their theatres, and some take place in libraries, community centers, performing arts houses, senior centers and more. Pick up a brochure at the library or click here for a list of programs.
LET YOUR FINGERS DO MORE WALKING:
Photo illustration by Getty Images
Think telling your children they're special will help them reach higher, work harder and bravely pursue their dreams? Maybe. But you might also be making them narcissists.
New research published this week in the Proceedings of the National Academy of Sciences found that children whose parents told them they were "special" and "superior" grew more narcissistic over time. Read more.
Related Story:

Those with adolescents (or upcoming adolescents) might find this series from NPR interesting: www.wnyc.org/series/being-12/

Author Tracy Cutchlow's daughter.
Manufacturer had sold products that contained metal particles. McNeill eventually traced the problem to the machinery at its plant in Fort Washington and issued a recall. …The Food and Drug Administration said the potential for serious medical problems was remote but advised consumers to stop using the medicine. … The suburban Philadelphia plant — which was linked to several recalls of Tylenol and other nonprescription drugs for children and adults — was shuttered in April 2010 and rebuilt from the ground up, but it has yet to reopen. The company is operating under an agreement with the FDA requiring increased inspections and oversight at its factories…. Read more.