Having trouble viewing this email? Read it online.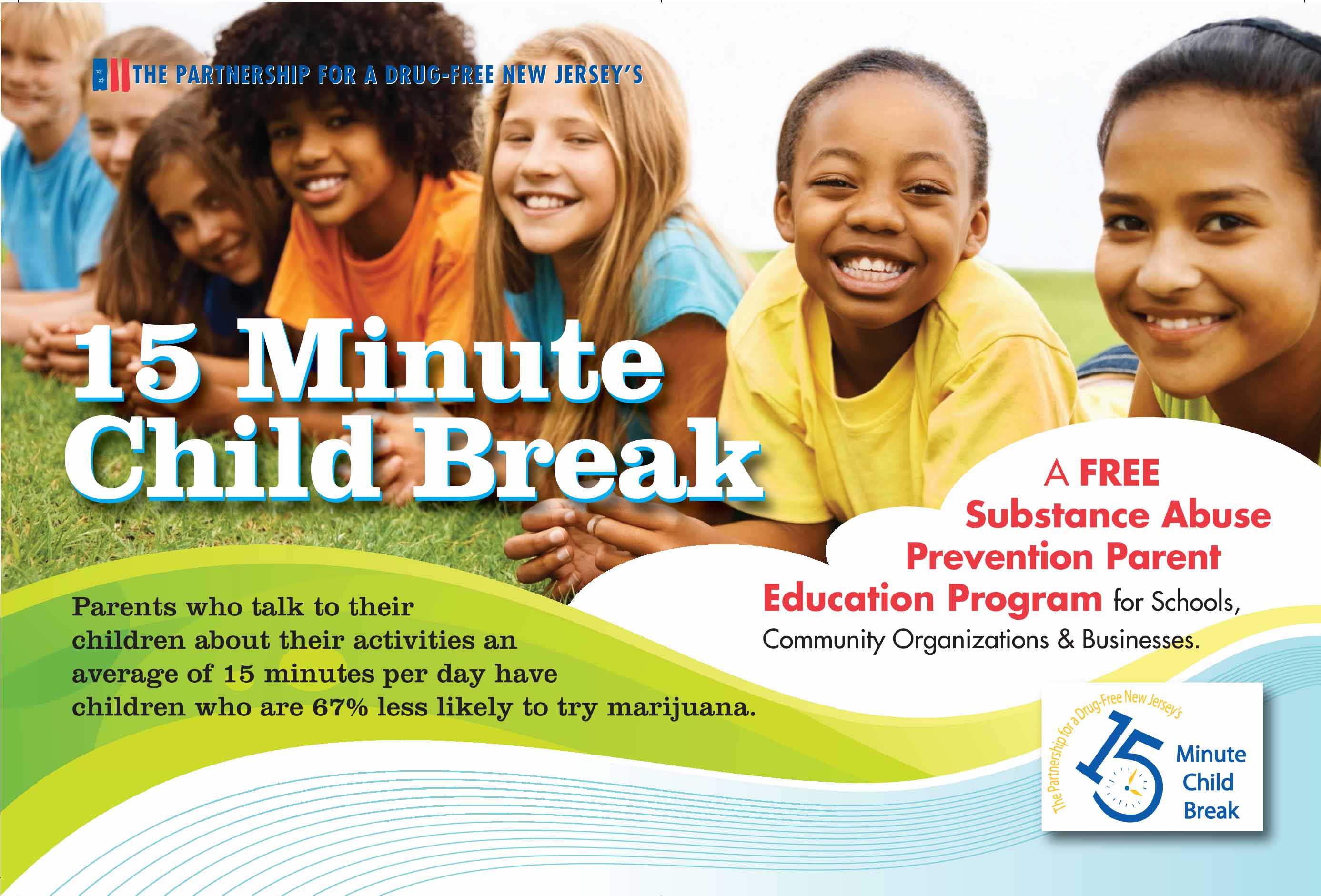 Parent Teacher Workshop- 15-Minute Child Break: A Substance Abuse Prevention Program Presented by the Partnership for a Drug-Free New Jersey. Choose your date and location:
Hillsborough Library: Thursday, March 19, 7:00-8:30 pm
Warren Township Library: Thursday, March 26, 7:00-8:30 pm
Bridgewater Library: Tuesday, March 31, 7:00-8:30 pm
Registration is required and begins for all locations on Monday, March 2.
The 15-minute Child Break is an interactive presentation for parents, teachers, and caregivers who are concerned about children (of any age) and substance abuse. Participants will receive age-specific information and communication skills concerning substance abuse in this informative, engaging, and educational presentation.
1.5 professional development hours will be awarded to attendees.

Upcoming Programs for Kids at Bridgewater Library:
Join us for stories, songs, movement and fun! Please come to the program most age-appropriate for your child.
Storytime (For Ages 3-6, siblings welcome) Tuesdays 10:00 a.m. Second session at 1:30pm.
Toddler Time (For Ages 18 months-36 months) Wednesdays, 10:00 a.m., repeats at 11:00 a.m. Also Thursdays and Fridays at 10:30 a.m.
Baby Time (For ages birth - 18 months) Thursdays 9:30 a.m. No Registration Required for any of these.

Lego Club (ages 5-12) Thursday, March 26th 4:30 - 5:30 pm Registration is required. Hey LEGO fans, here's a club just for you! Get together with other LEGO-maniacs, share ideas and tips on building, and have a great time!
Family Storytime (all ages) Saturday, March 28 11:00-11:30 am. No registration required. Stories the whole family can enjoy together!
Toddler Dance Party (ages 2-6) Toddler Dance Party Monday, March 30. 4:30-5:15 PM Read, rock and roll to your favorite toddler tunes! No registration required.
Family Movie: Big Hero 6 (All Ages) Tuesday, March 31, 2015 2:00 PM - 4:00 PM. When a criminal plot threatens the hi-tech metropolis of San Fransokyo, brilliant young robotics whiz Hiro Hamada leaps into action with his tech-savvy friends, and his robot companion Baymax. Rated: PG for action and peril, some rude humor, and thematic elements. For more information please visit CommonSenseMedia.org. Runtime: 1 hour 42 minutes. No registration is required.

Picture This: April Fool's! (Grades K-5) Wednesday, April 1st. 3:00-4:00 pm. Registration is required and begins March 18. Come hear the story of these expressionist painters and create your own brilliantly colored paintings!


Play With Poetry: You're a Poet Though You Might Not Know It! (Grades K-6) Monday, April 6 4:30-5:30 pm. Registration is required and begins March 23.
"Every day when I go out, I fill my shoes with sauerkraut..." Come read and create some wild, wacky, and wonderful poems with us! If you have a favorite poem, bring it along!

Upcoming Programs for Tweens & Teens at Bridgewater Library:

Teen Advisory Board (Grades 7 - 12) Tuesday, March 24th 7:00 pm - 8:00 pm. Registration required and begins February 24.
TEENS: YOUR OPINION MATTERS! Do you have suggestions for programs, new books, movies, or video games? Then come to one of our TAB meetings! Community service hours will be awarded for attendance and snacks will be served!


Tween Robot Challenge: Ozobots! (Grades 4-6) Thursday, March 26
7:00-8:00 pm. Registration is required and begins March 5
Let's work together to build the ultimate track for our tiny robots! No robotics knowledge necessary- you'll learn all you need to know about Ozobots in this program!
Creative Writing: Short Stories (Grades 7-12)
Monday, March 30th 6:30-8:00 pm. Registration is required and begins March 9th.
Write a short story on any topic you'd like (time travel, the end of the world, romance, anything!) We will first discuss ideas, decide on a topic, write, share and then edit if time permits!
Open Mic Night (For ages 13+)Thursday Night April 2nd.From 6:45-8:30pm. Registration required to perform. Think you've got what it takes to get up on stage in front of your peers with nothing but your voice and guitar? Want to share your poetry, comedy, or original music? Not an artist, but would like to witness some of the most inspiring artists Somerset County has to offer? Then join us for this one of a kind experience, and help local musicians and writers have their voices heard.

Tween Volunteers (Grades 4-6) Monday, April 6
from 7:00 - 8:00 pm Registration required and begins March 2
Make a difference by volunteering at the library! Help out with special projects and earn community service hours.
Movie and Snacks: Harry Potter and the Deathly Hallows Part 2 (Grades 7-12) Tuesday, April 7th 6:00-8:30 pm. Registration is required and begins March 17. It's a Harry Potter celebration! Dress like your favorite character, drink 'butter beer' and eat Harry Potter themed treats. Do all this while watching Harry Potter and the Deathly Hallows Part 2.


Tween Totally 80s Party (Grades 4-6) Friday, April 10 6:00-8:00 pm. Registration is required and begins March 20. Totally tubular! Tweens, grades 4-6, get locked in the library after hours! Dress in your best 80s fashion and we'll have 80s inspired crafts, games, snacks, video games, and more!



Tween Advisory Board (Grades 4-6) Tuesday, April 14 7:00 pm-8:00 pm. Registration is required and begins March 10. Earn community service hours by making the library a better place for you and your fellow Tweens! Come tell us what books, movies, video games, and programs you'd like at the library!



AROUND THE COMMUNITY:

There is still time to enter this invention challenge, but deadline is March 27th. Check out the rules here.
RVCC HAS SENSORY-FRIENDLY PERFORMANCE OF MAGIC THEATER PLANNED
BOOK DISCUSSION 3/25 FAMILY WORKSHOP 3/29
...taken the art of illusion to an entirely new level... TIMES DISPATCH, MO

Theatre of Illusion The Spencers
Saturday, Mar. 28 at 2* & 7PM
Tickets: $10 General Admission

*60 min. Sensory-Friendly Performance. Tickets are $10 each.
Is it possible for a person to be folded inside a 12-inch box, to walk through the whirling blades of an industrial fan, and to escape from a water-filled container? You will cross over a threshold of disbelief mere moments after The Spencers take the stage. Theirs is a place where artistry and theatre converge; where intellect and amazement collide; and where impossibility and inspiration are inseparable. Theatre of Illusion is a magical concert for your eyes! By combining theatrical elements with cutting-edge illusions, The Spencers have propelled the age-old art of magic into the 21st century.
Summer Camp July and August 2015 -

week-long, fun filled camps with themed activities around magic, fashion, science and more! We also offer one-day camp options. Advance registration is required. For further information, visit morrismuseum.org/summer-camp.
http://www.morrismuseum.org Morris Museum | 6 Normandy Heights Road | Morristown | NJ | 07960 VISIT SUPPORT EXHIBITIONS THEATRE ART CLASSES
Visit the museum for free (you still need to pay for theater admissions) using the library museum pass if available. The Morris Museum also participates in the Bank of America Museums on Us program. During the first full weekend of every month, each Bank of America card holder is entitled to one free general admission to the Museum. For further information, visit museums.bankofamerica.com/
LAST WEEKEND FOR BEAUTIFUL PLAY AT THE GROWING STAGE
www.growingstage.com boxoffice@growingstage.com (973) 347-4946.
7 Ledgewood Avenue Netcong NJ 07857
FLIGHT DAY AT THE CHILDREN'S MUSEUM.
The Children's Museum programs in the Cafeteria at the PeopleCare Center 120 Finderne Ave.Bridgewater, NJ 08807 908-725-4677 http://childrensmuseumnj.org/

Star Shows and Laser Concerts AT RVCC PLANETARIUM!
Call 908-231-8805 for reservations! RESERVATIONS HIGHLY RECOMMENDED FOR ALL SHOWS!
Spring is here! For many this time means all things gardening! Share gardening tips, swap seeds, browse vegetable and flower seed catalogues, talk composting, explore CSAs, discover local community gardens, and discuss and share ideas!
This is for gardeners of all levels, from the ultra-experienced to newbies, organic or otherwise. A certified master gardener will give a mini-presentation and will be available for questions and advice.
LET YOUR FINGERS DO MORE WALKING:
7 NJ Playgrounds Worth Traveling To
The snow is finally melting! Make your spring jungle gym debut somewhere new and different—NJFamily has found the best playgrounds in New Jersey.