Programs for Children @ the Library:
Due to the storm, Saturday's "Meet the Stuntmaster" programs have been postponed. We will reschedule them when we can.
We celebrated Groundhog Day last week making shadow puppets – here's something you can do while "grounded" due to Nemo:
Note, our Winter session of storytimes ends the week of February 14th, we will resume them the week of March 4th. Join us for our weekly storytimes. Family Storytimes (ages 2-6) Tuesdays at 10 and 1:30, Toddler Times (ages 18-36 months) Wednesdays at 10 & 11 and Thursdays at 10:30 & 11:30, Baby Times (Birth-18 months) Thursdays at 9:30. No registration is required but we ask that you only attend one session each week. Even though we have four Toddler Times each week, they are quite crowded. If your child is over 3 years old, we ask that they com to the Family Storytime instead. Thanks! Full details are posted our Calendar or you can call us at 908 526-4016 x126. We also offer a satellite storytime/craft on Wednesday mornings at 10:30 a.m. at the Neshanic Station Library.
If you register for a program and realize that you won't be able to come, please call (908 526-4016x126) or email us (bwljuv@sclibnj.org) as early as possible so we can make someone on the waitlist very happy. Next time that waitlisted participant might be your child!
Play Group (For parents or caregivers and children ages birth to 3 years) Registration Required.
Monday, February 11th 10:00am: Best Online Resources for Families Join our new group where you can meet other parents, get ideas, and learn from experts! Each week will have a different theme and discussion led by a speaker. There will be some toys available for the children.
Mardi Gras Fun (Ages 4+) Monday, February 11 from 4:30 pm - 5:30 pm Registration is required and begins January 28. Laisesez Les Bons Temps Rouler! Let the Good Times Roll! Come and celebrate Mardi Gras at the Bridgewater Library! Beads, feathers and fun! Make a Mardi Gras mask and enjoy songs and stories for the holiday! Allons! Let's Go! As Buckwheat Zydeco says, ―Put on Your Dancing Pants!
Kids' Club (Grades 3-4) Tuesday, February 12 from 4:30 pm - 5:30 pm. Registration is required and begins January 29. This month, we will get together for a Valentine's Day fiesta that includes crafts, funny stories and a contest.
Picture This: Animal Valentine's Day Craft (Ages 3-10) Wednesday, February 13 at 4:30 pm. Registration is required and begins January 30 Join us as we read the book My Heart is Like a Zoo, then assemble paper hearts into animal cards for your family and friends.
Tween (Un)Valentine's Day Party (Grades 4-6)
MOVED TO Friday, February 15
from 6:00 pm - 8:00 pm. Registration is required.
Tweens, grades 4-6, wear black or red and get locked in the library after hours! Whether you LOVE Valentine's Day or HATE it, we'll have activities for EVERYONE to enjoy, including a Valentine's Day candy trivia challenge, a scavenger hunt, a movie, video games, and snacks!
Please Note: No admittance after 6:15 pm.
Advance notice required if tween must leave the program early.
Sing-along: Bundle Up and Sing (All ages) (For families with children of all ages) Tuesday, February 19 at 1:30 pm
No registration required Warm up with winter tunes! Sing away a winter's day with these fun and funny songs!
Brick 4 Kidz : (Grades K-3) Saturday, February 23 from 10:00 am - 11:00 am ; (Grades 4 - 6) Saturday, February 23 from 11:15 am - 12:15 pm Registration is required and begins February 8
Join us for Bricks 4 Kidz, a hands-on class that will combine children's love of playing with LEGO® bricks with an infusion of learning how machines work. Children will learn the history and technology of windmills, wind-pumps and wind-turbines that are starting to sprout up across the countryside. What does the inside of a windmill look like? How are gears and pulleys used to create energy to grind and pump? We will answer these questions and more before moving onto the fun part, where the children get to build motorized windmills until they finally turn the battery pack on! As the windmill's blades turn, their faces will light-up in a moment of satisfaction and pride. A truly fun, exciting and enriching experience. Bricks 4 Kidz provides in-school and after school enrichment programs that combine STEM (Science,Technology, Engineering and Math) focused lesson plans, copyrighted model plans and building with LEGO® bricks.
Picture This: Inkblot Art (Ages 5+) Monday, February 25 at 4:30 pm Registration is required and begins February 11 Come stretch your imagination as we explore the endless possibilities of a drop of paint!
Tail Waggin' Tutors: Children Reading to Dogs (For Children of All Ages) Monday, February 25th 4-5pm Phone and In-Person Registration Only
Did you know that dogs like listening to stories as much as kids do? Come to the Bridgewater Library for Tail Waggin' Tutors, our new program where children will have the opportunity to practice their reading skills by reading a story to Xena the Therapy Dog, a friendly, six-year-old chocolate labradoodle. Each child will have 10 minutes to read a favorite story to his or her new, canine friend. For more information, please visit www.tdi-dog.org. Phone and in person sign-ups will be on a first-come, first-serve basis beginning February 11. Please stop by the Youth Services desk to register. **Please be on time for your time slot. If you can no longer make your scheduled time, please call the desk at 908-526-4016 ext. 126**
Dental Health Storytime (Ages 2-6) Tuesday, February 26
at 10:00 a.m. and 11:00 a.m. No registration required It's that time of year again to celebrate National Children's Dental Health Month. Each February dentists around the county reach out to their respective communities to help children understand the importance of oral health. The Children's Dental Center has designed a special presentation for centers in our community. The presentation focuses on proper brushing and flossing techniques
Family Night Storytime (All Ages) No Registration Required (For all ages) Tuesday, February 26 from 7:00 pm - 7:30 pm No registration required. Wear your pj's to our new all ages nighttime storytime with Miss Gretchen!
There are ADDITIONAL PROGRAMS at other system libraries for children & teens…find their online calendars under the "events/programs" tab on our home page. Planning ahead for March? -- Check out our library calendar.


@ Bridgewater Library for Teens:
Open Mic Cafe Night (Ages 13+) Thursday, February 7. From 7-8:30pm. Registration required TO PERFORM.
Think you've got what it takes to get up on stage in front of your peers with nothing but your voice and guitar? Want to share your poetry, comedy, or original music? Not an artist, but would like to witness some of the most inspiring artists Somerset County has to offer? Then join us for this one of a kind experience, and help local musicians and writers have their voices heard. Depending on registration, artists will receive 10-15 minute slots to play music or recite poetry. Sign ups will be on a first-come, first-served basis. **Please help support local artists and musicians – you don't need to be an artist to enjoy our Open Mic Night!**
Cupid is Stupid (Grades 6-12) Wednesday, February 13 7:00 - 8:00 pm. Registration required and begins January 30. Join us for an Anti-Valentine's Day party that will include gorging on sweets and mocking all things associated with the day.
TAB Meeting (Grades 6-8 Tuesday, February 19th 5:30-6:30pm TAB Meeting (Grades 9-12) Tuesday, February 19th 6:30 PM to 7:30 PM Registration required Do you want to make a difference at your library? Do you have suggestions for programs, new books, movies, or video games? Then come to one of our upcoming T.A.B. meetings! Community service hours will be awarded for attendance and snacks will be served!
Practice SAT (Grades 7-12) Saturday, February 23 1:00 pm - 5:00 pm. Registration is required and begins February 1 A FREE practice test is one of the best ways to get ready for the real thing! By taking this practice test, you will learn exactly what to expect on test day and receive a complete individual analysis of your results (which will be mailed to you 7-10 business days following the test).
**Don't forget a #2 pencil and calculator! ** The practice test begins at 1 PM and is 4 hours long. Please come to the library 15 minutes early so we can start the test promptly at 1 PM. The library closes at 5 PM on Saturdays. All participants must have a ride home at 5 PM.
5th & 6th Grade Volunteers Tuesday February 5th from 7-8pm Registration required. ATTENTION STUDENTS IN GRADES 5 AND 6: Here is your chance to make a difference by volunteering at the library! You can help the library with special projects including creating bookmarks for young children, organizing and tidying up the Children's Room, and much more!
Want more info about upcoming programs? Check out our February teen calendar here.


Around the Community:
Looking for events around our community? Check out the new link "Events – Daily Somerset County" under the "Useful links for families" list on the right side of this blog listing. (If you are getting this as an email, click on the headline title to open it as a webpage and then you'll see all these useful links!)
The Children's Museum (of Somerset County NJ)
WHERE: in the cafeteria of the PeopleCare Center, 120 Finderne Avenue, Bridgewater (just south of Rt 28); entrance is in the back of the building.
ADMISSION: $3 per child; there is no charge for those in need. For additional information, please call the museum at 908.595.0001.

All shows run approximately 40 minutes. Admission: $7 for one show, $12 for two shows on the same day. Call 908-231-8805 for reservations.


Special Events
Follow the Drinking Gourd
Sunday, February 10
3:00 p.m.
Go back in time as a slave trying to follow the Big Dipper through a frightful but rewarding voyage out of slavery. Based on Jeanette Winter's book by the same title, this show describes the astronomy behind the slave song "Follow the Drinking Gourd." Recommended for ages 6 and older.
The Sky Above
A planetarium show for families with children on the Autism Spectrum or with other developmental disabilities.
Sunday, February 10, 2013 Sunday, March 17, 2013 4:30 - 5:30 p.m. Ticket Price: $5.00 per person
All ages are welcome to this one-hour sensory-friendly program. The show will provide a comfortable and judgment-free space that is welcoming to all families. The doors will remain open so that children will be able to come and go. Lights will be left dim and audio will be lowered and at a consistent level. The sky show will include: music, videos, planets, the Moon, constellations and laser lights. Please call 908-231-8805 to make a reservation as we are limiting the number of visitors for each show.

Morris Museum Chocolate Festival -SATURDAY FEBRUARY 16th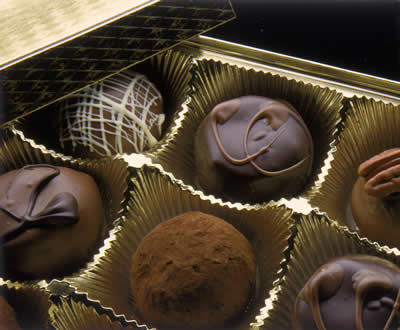 A day at the Morris Museum never tasted better! Bring your family and your sweet tooth for the Museum's annual Chocolate Festival, on Saturday, February 16 from 11 a.m. to 4 p.m. The cost for the festival, which includes Museum admission, is $7/child, $10/adult (free for Museum members).
The day will include chocolate and sweet treats and children will enjoy fun snack-themed activities including:
· Decorating a clay doughnut
· Playing "Name that Chocolate"
· Designing a cupcake creature magnet
· Crafting a Valentine's Day Love Bug
Check out their list of classes and programs HERE.
Center for Contemporary Art
Children's and Adult classes available. Check out their offerings in their
brochure.
More information about exhibitions and classes also available on their website.
http://ccabedminster.org/
MUSIC, THEATRE, AND FAMILY FUN IN FEBRUARY AT CENTENARY STAGE
IF YOU GIVE A MOUSE A COOKIE
WHEN: Saturday, February 16, 11 AM
WHERE: Little Theater on 400 Jefferson Street, Centenary College campus, Hackettstown
TICKETS: $12.50 for adults and $10 for children under 12 Centenary Stage Company's Third Saturday Series for Young Audiences is highlighting If You Give a Mouse a Cookie, based on the popular children's book written by Laura Joffe Numeroff. A young boy is run ragged by an energetic little mouse with cookies and milk on the brains adapted for the stage by Jody Davidson.
Super Scientific Circus at South Orange Performing Arts Center Sunday, February 10 2PM & 4PM Running Time: 60 Minutes Ticket: $16 SOPAC Members: $11
The Super Scientific Circus starring Mr. Fish and Trent the Mime, proves that science can be fun and funny. Alternately assisted and foiled by the comedic antics of Trent the Mime, Mr. Fish uses amazing circus skills involving boomerangs, bubbles, beachballs, and magic to introduce the principles of friction, inertia, centripetal force, aerodynamics, sonic booms, air pressure, and ultraviolet light.
Did you know that George Washington camped out for the winter in Somerset County during the Revolutionary War? This February, visit the places where the most important generals stayed one cold winter.

Towards the end of 1778, George Washington and four of his top generals made various houses in Somerset County their winter encampment, bringing almost 10,000 troops to the area. Today these houses have been preserved and, thanks to the Heritage Trail Association, have been linked together for one history-filled bus tour this February!
These houses have been a part of Somerset County for centuries, so take this unique opportunity to learn about the important role Somerset County played in the Revolutionary War. Tour the Van Horne House, Van Veghten House,Abraham Staats House, Jacobus Vanderveer House, and the Wallace House where Washington himself stayed and learn about the houses and the generals who borrowed them for this important time in history.
This tour comes around just one time a year, so be sure to reserve your spot in one of the five timeslots throughout the day on February 17th. Buses leave at 10 am, 11 am, noon, 1 pm, and 2 pm, and if you register with advanced payment, tickets are just $5.
Looking for more things to do this February? Check out NJFamily.com

President's Day Activities in New Brunswick:

State Theatre Family Day!
Presidents Day • Mon, February 18, 2013
Enjoy a fun-filled day of family-friendly entertainment spread across five venues—the State Theatre, the Hub City Big Top (heated tent), Crossroads Theatre, United Methodist Church, and George Street Playhouse...all centrally located right next to the State Theatre!
• Free Performances
• Philadelphia Zoo on Wheels
"Who's Who at the Zoo"
• Costumed Characters
• Kids DJ Rob Porter
• Sweets and Snacks
• New Brunswick Fire Department
• Hands-On Workshops
• Free Balloon Animals & Face Painting
• Colgate Bright Smiles Bright Futures®
Mobile Dental Van
• Games / Sand Art
• Coloring Station
Check out their Family Day features plus lots more events this month in their Hub City Carnivale!

We've jam-packed the Carnivale
with dozens of events and activities in 32 days.
PLANNING AHEAD:
Speaking of books – Don't forget to check out the new Continuous Book Sale near the Adult Music collection. The sale is sponsored by the Friends of the Bridgewater Library.
Thanks to Ruth Ross at NJARTSMAVEN.COM for some of these listings.
There are lots more things to do around our community. Look at the "Useful Websites for Families" (on the right side of this blog – click the headline if you are reading this as an email) for many more options!
Let Your Fingers Do More Walking:
Soundcheck
→
Schoolhouse Rock on Soundcheck
→ Watch Segments; Share Your Memories
Using ditties like "I'm Just a Bill" and "Three Is a Magic Number,"
Schoolhouse Rock
surreptitiously taught millions of children about grammar, civics and math. Thursday, John Schaefer talks with composer
Bob Dorough
as the series celebrates its 40th anniversary.
The library has DVD and CD versions of these episodes as well.

If you are tired of "pink" or just want your kids to hear about some serious "can-do" princesses, check out this list of Six Princess Books for Parents Who Hate Princess Books… read more. Want more recommendations? Ask a librarian!
http://www.njfamily.com/NJ-Family/Health/
From Parenting.com Dangerous Virus Affecting Infants – Important to read and share.
January 29, 2013 By Leonora At Parenting.Com
© iStockphoto
The flu isn't the only illness sending kids to the doctor this winter. Respiratory syncytial virus, or RSV, is also on the upswing and can be very dangerous for infants, CNN reports.
In healthy older kids and adults the symptoms are typically mild, but infection can be serious in preemies and babies with underlying health conditions. RSV causes infections of the lungs and respiratory tract and is so prevalent that most kids are infected before the age of two. However, "the vast majority of kids who get RSV just have cold symptoms and get better," Dr. Robert Wiskind, Georgia president of the American Academy of Pediatrics, told CNN. "A minority of them develop bronchiolitis (an inflammation of tiny air passages in the lungs specific to babies and young children) -- and a very small percentage have significant problems."
PLUS: Croup, RSV and Other Winter Bugs
RSV is most contagious after the first several days of infection and spreads through direct contact or from exposure to those who are sneezing and coughing.
There is no vaccine for RSV, but there is one medication to help avert it, reports CNN. For high-risk infants who are born prematurely or with congenital lung or heart disease, doctors can administer the medication Synagis through a series of injections. However, the drug is costly and used only in special circumstances.
Kids with mild symptoms of RSV can be treated with nasal drops and an over-the-counter medicine like Tylenol or ibuprofen. Those with serious cases may require hospitalization.
If your child has difficulty breathing; blue fingernails or lips; rapid, quick breathing; trouble bottle-feeding or breastfeeding; deep, frequent coughing; or dehydration, seek medical help immediately.
And finally….

A Pep Talk from Kid President to You We all need a little encouragement every now and then.