The Library has books nominated for the 2013 Garden State Book Awards on display on the bookshelf behind the Youth Services Reference Desk. Stop on by and take a look!
These are covers for the nominees in the Easy Reader category. There are also fiction, non-fiction, and series nominees. For a full list of nominees with descriptions, click HERE.
@ the Library: Programs for Parents & Teachers
Advocacy: Tourette's Association
Thursday, November 1 from 7:00 pm - 8:30 pm. Registration required
Presented by Allissa Letts, in association with the NJ Center for Tourette Syndrome and Associated Disorders, Inc.
Tourette Syndrome, an often misunderstood and misdiagnosed disorder, affects 1 in 100 individuals. This workshop reviews the symptoms, diagnosis, and treatment of Tourette Syndrome and provides further information about the disorders commonly associated with a TS diagnosis. Participants have the opportunity to experience firsthand what it is like to have TS via an interactive activity, and key strategies for interacting with an individual with TS will be reviewed. Professional Credit Hours will be awarded.
Coming Soon: Monday Morning Moms Group
(For parents or caregivers and children ages birth to 3 years) 10:00am-11am
Join our new group where you can meet other parents, get ideas, and learn from experts! Each week will have a different theme and discussion led by a speaker. There will be some toys available for the children.
Monday, November 5th How to Make Your Own Baby Food
Registration begins October 22
Monday, November 12th Caring for Your Child's First Teeth
Registration begins October 29
Monday, November 26th Holiday Gift Ideas for Readers of All Ages
Registration begins November 12
@ the

Library: Programs for Children:
Our Sept/Oct sessions are over. Our storytimes will resume on November 7th. Family Storytimes (ages 2-6)
Tuesdays at 10 and 1:30
, Toddler Times (ages 18-36 months)
Wednesdays at 10 & 11 and Thursdays at 10:30 & 11:30,
Baby Times (Birth-18 months)
Thursdays at 9:30.
No registration is required
but we ask that you only attend one session each week. Full details are posted our
November Calendar
or you can call us at 908 526-4016 x126. We also offer a satellite storytime/craft on Wednesday mornings at 10:30 a.m. at the Neshanic Station Library.
Looking for an
Evening Storytime
?
Bridgewater Library
has one on
Tuesday November 6th
.
Pumpkin Fun (Ages 3+)
Saturday, October 27th 9:30-10:30am Repeats at 11am-Noon.
Registration begins October 12
Join the Bridgewater Garden Club for the annual pumpkin-decorating program! Create a fun, magnificently decorated pumpkin – you bring the pumpkin and we'll supply the materials!
Please note: Be sure to wear a smock or old shirt as paints will be used. Please bring a box to carry home your pumpkin.
Three Ninja Pigs (NaNoWriMo for Kids)
(Ages 4-8) Saturday, October 27th 2-3pm Registration begins October 12.
Join local author Corey Rosen Schwartz as she reads her latest book, 'The Three Ninja Pigs.' When the big bad wolf threatens their village, three pigs sign up for different martial arts lessons to prepare to take him down. Pig One and Pig Two don't stick with their training, though, and are no match for their foe. But after practice and dedication, Pig Three becomes great at karate (including perfecting the perfect pork chop!) and saves the day.
Once Ms. Schwartz finishes her story the fun continues, as children will have the opportunity to learn some cool ninja moves of their own, as taught by Master Patrick from Somerville Martial Arts academy.
Things with Wings (Ages 4-6)
Tuesday, October 30th from 4:30 pm - 5:30 pm
Registration begins October 16.
Yum! Buffalo wings! Wait a minute, do buffalo have wings? Well, birds are not the only animals with wings. Discover who has wings and how they are used. Flying, singing, swimming, warming up and showing off are just some of the many reasons for wings. Activities may include a craft, a hike, and a game. This program is sponsored by the Somerset County Parks Commission.
Halloween Spooktacular Party (For ages 3+)
Wednesday, October 31st 3:30-4:30pm No registration required.
Crafts, games, stories, and more at this drop-in Halloween party!
Make sure to wear your costumes for a parade around the library at 4:15pm!
Rocket Readers: 'Abe Lincoln's Hat' (Grades 1-2)
Thursday, November 1st from 4:30 pm - 5:30 pm Registration begins October 18.
An exciting program for brand new readers! At each program we will discuss a book, play some games or create a story related craft. Students should read the book prior to the program. Copies of the books will be available at the Youth Services Reference Desk. This month:
Abe Lincoln's Hat By Martha Brenner
Abraham Lincoln always wore a tall black hat. But do you know what else he did with it? You'd never guess a hat could be so useful – or so important. Read all about our 16th president in this wonderful true story.
Sciencetellers: Sundown on Sycamore Street
(For grades 2+)
Saturday, November 3rd at 10:30 am Registration begins October 19
On the edge of town there is a street called Sycamore, which holds a legend so frightening that every child in town knows never to get caught there after dark. Join us as we learn about the science of gas and air pressure by telling the tale of Bill and Terry's adventure through town using fiery spiders, exploding water jugs, floating eyeballs, a whirlwind of toilet paper, and amazing experiments.
Toddler Dance Party
(For ages 2-6) Monday, November 5th 4:30-5pm Registration begins October 22
Read, rock, and roll at the library!
Toddlers, ages 2-6, and their caregivers are invited to get their groove on at the library. Shimmy and shake to your favorite toddler tunes!
Special Storytime: Election Day Tuesday, November 6th Ages 4-7 10am(Ages 6-11) 11:30am Registration begins October 23
Come to a special program celebrating American Democracy, then create a Red, White, and Blue craft!
Kids' Club: 'Alvin Ho: Allergic to Girls, School, and Other Scary Things' (Grades 3-4)Monday, November 12th from 4:30 pm - 5:30 pm Registration begins October 29 'Alvin Ho: Allergic to Girls, School, and Other Scary Things' By Lenore Look
A young boy in Concord, Massachusetts, who loves superheroes and comes from a long line of brave Chinese farmer-warriors, wants to make friends, but first he must overcome his fear of everything.
Join us for a chapter book club for 3rd and 4th graders. Reserve your copy early, and check at the Youth Services desk with any questions.
Family Night Storytime (All Ages
)
No Registration Required
Tuesday November 6, 2012 7:00 PM to 7:30 PM Wear your pj's to our new all-ages storytime with Miss Gretchen!
Drop-In Game Day (All ages)
Thursday, November 8 All Day
Registration is not required, just come on in!
Sure, you have the day off from school, but do you really want to be sitting in your room twiddling your thumbs?
Of course not! That's why you should join us for 'Board Game Day!' We'll have all of your favorite board games available so that you and your friends can have fun all day long. There'll be Scrabble, Chutes and Ladders, Connect Four, and plenty more!
Tail Waggin' Tutors: Children Reading to Dogs (For Children of All Ages)
on Thursday, November 8th. 4-5pm. Telephone or In-
Person Registration Only Call the library at 908 526-4016 x126 for more information. You may begin registering for this program on Tuesday, September 25th.
Did you know that dogs like listening to stories as much as kids do?Come to the Bridgewater Library for Tail Waggin' Tutors, our new program where children will have the opportunity to practice their reading skills by reading a story to Xena the Therapy Dog, a friendly, six-year-old chocolate labradoodle. Each child will have 10 minutes to read a favorite story to his or her new, canine friend.
Therapy Dogs International (TDI®) is a volunteer organization dedicated to regulating, testing and registration of therapy dogs and their volunteer handlers for the purpose of visiting nursing homes, hospitals, other institutions and wherever else therapy dogs are needed.For more information, please visit
www.tdi-dog.org
.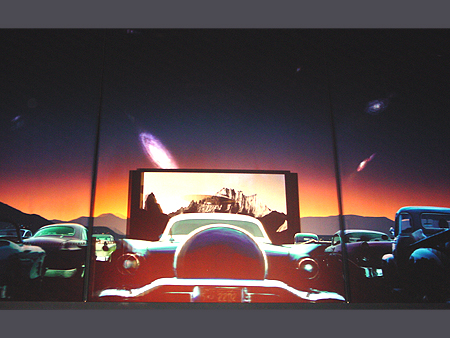 Drive-In Movie (Ages 3-8)
Friday, November 9
from 12:00 pm - 2:00 pm Registration begins October 26
Make your very own kid-sized car and buckle up as we watch a film! Feel free to bring your own sack lunch to eat in your car.
Lego Club (Grades K-6)
Wednesday, November 14th from 4:30 pm - 5:30 pm Registration begins October 31
Hey LEGO fans, here's a club just for you! Get together with other LEGO-maniacs, share ideas and tips on building, and have a great time! Library LEGOS will be available for building, so you do not need to bring your own.

Garden Club Harvest Baskets (Ages 3+)
(For ages 5+)
Saturday, November 17 from 10:30 am - 11:30 am Registration begins November 2
Get ready for Thanksgiving with the Bridgewater Garden Club's annual Harvest Celebration! Join us to hear stories about the harvest, and stick around to construct a beautiful, bountiful harvest basket to 'take home for the holidays!' No need to bring anything with you. We'll supply all the materials!
There are ADDITIONAL PROGRAMS at other system libraries for children & teens…find their online calendars under the "events/programs" tab on our
home page
.

If you register for a program and realize that you won't be able to come, please call (908 526-4016x126) or email us

(
bwljuv@sclibnj.org
)

as early as possible so we can make someone on the waitlist very happy.

Next time that waitlisted participant might be your child!



@ Bridgewater Library for Teens:


NOVEMBER is NaNoWrMo (NATIONAL NOVEL WRITING MONTH) and the Library has many special EVENTS:
I'VE FINISHED MY FIRST DRAFT, NOW WHAT?
Saturday November 3, 2012 2:00 PM to 4:00 PM Registration Required.
So you've finished the writing your book/story, or have you? What (if any) revision work needs doing? Where can you go for feedback? How will you know when it's ready to send out, and where should you try first? Join New Jersey Authors,
Jon Gibbs (moderator); Danielle Ackley-McPhail; Mike McPhail; Alice Dinizo; Kate Lutter and Chris Redding
, for a fun, informative discussion on getting published in today's market, and find out why typing 'THE END' is really just the beginning.
THE PATH TO PUBLISHING
Tuesday November 6, 2012 6:00 PM to 7:00 PM
Registration required.
There are many choices on the path to publishing your novel,
how do you know which one is right for you?
You've finished your novel, but how do you get published? Join a panel of local authors as they discuss their personal experiences in becoming published and share their tips and secrets on breaking into the publishing world. Join us for a panel discussion and Q & A featuring local authors.
PITCH PERFECT
Wednesday November 28, 2012 6:30 PM to 7:30 PM Registration required.
You have the finished manuscript, but how do you craft that perfect pitch or query letter to catch the eye and ear of an agent or publisher? Join local authors for a discussion and workshop on their experiences breaking into the publishing world. You will work in small groups with the published authors to write your own pitch.
5th & 6th Grade Volunteers
Monday, November 5th from 7-8pm Registration required.
ATTENTION STUDENTS IN GRADES 5 AND 6: Here is your chance to make a difference by volunteering at the library! You can help the library with special projects including creating bookmarks for young children, organizing and tidying up the Children's Room, and much more!
Teen Game Day
(For students in grades 6 - 12) Saturday, November 10th from 2:00 pm - 4:00 pm Registration begins October 19
Spend the afternoon with us as we play all kinds of games, including board games like Apples to Apples and Connect Four. We also will have a few music and video challenges. Plus there will be a crazy questions challenge.
TAB Meeting (Grades 6-8)
Tuesday, Tuesday, November 13th 5:30-6:30pm TAB Meeting (Grades 9-12) Tuesday Tuesday, November 13th 6:30 PM to 7:30 PM Registration required
Do you want to make a difference at your library? Do you have suggestions for programs, new books, movies, or video games? Then come to one of our upcoming T.A.B. meetings! Community service hours will be awarded for attendance and snacks will be served!
Open Mic Cafe Night (Ages 13+)

Thursday, November 15th From 7:00pm – 8:30pm
Registration Required to perform.
Think you've got what it takes to get up on stage in front of your peers with nothing but your voice and guitar? Want to share your poetry, comedy, or original music? Then this is your night! Join us for this one of a kind experience, and help local musicians and writers get their voices heard. Depending on registration, artists will receive 10-15 minute slots to play music or recite poetry. Sign ups will be on a first-come, first-served basis. Please check back for more registration information.
**
You only need to register if you are interested in performing.**
This year, we say, "Get down with your creepy self!" After all, if you can't do it in Halloween season, when can you? Here are several ways to get creepin' in Somerset County...
The Somerset County Park Commission hosts
Mischief Night Madness
at the Colonial Park putting course on Friday October 26th (rain date 10/27). The event includes tales and a children's hayride, as well as miniature golf of course! Those who wear a costume will receive a goodie bag, and there will be FREE cider and doughnuts available for all. Tickets cost $8 for a family of 2 and $10 for a family of 3 or more.
Creeped out yet? More options at:
http://www.visitsomersetnj.org/media/e-newsletter/october-2012/halloween-haunts
Bridgewater Patch
has a list of more
Halloween Events
and so does
Macaroni Kid
.

Bring your carved pumpkin to the Vail Mansion reflecting pool (110 South St., Morristown) and join the excitement on Sunday October 28th at the 3rd annual PUMPKIN ILLUMINATION!
5:00-6:15pm Bring your already carved pumpkin to the reflecting pond in front of the Vail Mansion (110 South St.)
5:15-6:00pm Storytelling by Julie Pasqual
5:30pm Carve Off! Watch professional artists carve out artistic pumpkins
6:15pm THE PUMPKIN ILLUMINATION!! That magical sight of all your lit pumpkins glowing in the reflecting pool
Bring your neighbors and friends to enjoy this free and special event!
For those who want to get even more into the spirit of the season:
5:00-6:00pm The Morris County Tourism Bureau will host a Fall Historical Graveyard Tour that evening. Call 973-631-5151 or www.morristourism.org for tickets and info.
7:00pm The Mayo Performing Arts Center will host the NYC Radio Theatre in a performance entitled "Ghost Stories" (for ages 12 and up). Tickets and info at 973-539-8008 or www.mayoarts.org.
HarpAntics Halloween Concert at Farmstead Arts Center, Basking Ridge
Sunday, October 28, 2 PM
Make it a Halloween family event on Sunday, October 28 at the Farmstead. HarpAntics, a harp ensemble of many harps, will perform a family friendly concert of spooky and seasonal favorites at 2 PM. Tickets are $10 and are available on line at
http://farmsteadharpantics.eventbrite.com/
. Space is limited but depending on availability, tickets may also be available at the door. Come in costume if you like! Treats are on the house.

RVCC Planetarium has a variety of Saturday and Holiday shows for Children. Click HERE for a complete schedule. All shows run approximately 40 minutes. Admission: $7 for one show, $12 for two shows on the same day. Call 908-231-8805 for reservations!




There are lots more things to do around our community. Look at the "Useful Websites for Families" (on the right side of this blog – click the headline if you are reading this as an email) for many more options!





Let Your Fingers Do More Walking: Lots of great articles for parents this week!
For those of you with teenagers, new research into their brains is quite interesting. I heard this on NPR this week: Adolescent brains have gotten a bad rap, according to neuroscientists. It's true that teenage brains can be impulsive, scientists reported at the Society for Neuroscience meeting in New Orleans. But adolescent brains are also vulnerable, dynamic and highly responsive to positive feedback. Definitely worth listening to (or reading the transcript)
http://www.npr.org/2012/10/22/163378348/research-highlights-strengths-of-adolescent-brain

Are you ready for the newest Mo Willems' picture book? It's laugh out-loud hysterical! And what are the odds that there'd be two funny Goldilocks picture books this fall?
Read more about Melissa Taylor's fall favorites
HERE.
A favorite activity for kids is finger-painting, because messy, house-destroying activities are always more fun than neat ones. Well, apparently otters agree. At an aquarium in Duluth, Minnesota, the staff thought the otters looked a little bored, so they started
giving them paper and blobs of paint
to make things interesting. Surprisingly, some of the otters showed some talent, and the aquarium now sells the otters' paintings in the gift shop to raise money. Good thing, because when you have paint-covered otters running around, the clean-up is costly.
Wee ones (counting on fingers):
Otters are 4-footed animals. If 2 otters paint together using all their feet, how many feet can now make paint footprints all over the room?
Little kids:
If 3 otters decide to paint, and each otter wants 5 different paint colors on its piece of paper, how many total blobs of paint do they need to start?
Bonus:
If
you
can finger-paint a picture in 17 minutes and an otter can do it in just 8 minutes, how many minutes faster is the otter?
Big kids:
The aquarium sells the otter art at anywhere from $5 to $45 per painting. If they sell 2 small $5 paintings and 3 of the larger $30 paintings, how much money do they make in sales?
Bonus:
If instead they sell $86 worth of otter paintings, and that includes 2 paintings sold for $28 each, how many $5 paintings must they have sold also? Check your answers
here
.

And I missed this fascinating BEDTIME MATH entry a couple of weeks ago:
What a crazy weekend for space travel. We had a human being who rocketed through space: skydiver Felix Baumgartner jumped from a weather balloon
24 miles above Earth
, and became the first person to fall faster than the speed of sound, topping off at an insane 834 miles per hour. Meanwhile, we had a rocket crawling at human speed: the retired space shuttle
Endeavour rolled 12 miles
from Los Angeles International Airport to its final spot at the California Science Center. It was supposed to travel at 2 miles per hour – slower than humans, who walk at 3 mph – but took even longer because more trees and telephone poles had to be taken down to widen the roads enough for its 78-foot wingspan. Thankfully, both Felix and Endeavour eventually made it home, just at their own speeds.
Wee ones:
If the space shuttle started rolling on Friday morning and arrived at the museum 2 days later, what day of the week did it arrive?
Little kids:
If Felix fell 24 miles and the shuttle rolled just 12 miles through L.A., how much farther did Felix travel through space?
Bonus:
If Endeavour was supposed to reach the museum at 10 pm Saturday night, but didn't arrive until 1 pm the next afternoon, how many hours late did it show up?
Big kids:
Felix's top speed was 834 miles per hour, while sound
travels through very cold air
at only 673 mph. How many extra bonus miles per hour did Felix fall?
Bonus:
If 265 trees were cut down, 67 traffic lights were taken apart, and 48 traffic-light support arms were swung to the side, how many objects had to make room for Endeavour? Check your answers
here
.
We hope you enjoy your weekend, and also hope that Sandy goes far off to sea!