Parent-Teacher Workshop: Every Child Ready to Read
Wednesday October 24, 2012 7:00 PM to 8:30 PM
Every Child Ready to Read @ Your Library: 2nd Edition:
A WORKSHOP FOR EDUCATORS, PARENTS AND CAREGIVERS
A new workshop for early childhood educators, parents and caregivers on the five simple practices that help children get ready to read, developed by the Association for Library Service to Children and the Public Library Association, divisions of the American Library Association. Participants will learn practical strategies and explore resources to promote early literacy. **The workshop is free of charge and open to the public. 1 ½ professional development hours will be awarded to attendees.
Register at the library of your choice.
Bridgewater Library
(908) 526-4016 x126
Wednesday, October 24 from 7:00 pm - 8:30 pm
Warren Township Library
(908) 754-5554 x23
Thursday, November 1 from 7:00 pm - 8:30 pm
Highlighting our Foreign Language Materials:
@ the

Library: Programs for Children:
After-School Adventure: 'Rumpelstiltskin's Daughter' (Ages 5-10)Monday, October 15th from 4:30 pm - 5:30 pm.
Registration begins October 1.
Join us for a reading of this untraditional fairy tale, 'Rumpelstiltskin's Daughter,' and then create a picture suitable for hanging in the King's castle!
**Paint will be available, so please dress accordingly.
Tail Waggin' Tutors: Children Reading to Dogs (For Children of All Ages)
Repeats on Thursday, Oct. 18th. Telephone or

In-Person Registration Only

Call the library at 908 526-4016 x126 for more information. You may begin registering for this program on Tuesday, September 25th.
Did you know that dogs like listening to stories as much as kids do?Come to the Bridgewater Library for Tail Waggin' Tutors, our new program where children will have the opportunity to practice their reading skills by reading a story to Xena the Therapy Dog, a friendly, six-year-old chocolate labradoodle. Each child will have 10 minutes to read a favorite story to his or her new, canine friend.
Therapy Dogs International (TDI®) is a volunteer organization dedicated to regulating, testing and registration of therapy dogs and their volunteer handlers for the purpose of visiting nursing homes, hospitals, other institutions and wherever else therapy dogs are needed.For more information, please visit
www.tdi-dog.org
.
Hallow-Tween Party: After Hours (Grades 4-6)
Friday, October 19th from 6:00 pm - 8:00 pm Registration begins October 5.
Tweens, grades 4-6, wear your Halloween costumes and get locked in the library after hours! We'll have a Halloween movie, video games, crafts and snacks!
Please Note:
No admittance
after 6:15 pm.
Advance notice required
if tween must leave the program early.
Friends Concert Series: Kurt Gallagher (For ages 3+)
Saturday, October 20 at 10:30 am No registration
Join Kurt Gallagher's "Songs for Playful Children" for an interactive music appreciation program with lots of silly songs like "Rocket to Chocolate," 'Twinkle Twinkle Broken Down Car." The kids will have so much fun dancing, singing and giggling they won't realize they're actually learning about melody and rhythm. Kurt's on a mission to show kids that music is made by people, not machines and everyone at Kurt's show is encouraged to sing and play along. Plus that they'll get to pop lots and lots of bubbles! Music fun for the whole family!
Monster Mayhem (Ages 5-10)
Monday, October 22nd from 4:30 pm - 5:30 pm
Registration begins October 8.
Games and crafts celebrating all things (slightly) gruesome and glorious.
Lego Club (Grades K-6)
Tuesday October
23rd. from 10:30 am - 11:30 am Registration begins October 9th.
Hey LEGO fans, here's a club just for you! Get together with other LEGO-maniacs, share ideas and tips on building, and have a great time! Library LEGOS will be available for building, so you do not need to bring your own.
Special Storytime: Halloween Stories & Songs (For ages 2-6)
Wednesday, October 24th at 10am No registration required
Wear your costume and get a head-start on Halloween with gloriously ghoulish tales and songs!
**Second session at 1:30pm.
Pumpkin Fun (Ages 3+)
Saturday, October 27th 9:30-10:30am Repeats at 11am-Noon.
Registration begins October 12
Join the Bridgewater Garden Club for the annual pumpkin-decorating program! Create a fun, magnificently decorated pumpkin – you bring the pumpkin and we'll supply the materials!
Please note: Be sure to wear a smock or old shirt as paints will be used. Please bring a box to carry home your pumpkin.
Three Ninja Pigs (NaNoWriMo for Kids)
(Ages 4-8) Saturday, October 27th 2-3pm Registration begins October 12.
Join local author Corey Rosen Schwartz as she reads her latest book, 'The Three Ninja Pigs.' When the big bad wolf threatens their village, three pigs sign up for different martial arts lessons to prepare to take him down. Pig One and Pig Two don't stick with their training, though, and are no match for their foe. But after practice and dedication, Pig Three becomes great at karate (including perfecting the perfect pork chop!) and saves the day.
Once Ms. Schwartz finishes her story the fun continues, as children will have the opportunity to learn some cool ninja moves of their own, as taught by Master Patrick from Somerville Martial Arts academy.
Things with Wings (Ages 4-6)
Tuesday, October 30th from 4:30 pm - 5:30 pm
Registration begins October 16.
Yum! Buffalo wings! Wait a minute, do buffalo have wings? Well, birds are not the only animals with wings. Discover who has wings and how they are used. Flying, singing, swimming, warming up and showing off are just some of the many reasons for wings. Activities may include a craft, a hike, and a game. This program is sponsored by the Somerset County Parks Commission.
Halloween Spooktacular Party (For ages 3+)
Wednesday, October 31st 3:30-4:30pm No registration required.
Crafts, games, stories, and more at this drop-in Halloween party!
Make sure to wear your costumes for a parade around the library at 4:15pm!
Family Storytimes (ages 2-6) are held Tuesdays at 10 and 1:30, Toddler Times (ages 18-36 months) Wednesdays at 10 & 11 and Thursdays at 10:30 & 11:30, Baby Times (Birth-18 months) Thursdays at 9:30 through October 18th. No registration is required
but we ask that you only attend one session each week. Full details are posted our
October Calendar
or you can call us at 908 526-4016 x126. We also offer a satellite storytime/craft on Wednesday mornings at 10:30 a.m. at the Neshanic Station Library.
Looking for an
Evening Storytime
?
Bound Brook Library
has them on Wednesdays starting at 7:00 PM. Program space is limited.
Registration Required.
There are ADDITIONAL PROGRAMS at other system libraries for children & teens…find their online calendars under the "events/programs" tab on our
home page
.

If you register for a program and realize that you won't be able to come, please call (908 526-4016x126) or email us

(
bwljuv@sclibnj.org
)

as early as possible so we can make someone on the waitlist very happy.

Next time that waitlisted participant might be your child!



@ Bridgewater Library for Teens:



Open Mic Cafe Night (Ages 13+)

Thursday,
October 18th
From 7:00pm – 8:30pm
Registration Required to perform begins Sept. 6th.
Think you've got what it takes to get up on stage in front of your peers with nothing but your voice and guitar? Want to share your poetry, comedy, or original music? Then this is your night! Join us for this one of a kind experience, and help local musicians and writers get their voices heard. Depending on registration, artists will receive 10-15 minute slots to play music or recite poetry. Sign ups will be on a first-come, first-served basis. Please check back for more registration information.
**
You only need to register if you are interested in performing.**
Finding Colleges That Fit You (Grades 9-12)(For students in grades 9-12 and their parent(s)/guardian(s)) Thursday, October 11th
From 7:00 pm – 8:00 pm Registration begins Sept. 20th.
Rana Slosberg, a higher education consultant, answers the seven commonly asked questions regarding college selection and what you should do before building a college list. She'll also reveal the top ten things colleges are looking for in an applicant and the five most important areas to explore on your college visit.
Practice PSAT (Grades 7-11)
Saturday, October 13th From 9:00 am – 12:00 pm Registration begins September 21.
Taking the PSAT on October 17th or 20th? Here's your last chance to practice before the real thing! Even if you're not taking the real test this year, a free practice test is one of the best ways to get ready for the real thing. By taking this practice test, you will learn exactly what to expect on test day and receive a complete individual analysis of your results (which will be mailed to you 7-10 business days following the test). Don't forget a #2 pencil and calculator!
College Planning 101: Using Library Resources to Begin Your College Planning
(For students in grades 9-12 and their parent(s)/guardian(s)) Monday, October 15th From 7:00 pm – 8:00 pm
Registration begins September 24.
Feeling overwhelmed by the whole college planning process? Your public library is the perfect place to start your research! During this presentation, we'll go over FREE resources available to you, including databases to help you find scholarships and prepare for the SAT, books that will help you narrow down your choice of school, and much more!
TAB Meeting (Grades 6-8)
Tuesday, October 16th 5:30-6:30pm TAB Meeting (Grades 9-12) Tuesday October 16, 2012 6:30 PM to 7:30 PM Registration required
Do you want to make a difference at your library? Do you have suggestions for programs, new books, movies, or video games? Then come to one of our upcoming T.A.B. meetings! Community service hours will be awarded for attendance and snacks will be served!
Keys to Unlocking Financial Aid (Grades 9-12)
(For students in grades 9-12 and their parent(s)/guardian(s) Wednesday, October 24th From 7:00 pm – 8:00 pm. Registration required
Rana Slosberg, a a higher education consultant, discusses Financial Aid basics, presents a net price calculator, goes over the Financial Aid steps, and reveals how to increase aid and reduce your college costs.
Rana earned a Bachelor of Science degree from the Polytechnic Institute of NYU, a Master of Arts degree from Queens College, a Certificate in Independent Educational Consulting from the University of California Irvine Extension, and visits colleges regularly. She is a member of the Higher Education Consultants Association (HECA), the New Jersey Association of College Admissions Counselors (NJACAC), and the Somerset County Business Partnership (SCBP). This program is open to students in grades 9-12 and their parent(s)/guardian(s). All who plan on attending must register.
5th & 6th Grade Volunteers
Monday, November 5th from 7-8pm Registration required.
ATTENTION STUDENTS IN GRADES 5 AND 6: Here is your chance to make a difference by volunteering at the library! You can help the library with special projects including creating bookmarks for young children, organizing and tidying up the Children's Room, and much more!
VISIT HISTORIC SITES IN SOMERSET COUNTY THIS WEEKEND—AND IT'S FREE!
Van Horne House—Weekend Journey Special Activities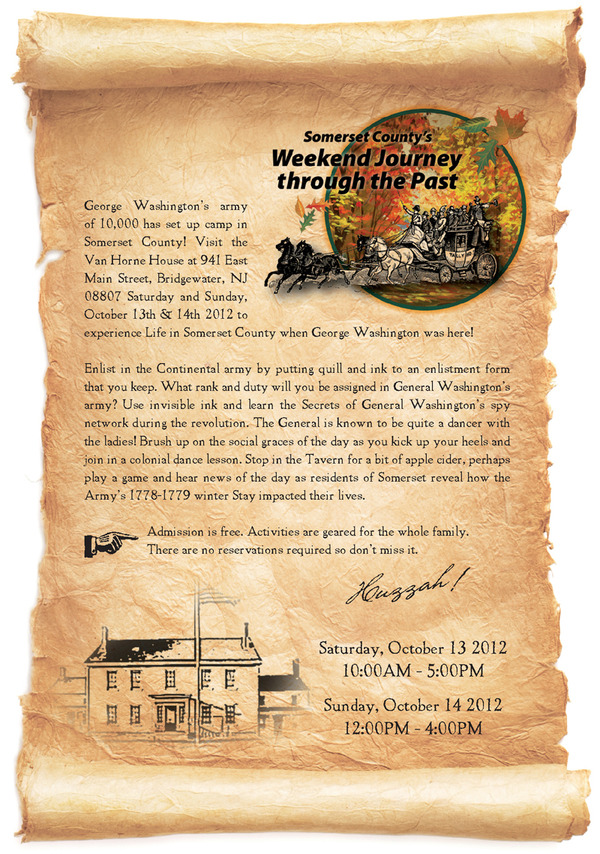 WHEN: Saturday, October 13, 10:00 AM to 5:00 PM; Sunday, October 14, noon to 4:00 PMWHERE:
The Van Horne House, 941 E. Main Street, Bridgewater
Learn Colonial Dance
Enlist in the Continental Army
Experience Tavern Life
The Somerset County Cultural & Heritage Commission, in conjunction with local historical organizations, has designated the weekend of October 13 -14, 2012, "Weekend Journey through the Past." During the two-day period, twenty-two of the County's most significant historic sites will be open. Many of the sites have planned special exhibits, programs, and tours.
Admission and parking at each site is free.
The sites have been grouped into three convenient tours by location:
Northern
,
Central
, and
Southern Somerset County
. A scenic route plan with driving directions has been prepared for each of the three tours.
This annual event is a perfect opportunity for a family outing. A visit to the County's historic sites offers a unique educational experience for young and old alike, as well as a chance to visit some of Somerset County's most picturesque and unspoiled areas.
Heritage Trail Association creatively celebrates and educates the public about Somerset County its role in New Jersey and our nation's history.

The Somerset County Cultural & Heritage Commission has designated the weekend of October 13 & 14, 2012, "Weekend Journey through the Past." Twenty-seven (27) of the County's significant historic sites will be open from 10:00 am to 5:00 pm on Saturday and 12:00 am to 4:00 pm on Sunday. Along with the addition of four "first time" participating sites this year,
a Kids/Family Detective activity, What in the World is That?, is being planned to complement the various special exhibits, programs, and tours planned at each historic site.
Free parking and admission to all sites.
This annual event is a perfect opportunity for a family outing. Many of the sites have significant Revolutionary War histories and have contributed to the area's designation as the "Crossroads of the American Revolution State Heritage Area". Local historians will be on hand to share their knowledge and stories about Somerset County's history.
Weekend Journey through the Past - Special Dedication Event
Washington Rock Park (Site 26) - Saturday, October 13, 2:00 pm
---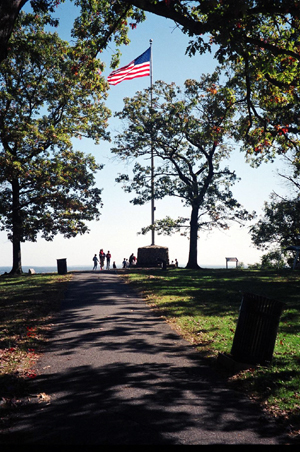 Washington Rock:
On Saturday, October 13
th
, Green Brook Township will be celebrating the 100th Anniversary of the Washington Rock Monument with a public picnic and dedication ceremony. There will be fun and activities for the entire family including pumpkin carving, face painting, games, carriage rides, balloons, and food. The picnic will run from noon until 5:00 pm. At 2:00 pm, there will be a short ceremony and formal dedication of a new, Somerset County historic marker.
Please Note:
Access to the park by car will be limited. We encourage visitors to park at the Green Brook Middle School, 132 Jefferson Avenue, Green Brook, 08812.
(MAP)
Shuttle buses will run continuously between the school and the park. Access by car will be available on Rock Road West from Warrenville Road. On-street parking will be available on Colonial Drive and Deer Path Circle just west of the park. Handicap parking will be available at Fire House #2 on Rock Road West, next to the park.
Road Closings:
Washington Avenue from Rt. 22 north to the park; Rock Road East between the park and Kappleman Drive; and Rock Road East between the park and Colonial Drive, will be closed from approximately 11am through 7pm on Saturday.
History Weekend -- A Basking Ridge Community Event Saturday, October 13 and Sunday, Oct.14, 2012
Do you like Art, Music, Theater, and History?
Join us for a series of free activities throughout History Weekend.
The Boudinot-Southard-Ross Farmstead, located at 135 North Maple Avenue, Basking Ridge, NJ 07920, will be open on Saturday, October 13th from 10am – 5pm and Sunday October 14th from noon-4pm.
The Boudinot-Southard-Ross Farmstead consists of a complex of farm related buildings located in a beautiful rural setting. The site was the home of Elias Boudinot, President of the Continental Congress and signer of the Treaty of Paris. It was also the home of Samuel Southard, acting Vice President, United States Senator and Secretary of the Navy.
History Weekend activities include...
A visit to Boxwood Hall -- the State Museum dedicated to Elias Boudinot
A large, landscape sculpture by our local Flag Man
Scavenger hunts
A Paint Out! -- Artists are welcome to create works on site
Kite Flying -- kites provided on site
Free Hot dogs and drinks
Classic cars will be on site on Sunday from noon – 4pm
If you would like more information about the Ross Property, please contact David Becker at 908-204-3440.
You can also go to www.schistoryweekend.com for details on the Somerset County event.
In addition to the Ross Farmstead, the Brick Academy and the United States Golf Association Museum are also participating sites from Bernards Township. All sites are open and free of charge for "History Weekend".
http://www.historicalsocietyofsomersethills.org/profile_boudinot_estate.php
Theatre of Illusion The Spencers at RVCC
Saturday, October, 13 at 7PM
Ages: 8 & up Tickets: $20 & $25
Is it possible for a person to be folded inside a 12-inch box, to walk through the whirling blades of an industrial fan, and to escape from a water-filled container? You will cross over a threshold of disbelief mere moments after the Spencers take the stage. Theirs is a place where artistry and theatre converge; where intellect and amazement collide; and where impossibility and inspiration are inseparable.
Theatre of Illusion
is a magical concert for your eyes! By combining theatrical elements with cutting-edge illusions, the Spencers have propelled the age-old art of magic into the 21st century.
Tickets.
J.B.'s HARMONICA
A new children's musical featuring the songs of John B. Sebastian and the Lovin' Spoonful. Music and Lyrics by John B. Sebastian Book by Gary P. Cohen
Based on the beloved children's book by singer/songwriter John B. Sebastian, J.B.'s Harmonica tells the delightful story of a talented family of bears, and the trials young 12-year-old J.B. faces when his father gives him a new harmonica. Featuring such classic folk-rock songs as "Do You Believe in Magic?", "What a Day for a Daydream", "Summer in the City", "Did You Ever Have to Make Up Your Mind?", "Nashville Cats" and many others. Great fun for all the Baby Boomers and their kids, whether human or bear!
WHEN: OCTOBER 6, 7, 13, 14, 20
at 12:00 PM & 3:00 PM
TICKETS:
Adults: $3.00; Children 12 and under: $2.00
www.playsinthepark.com

PETER PAN—THE MUSICAL Through October 14, Fridays at 7:30 PM; Saturdays and Sundays at 4:00 PM
WHERE:
The Growing Stage, The Children's Theatre of New Jersey, located in the Historic Palace Theatre on Route 183 in Netcong, New Jersey
TICKETS:
Fantastic Fridays with all tickets $15! Saturday and Sunday tickets are $20 for adults, $15 for children and seniors.
To place your reservation, please contact the Growing Stage Box Office at 973.347.4946 or e-mail at
boxoffice@growingstage.com
.
Peter Pan, like its namesake, is a tale which never ages. Children and adults alike have all fallen under the spell of Neverland, a place where children can fly and exciting, frightening adventures happen every day. RECOMMENDED for the ENTIRE FAMILY!
In 1985 Piers Chater Robinson adapted J.M. Barrie's book for the stage, and now, over 25 years later, his innovative Peter Pan musical score is well known and loved. The ever-popular characters are still there—Peter Pan, Wendy, John, Michael, the dastardly Captain Hook and his sidekick Smee, Tiger Lily, the Lost Boys, pirates, Neverland Indians, and Tinker Bell. The Growing Stage is a professional member of the Association of Actor's Equity.
Think Shakespeare doesn't speak to you? We you speak his words every day! Two River Theater Company, gearing up for a production of
Henry V
, shared these sayings with Ruth Ross from njartsmaven.com :
RVCC has lots of
enrichment programs for Youth
this Fall – check out their catalog here:
http://www.raritanval.edu/uploadedFiles/cce/cfa/youth-programs_fall2012.pdf










RVCC Planetarium has a variety of Saturday and Holiday shows for Children. Click HERE for a complete schedule. All shows run approximately 40 minutes. Admission: $7 for one show, $12 for two shows on the same day. Call 908-231-8805 for reservations!




There are lots more things to do around our community. Look at the "Useful Websites for Families" (on the right side of this blog – click the headline if you are reading this as an email) for many more options!




Let Your Fingers Do More Walking: Lots of great articles for parents this week!
Fire Prevention Week -- Fire Prevention Week is October 7-13, 2012. Does your family have two ways out?
The National Fire Protection Association (NFPA) is encouraging families to find time during Fire Prevention Week to plan two ways out of their homes in case of fire. When planning escape routes, it's best to have two options so that if one exit is blocked by smoke or fire there's still a way to exit safely. Be sure to practice as a family, too. Safety tips from NFPA include having a meeting place outside and practicing your escape plan twice a year.
To learn more about fire safety, visit The National Fire Protection Association website.
Calling all child photographers! Grab your cameras and get snapping. National Geographic's photography contest is going on now.


"There's a lot of mistrust out there"
From Edward Jenner's realization that cowpox could protect human beings from smallpox in 1796 to the introduction in the U.S. of the polio vaccine in 1955 and the measles vaccine in 1963, immunizations have allowed us to nearly — and, in the case of smallpox, completely — eliminate diseases that once killed thousands or even millions of people. As recently as the 1950s and 1960s, it was not uncommon for kids to be born disabled or placed in iron lungs as a result of childhood infections. How did lifesaving vaccines — once greeted with relief and open arms — turn into something so feared?
Read more
.


by
Dan Gorenstein
Marketplace for Wednesday, October 10, 2012
Putting a child into full-time day care can cost up to $15,000 in some parts of the country. That's according to an annual
study
from Child Care Aware of America. The study found that it costs more to put a 4-year-old in full-time care than it does to pay public college tuition and fees in 19 different states…
"being a stay-at-home parent is a very expensive proposition. Not because of what the cost might be directly. The real cost is the earnings power you lose."
And that can be steep. Carnevale says people with college degrees who drop out of the labor market for five years could forgo as much as $1 million over a lifetime of work, depending on the profession.
Carnevale says when that employee tries to re-enter the job market, "It's as if you are somebody with a two-year community college degree." Read
more
about the trade-offs and compromises in work-childcare decisions.
Published: Sunday, October 07, 2012, 5:59 AM By Star-Ledger Editorial Board
Jan van den Brink/istockphoto.com
It takes a pretty charitable person to refrain from hanging up on a telemarketer. But if you've ever given money over the phone, chances are, you got ripped off big-time.
"Our No. 1 tip to donors is, 'Just hang up the phone,' " said Sandra Miniutti of Charity Navigator, a watchdog group in New Jersey.
Only recently, New Jersey's Division of Consumer Affairs shut down a shady Towaco-based telemarketer that was calling on behalf of unregistered charities, and keeping no records on where donations actually went.
Still, people trust charities and have a hard time saying no to local veterans, injured police officers or sick children. And who would ever guess that even big, respected groups such as the American Cancer Society let telemarketers to keep most — if not all — of your donation?
That's what an eye-opening
investigation
by Bloomberg Markets Magazine found. In fiscal year 2010, a telemarketing company called InfoCision gathered $5.3 million for the society, and not one penny went to fund cancer research or help patients. It all went to the telemarketers.
And that kind, appealing voice on the other end of the line may be lying, even though it's illegal. Solicitors might identify themselves as "volunteers." They're not; they're paid telemarketing employees. Even worse, they promise that 70 cents or more of every dollar goes to programs and research — in scripts approved by reputable charities — when it's often as little as 15 percent of the money raised, the magazine discovered.
Ever give to callers for the American Heart Association, American Lung Association, American Society for the Prevention of Cruelty to Animals, March of Dimes Foundation or the National Multiple Sclerosis Society?They use the same deceptive telemarketing company. Charities see little downside to accepting contracts that allow InfoCision to keep most or all of the money raised, because their groups get the names of people who might contribute again. Yet in the meantime, your generous donation is flushed down the drain — unless you wanted to contribute to InfoCision's founder,
Gary Taylor
, who lives on a 28-acre wooded estate in Ohio while the telemarketers earn $7.40-an-hour minimum wage.Naturally, Taylor calls himself a job creator. When he complained about early efforts to begin the National Do Not Call Registry, which allows people to block calls from for-profit solicitors, Taylor said the problem was "excessive governmental regulation."
Yet all the while, companies including his have been leeching off willing charities, taking money away from cancer victims, diabetics, battered animals and babies with birth defects.
And, above all, from people like you.
…Schools encourage parent involvement primarily because children do better academically and have fewer behavior problems when families are involved. Schools also benefit from the resources and support families can provide, which are particularly important in these economic times.
Even though we know this type of involvement is a good thing, parents with overloaded work and family responsibilities can find participation difficult. If helping out at school isn't possible for you, there are many other ways to participate. The most important type of parent involvement happens at home. And it involves much more than overseeing homework. On the most basic level, you can encourage your child's learning during every day conversations and activities, by paying attention to his interests and questions, and by reading together on a regular basis. Read
More
.
A Lively Mind: Your Brain On Jane Austen
by HELEN THOMPSON and SHANKAR VEDANTAM
Finally,
A fascinating look at how our brain reads …and why "reading while distracted" makes a HUGE difference in how we experience the material both intellectually and emotionally…(
with huge implications for you and your children:
…"What's been taking us by surprise in our early data analysis is how much the whole brain — global activations across a number of different regions — seems to be transforming and shifting between the pleasure and the close reading."
…close reading activated unexpected areas: parts of the brain that are involved in movement and touch. It was as though readers were physically placing themselves within the story as they analyzed it….
Read more.