Programs at the Bridgewater Library and Around the Community for children, teens, and families.
@ Bridgewater Library: Programs
Our Winter/Spring storytime sessions end April 5th, storytimes resume April 24th.
Join us each week for stories, songs, finger plays, and a short film.

Family Story Time

(ages 2-6)

Tuesdays at 10 a.m. and 1:30 p.m.

Toddler Time

(18 mo.-3)
Wednesdays at 10 & 11 a.m. and
Thursdays at 10:30 a.m

and 11:30 a.m

.
Clapping and singing, rhymes and books….introduce your toddler to the beginnings of story time!
Infant Lap Sit
(birth to 18 months)
Thursdays at 9:30
Clap your hands and stamp your feet and let you baby feel the beat of stories, songs and rhymes.

No registration required.
Super Science: Star Wars Legos and Robotics (Ages 6-12)
Monday, April 2nd from 4:00pm - 5:30pm Registration required
Sorry this event is full.
Have fun building an adventure from a galaxy that is far, far, away! We bring the Legos; you bring the builders. Build new and older models and then have a battle with your friends. Each child brings home a mini-set or key chain!
Advocacy: Legal and Financial Issues for the Family with Children of Special Needs Thursday, April 5th
From 7-8:30pm
Registration required
Presented by Eliot M. Goldstein
An introduction to the issues involved with planning for the future of a child with special needs. Learn about guardianship, letters of intent, wills, special needs trusts, financial planning/funding strategies and other important but often neglected topics. The workshop is free of charge and 1 ½ professional development hours will be awarded to attendees.
Eliot Goldstein is the founder of the GOLDSTEIN LAW FIRM, LLC, which focuses on estate planning, estate administration (probate) and estate litigation. General Counsel to the New Jersey Center for Tourette Syndrome and Associated Disorders.
Spring Craftacular (Ages 3-8)
Saturday, April 7th From 10:30am – 11:30am Registration required
April showers not only bring May flowers, but they also bring another fun-filled Craftacular! Join us for a craft that will help usher in our favorite season.
Kindermusik with Ms. Jenni (Ages 0-5 years)
Monday, April 9th
From 10:30am – 11:30am Registration begins March 26th.
Join Kindermusik's Ms. Jenni for quality, entertaining music that helps your child develop language, literacy, social and listening skills in a fun, nurturing, family-friendly setting. Not to mention they're going to have a great, foot-stomping time!
Friends' Concert: Sharlys Dugan 'Celtic Storytelling, Song, and Dance'
Saturday April 14, 2012 2:00 PM to 3:00 PM
No Registration Required Youth & Adults welcomed.
Join us on April 14th for a very special performance from
Sharlys Dugan
. Ms. Dugan is a charming and talented young performer. Her one-woman program will incorporate Celtic storytelling with musical accompaniment, Celtic dance, singing, and more! Sharlys can sing in Scottish and Irish Gaelic, and is an experienced dancer and storyteller - part of the program will involve teaching kids how to learn some of her moves!
This program was made possible by the Friends of the Bridgewater Library.
After-School Special: Titanic (Grades 2-5)
Monday, April 16th
From 4:30-5:30pm Registration begins April 2nd.
We will commemorate the 100th anniversary of the sinking of the Titanic by sharing the story of this ill-fated voyage, exploring myth, truth and trivia, as well as creating our own mini-iceberg!
Sing-A-Long: Happy Earth Day (Children of all ages)
Thursday, April 19th From 10:00am-11:00am Registration begins April 5th.
Celebrate our beautiful planet on Earth Day with some springtime tunes!
There are LOTS OF PROGRAMS at other system libraries for children & teens…check out their online calendars under the "events/programs" tab on our
home page
for more information.
@ Bridgewater Library for Teens:
Open Mic Cafe Night (Ages 13+)
Thursday, March 29th From 7:00pm – 8:30pm Registration required. **You only need to register if you are interested in performing.**
The Bridgewater Library is proud to announce its first-ever Open Mic Night! Think you've got what it takes to get up on stage in front of your peers with nothing but your voice and guitar? Want to share your most well-crafted poetry or original music? Then this is your night! Join us for this one of a kind experience, and help local musicians and writers get their voices heard. Depending on registration, artists will receive 10-15 minute slots to play music or recite poetry. Sign ups will be on a first-come, first-served basis. Please check back for more registration information.
Talk It Up Movie: 'Men in Black' (Grades 5-8)
Saturday, March 31st From 2:00pm – 4:00pm. Registration begins March 16th.
Here come the Men in Black. Kay and Jay, members of a top-secret organization established to monitor and police alien activity on Earth known as Men in Black, find themselves in the middle of a deadly plot by an intergalactic terrorist who has arrived on Earth to assassinate two Ambassadors from opposing galaxies. In order to prevent worlds from colliding, the MiB must track down the terrorist and prevent the destruction of Earth. It's just another typical day for the Men in Black.
A Menu of Poetic Delights
Monday April 2, 2012 7:00 PM to 8:30 PM
If you need more words and images in your diet, join us for an evening of reading, writing, and eating poems. The menu will include a word salad, food haiku, and delicious odes for dessert. No writing experience is necessary. Just bring a pen and paper and get ready for your first bite!
Registration Required.
Speaking of poems, we hope you'll submit yours to our compilation.
Here are the
submission guidelines.
Teen Advisory Board (For Students in Grades 6-8) Tuesday, April 17th 5:30-6:30pm Teen Advisory Board(For Students in Grades 9-12) 6:30-7:30pm Registration required
Do you want to make a difference at your library? Do you have suggestions for programs, new books, movies, or video games? Then come to one of our upcoming T.A.B. meetings!
Community service hours will be awarded
for attendance and snacks will be served!
@ the Library: Displays:
Happy Birthday Authors & Illustrators
– Check out some books by the authors and illustrators who have birthdays this month – at the back of the Children's Reference Desk.
Celebrate the Many Women Who Contributed to this Country's History –
display atop the magazine section.
Who, What, Where, Why, How? –
Have questions about the world around you? Find the answers in the books on our display by the reshelving area.
Focusing On Science in March
– great books to awaken the curiosity in your child, on the shelf between the Early Readers.
Want to do some science at home? Check out this recipe for
Elephant Toothpaste!
There are lots more great science experiment sites under the "Academic Enrichment & Reinforcement" tab in the "useful links" section of this newsletter. (If you are getting this as an email, click on the headline to open to our page, the "useful links for families" are along the right side.)
Around the Community:
FOOD, INC.
Academy Award nominated film
WHEN: Wednesday, March 28, 7 PM WHERE:
Warren Municipal Courtroom, 46 Mountain Boulevard in Warren
ADMISSION:
Free
How much do you know about the foods that you eat? All high school students and adults are welcome to watch Academy Award-nominated
Food, Inc.,
and learn about the foods we eat every day, how they are produced and the effect of their production on the environment and on our health.
Following the movie, Wanda Knapik, owner of "My Local Garden," will moderate a constructive discussion on the topic.
This event is brought to you by the Warren Township Green Team and Recreation Committee, in partnership with the Watchung Hills Regional High School Environmental Club, and the Green Teams and Recreation Departments of Watchung, Long Hill and Green Brook.
Please RSVP to Ila Gillenwater,
irgillenwater@hotmail.com
if you intend to come so that adequate seating and refreshments may be prepared. Thank you to Roseann's Macaroni Kids Warren for the information on this program.
From Our Farms Springtime Celebration at Bernardsville Library
When Fri, March 30, 10:30am – 11:30am at Bernardsville Public Library (
map
) Ages 2-6 Click here to register.
From Our Farms is a fun-filled educational program run by Rutgers University that teaches children and their families about the importance of good nutrition, the value of local agriculture, and the role farms play in enriching our community and the environment. Through fresh food focused stories, activities and crafts, children are given an opportunity to explore the food they eat.
If you have a middle or high school student, take him or her to see this riveting production of Macbeth with 30 roles performed by 7 actors
in Jersey City! Parking is free, easy and nearby.
Here's a bit of the review by Ruth Ross:
REVIEW: "MACBETH" @ ACTORS SHAKESPEARE COMPANY IN JERSEY CITY
In my 34 years of teaching high school English, I've probably taught
Macbeth
to close to 3400 students, watched films versions countless times and attended about five live performances, but rarely have I seen as riveting a production as the one onstage at the Actors Shakespeare Company. If you think Shakespeare is boring or for intellectual types, get on over to the
Westside Theatre
in Jersey City where the joy of seeing the play performed live will make you (teenagers, college students
and
adults) a Bard-lover forever.
Read more.
March 16 – April 1, Fridays at 7:30 PM, Saturdays and Sundays at 3:00 PM
West Side Theater, 285 West Side Avenue, Jersey City
TICKETS:
$30, $15 and $10 for adults, seniors and students. PAY YOUR AGE under 18. Mention this listing and get a discount.
Buy tickets online and save 20% using the code POSTER. CLICK HERE
or get rush tickets for only $7.00 24 hours before showtime at
www.njartstix.org
.
"Fair is foul and foul is fair..." In one of Shakespeare's most brutal and cynical stories, virtually nothing is as it appears. Ambiguity, secrecy, twisted prophecy and ambition collide as the characters hurtle towards their own delusion and destruction. ASC's intense, small cast production creates a cauldron in which the darkest of human desires forge a most unhappy alchemy.
Arrive early! Bard Banter discussion in lobby 30 minutes before curtain. Directions, click here.
SEUSSICAL Music
by Stephen Flaherty Lyrics by Lynn Ahrens
Based on the works of Dr. Seuss
WHEN: March 9 to April 1 with performances Friday evenings at 7:30 PM, Saturday and Sunday matinees at 4:00 PM
WHERE:
The Growing Stage, The Children's Theatre of New Jersey, located in the Historic Palace Theatre on Route 183 in Netcong
TICKETS:
$18 for adults, $14 for children and seniors, with group rates available. On Sunday, April 1
st
the Growing Stage will host
a signed interpreted performance
at 4:00 PM. Tickets can be purchased by calling the TGS Box Office at 973.347.4946 or logging onto their website at
www.growingstage.com
.
Now one of the most performed shows in America,
SEUSSICAL
is a fantastical, magical, musical extravaganza! Tony winners Lynn Ahrens and Stephen Flaherty (
Ragtime
,
Once On This Island
) have lovingly brought to life all of our favorite Dr. Seuss characters.
The story centers around Horton the Elephant, who finds himself faced with a double challenge—not only must he protect his tiny friend Jojo (and all the invisible Whos) from a world of naysayers and dangers, but he must guard an abandoned egg, left to his care by the irresponsible Mayzie La Bird. Although Horton faces ridicule, danger, kidnapping and a trial, the intrepid Gertrude McFuzz never loses faith in him, the only one who recognizes "his kind and his powerful heart." Ultimately, the powers of friendship, loyalty, family and community are challenged and emerge triumphant in a story that makes you laugh and cry.
STEP AFRIKA!
WHEN: Friday, March 30, at 8 PM
WHERE:
RVCC Theatre, 118 Lamington Road, Branchburg
TICKETS:
$22 & 32
Step Afrika! is the first professional company dedicated to the tradition of stepping. Stepping is a unique dance tradition created by African American college students. In stepping, the body is used as an instrument to create intricate rhythms and sounds through a combination of footsteps, claps and spoken word. Stepping is without question a rising art form and an important part of America's artistic and cultural heritage. As stated by historian Jacqui Malone and author of
Steppin' on the Blues
, stepping is "one of the most exciting dance forms to evolve in the twentieth century."
Learn to Step with Step Afrika! Saturday, Mar. 31, at 9:30 AM
Appropriate for beginners.
FREE. Pre-registration required. Call Cindy at 908.231.8801
FAMILY PERFORMANCE
AT GROUNDS FOR SCULPTURE A Year with Frog and Toad
Sat., March 31st, 1pm
Price:
Free with park admission.
Advance purchase is recommended by calling (609) 586-0616 Tues. - Sun., 10am - 6pm. Advance purchase ends 3/29, 5pm.
Grounds For Sculpture is A GREAT place to visit with children and this weekend they have a special event, for children and adults alike, Centenary Stage's production of
A Year with Frog and Toad.
This unforgettable musical remains true to the spirit of the original stories as it follows a cheerful frog and a grumpy toad through four fun-filled seasons as they learn life's lessons, including important ones about friendship and celebrating what makes each of us different and special.
This event is brought to you by the New Jersey Theatre Alliance The Stages Festival. Looking ahead, mark your calendars for a return visit on Sunday April 15th for A Day at the Fair.
DANCE FOR LIFE
Multicultural dance troupes, hands-on workshops, a family health fair and more!
Saturday, March 31, from 1:00-4:00 PM
Courtyard at Robert Wood Johnson University Hospital (RWJUH), 1 Robert Wood Johnson Place, New Brunswick
ADMISSION
: free, and open to the public. Registration begins at 12:30. For more information, contact Adam at Young Audiences New Jersey at 1.866.500.9265 or e-mail
info@yanj.org
This popular family event is presented annually by Young Audiences New Jersey, in collaboration with the Community Health Promotion Program
of RWJUH, with generous support from Johnson & Johnson.
This year's "Dance for Life" theme features performances from multicultural dance troupes, hands-on dance workshops and even an on-site health fair focused on childhood health and wellness issues. Children of all ages are welcome, accompanied by a parent/guardian or other favorite adult.
"Dance is not only a beautiful art form, it's also a great form of exercise," said Larry Capo, executive director of Young Audiences New Jersey. "We hope that our talented performers and our workshops will inspire children and their parents to learn more about dance, and also find fun new ways of being active and healthy together as a family."
This year's Family Arts Festival events include:
Professional Dance Performances, featuring:
Ginga Brasileira – Capoeira dance from the heart of Brazil.
The Seventh Principal – Inspired by West African dance and music traditions.
Student Dance Performances by:
Ballet Folklórico Xochipilli Mexican Dance Troupe
Lustig Dance Theatre Jr. Ensemble
King's Academy of Dance Arts
I AM PHRESH Dance Studio
Dance Workshops:
Children and adults alike will explore dance from different cultures in four fun, active workshops, including workshops with members of our professional performing groups:
Brazilian Dance
West African Dance
Latin Dance
Ballroom Dance
Family Health Fair:
Visit the health fair area for information on nutrition, safety, and tips on how the whole family can stay active and have fun together.
About Young Audiences New Jersey:
Since 1973, Princeton-based Young Audiences New Jersey has been bringing creativity and inspiration to children and educators through innovative, curriculum-rich arts education programming.
Travel to Ancient Egypt Saturday March 31st at the Princeton Museum:
Games Day at the Children's Museum
– interactive activities most typically suitable for children ages 3 to 9
Sunday April 1st from 10-2:30 Game and Puzzle Day (with a scavenger hunt!

T
he museum has recently purchased several lawn-size games, including checkers, chess, Parcheesi, and Chutes and Ladders as well as a nice collection of international board games, and you are welcome to bring your own. They'll also have two Scavenger Hunts, the first at 11AM and the second at 1:30PM.
The winner of each scavenger hunt will go home with a special mystery prize.
Families can arrive and leave at any time. Parents and/or caregivers are expected to stay with children during the museum visit. Please use discretion in bringing very young children, as the museum is NOT baby-proof (some craft items are small and could present a choking hazard).
Location: The PeopleCare Center, 120 Finderne Avenue, Bridgewater, NJ 08807 (parking and entrance are in the rear of the building).
Cost: A $3/ per child donation is suggested for those who can afford it. For more information: somersetcminfo@gmail.com or call 908-595-0001.
Check out their
video of aluminum pie pans flying off a Van De Graaff Generator
from last weekend's Science Day!

TEENS, LOOKING FOR VOLUNTEER HOURS??

– Check
here
for volunteer opportunities at The
Children's Museum
this winter & spring. More info. contact: Tom Davidson, volunteer coordinator 908-725-4677
tadavidson@gmail.com
LAURIE BERKNER BAND
"The queen of kids' music." –
People Magazine
WHEN: March 31, 11:00 AM (one show only) (Show runs approx. 1 hour 15 min.)
WHERE:
New Jersey Performing Arts Center in Newark
TICKETS:
$18.00, $28,00, and $38.00, plus applicable fees.
*Infants under the age of 1 sitting on a lab may attend for free with a comp ticket that needs to be picked up day of show at the box office.
Tickets may be purchased online at
www.njpac.org
or by calling 1-888-GO-NJPAC
Children's music superstars and Nick Jr. channel favorites
The Laurie Berkner Band
are on an "Animal Party" tour, and will will perform old favorites as well as new songs from their DVD,
Party Day
!.
Kids can bring a favorite stuffed animal
(those in the know will put them on their heads for
Pig On Her Head
) and
wear their party clothes
(don't forget
dancing shoes
!).
The Laurie Berkner Band has teamed up with
Heifer International
in 2012. Families can make a $1.00 donation to Heifer at the show and receive a Laurie Berkner Band prize! Heifer International is an organization that helps provide livestock, seeds, or training to a family struggling with hunger and poverty. Visit
http://www.heifer.org/
for more information.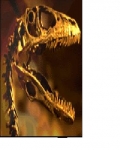 TRAVEL TO ANCIENT EGYPT APRIL 4TH at the Rutgers University Geology Museum
. The museum is free and open to the public &
offers exhibits, scavenger hunts, and tours and programs. The museum Self-service scavenger hunts for different ages are always available. Tours can be scheduled.

Click

here

for more information on special events at the museum.
Exhibits
include a dinosaur track way, a mounted mastodon, a 2400 year old mummy, rocks and minerals from New Jersey and around the world, and
florescent minerals
.
On the third Saturday of every month the Geology Museum provides free
tours
to prearranged groups of 10 to 50 people. Guests of all ages learn about dinosaurs, geology, the Ice Age, mastodons, mummies, and minerals with special attention given to New Jersey-based exhibits. Tours must be booked at least two weeks in advance.
Late Nights at the Museum on the first Wednesday of each month feature activity stations for children and adults from 4pm-8pm.
Wednesday, April 4, 2012 Anthropology
Wednesday, May 2, 2012 Fossils
RVCC PLANETARIUM SHOWS FOR KIDS
All shows run approximately 40 minutes. Admission: $6 unless otherwise specified. Call 908-231-8805 for reservations!
Magic Tree House: Space Mission Wednesday, April 11 at 2:00 p.m. Saturdays, May 5, 12, 19 at 3:00 p.m.
Sunday, May 20 at 3:00 p.m.
What would you do if you found a note with lots of question on it? "How many stars in the starry night sky? If we flew to the Sun, how long would we fly? Will we travel to planets and will it be soon? Will we ever be able to live on the Moon? How does it feel to journey through space? Why is our Earth so special a place?" From the authors of the best-selling novel series, join Jack and Annie as they discover the secrets of the Sun, Moon, planets, space travel, and more. Who can help them answer the mysterious "M's" questions? (recommended for ages 5 and older)
The Somerset County Environmental Education Center has many programs this month and is now registering for summer camps, Awesim Kids (ages 10-12) and Eco-Explorers (ages 7-9) and XTREME ADVENTURE Ages 13 - 15

Tuesdays, July 10 - August 14

(Overnight trip August 14 - 15). Xtreme d

ay trips may include hiking the Appalachian Trail, swimming in glacial lakes, splashing around waterfalls, rock climbing, kayaking, white water rafting, and an overnight Sedge Island experience clamming and snorkeling in Barnegat Bay!

Sign up for one trip or for all trips!

Prices will vary from $25 to $225 per trip depending on the specific activity.

Environmental Education Center, Basking Ridge 908 766-2489.

This month they are also offering

CANOE AND KAYAK PROGRAMS
CAN-U-CANNU??
After a "splashing" time at this introductory canoe class, you will learn the basic paddling techniques, safety aspects of canoeing, and handling of a canoe in and out of the water. Attendance at this class required prior to participation in our river trips. These programs offer an opportunity for adults and children, ages seven and older, to learn to canoe. An adult must accompany children under the age of 15. Each canoe can accommodate two paddlers and a child passenger. Classes will take place on Branta Pond at the Environmental Education Center. $14 per person Course Code: 50350 Canoe-78 Tuesday, April 10 10:00am-Noon or Canoe-79 Sunday, April 15 9:30am-11:30am or Canoe-80 Sunday, May 13 10:30am-12:30pm
GAMES ON THE POND
Improve your paddling skills by playing games on the water. Captain-Captain, tag, and tail pull will be some of the games. This will be a fun session to get us out on the pond and have a little competition. You will be amazed at how much better you will paddle after these two hours! Prior participation in Can-u-Cannu or Kan-u-Kayak required.
$20 per person Course Code: 51489 Canyak-5 Tuesday, April 10 1:00pm-3:00pm Canyak-6 Sunday, May 20 1:00pm-3:00pm
Moe-Tion Dance Company
WHEN: Sat. Mar. 30, 8 PM
WHERE:
Sitnik Theatre
Moe-tion Dance Theater is dedicated to experimenting and creating new forms of expression.
Nai-Ni Chen Dance Company
WHEN: Sat. Mar. 31, 8 PM
WHERE:
Sitnik Theatre
Tickets/Ordering
A blossom of color, energy and motion. The dances of Nai-Ni Chen fuse the dynamic freedom of American modern dance with the grace and splendor of Asian art.
Carolyn Dorfman Dance Company
WHEN: SUN., Apr. 1, 4 PM
WHERE:
Sitnik Theatre The Carolyn Dorfman Dance Company is acclaimed for its artistic excellence and range as well as its extraordinary ability to communicate to audiences about dance and the creative process.
The Theatre at Raritan Valley Community College (RVCC) in Branchburg will present The Gizmo
Guys, Sunday, April 1, at 1 and 3:30 p.m. The performance is part of the Theatre's Sampler
Series and is recommended for the entire family. Tickets costs $10 and $12 each.
The Gizmo Guys have entertained audiences with their hilarious and enthralling act around the world. The Gizmo Guys, Allan Jacobs and Barrett Felker, are much more than a comedy juggling act. Their act includes original routines, quick-witted verbal repartee and world-class juggling skills in a very light-hearted approach to the art. The Gizmo Guys' rapid-fire act exhilarates and inspires sidesplitting laughter in audience members of all ages.
As a member theatre company of the New Jersey Theatre Alliance (NJTA), Actors Shakespeare Company at New Jersey City University will present three theatre workshops as part of NJTA's The Stages Festival, a unique statewide program providing free and heavily discounted tickets to performances and special events throughout the state of New Jersey in March.

Get That Laugh
WHEN: Saturday, March 31, at 11:00 AM
WHERE: West Side Theater, 285 West Side Avenue, Jersey City.
ASC at NJCU offers a physical comedy workshop in which participants will discover how to physically characterize their comedic instincts. "Learn time-honored, stage-tested techniques used by Plautus, Bergson and Brooks to consistently get the laugh," says Mark McCarthy, who will instruct the participants.
For more information about the workshops and theater, call ASC at NJCU at 201.200.2390 or visit www.ascnj.org.
Tuesday, April 3 - Lego Build
April- LEGO duck
Where: LEGO Store Bridgewat
er Commons Mall 5:00 PM - 7:00 PM Ages 6- 14 show up early! Free
One day each month you can learn how to build a cool LEGO mini model, and take it home – for free! Quantities are limited to approximately 250 per store and offer is good while supplies last. A new model will be available every month and will be specially themed to that month – ask a Store Associate for details! Models are not for sale and cannot be purchased. One free per child. Event is open to children aged 6 to 14 only.
Build. Learn. Create. Have fun with Kid's Workshops!FREE hands-on workshops designed for children ages 5 - 12 offered the 1st Saturday of every month at all The Home Depot stores between 9:00 a.m. – 12:00 p.m.
Workshops teach children do-it-yourself skills and tool safety along with instilling a sense of pride and accomplishment.
All kids get to keep their craft and receive a FREE Kids Workshop Apron, commemorative pin and certificate of achievement.
If you are a teacher, member of your child's school's PTA or administrator, why not bring Shakespeare to your school this Spring? It's the perfect time and way to introduce the kids to the Bard. If you're in doubt, you can attend a preview at the STNJ theater in Madison on April 14:
live@ShakespeareNJ.org
(link on graphic will not work)
Thanks to Ruth Ross at njartsmaven.com for some of these listings! For more info. on events in our area, check out http://warren.macaronikid.com/ and http://hillsborough.macaronikid.com/ as well as the individual websites listed on the side of this blog (click the headline if you are receiving this by email.)
Let Your Fingers Do (More) Walking:
Looking for local summer camps? Warren Macaroni Kid has compiled this
2012
Summer Camp Guide
.
(This will also be linked on our "useful links for families" section of this newsletter – if you are getting this emailed, click on the headline to open to our page, the "useful links" are along the right side.)
Almost 100,000 children are injured on home stairs each year.
Stairs at Home Remain a Childhood Hazard
– check out this eye-opening
article
!
PNC Essay Contest 2012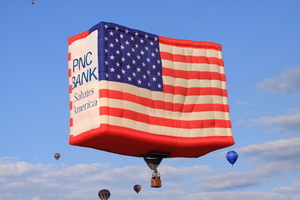 HOT AIR BALLOON TO VISIT WINNER'S SCHOOL!
CONTEST ENCOURAGES STUDENTS AND TEACHERS STATEWIDE TO CELEBRATE THE AMERICAN FLAG
PNC Bank and the Quick Chek New Jersey Festival of Ballooning are inviting New Jersey students in grades 2 through 12 to take part in the 9
th
annual PNC Bank American Patriot Essay Contest by writing a short essay on the topic "What the American Flag Means to Me."
The largest summertime hot air balloon and music festival in North America celebrates its 30
th
anniversary July 27-28-29, 2012 at Solberg Airport in Readington, NJ.
This year's Grand Prize winner will receive a visit to his or her school by a gigantic, 75-foot-tall hot air balloon in June and a special VIP package at this year's Festival: a hot air balloon ride for two, four Blue Sky Club VIP tickets, and the opportunity to meet one of this year's concert headliners. Second and third place prize winners will get Festival admission and merchandise. The winning student's immediate classmates will each receive one complimentary general admission ticket to the Festival and the winning student's teacher and school principal will each receive two Blue Sky Club VIP tickets.
Every teacher in the state who submits a group of 15 essays or more on behalf of their students will receive two free general admission tickets to the Festival regardless of whether one of their students submits the winning essay.
The essays should be 100 words or less. They will be judged by a panel of representatives from PNC Bank and the balloon festival. Winning essays will be selected based on creativity, poignancy and clarity with consideration given to the grade level of the contestant. Contestants are not required to be U.S. citizens.
Entries should be submitted by May 1, 2012 to
Essay Judges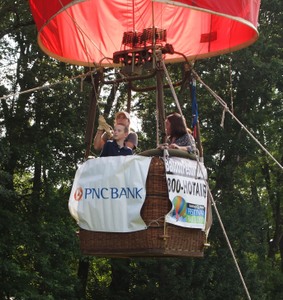 , Quick Chek New Jersey Festival of Ballooning
363 Route 46 West, Suite 200
Fairfield, NJ, 07004
Students can also enter the contest by
:
* emailing their essays to
information@balloonfestival.com
* visiting the Festival's web site at
www.balloonfestival.com
Entries should include the student's name, home or school address, home or school telephone number, grade, age, school name and the name of their teacher.
Just as our trees are starting to show a green tinge:
Wonderopolis #538: Can You Drive Through a Tree?
Curious?
Find out!