The Bridgewater Library will be closed SUNDAYS starting Memorial Day weekend throughout the summer.
Spring
Family Story Time on Tuesdays at 10 a.m. and 1:30 p.m. runs through June 7th. Toddler Time and Baby Lap Sit are over for the Spring. They will resume in July (Tuesday mornings for age 3+ storytime/craft, Thursday mornings for Toddler Time; Friday mornings for Baby Lap Sit.) We'll also have school age programming on Wednesdays and performers for the whole family on Thursday afternoons and evenings. For full details on our summer program schedule, see the Bridgewater Library Online Calendar
.
Programming is a little light for the next two weeks as librarians will be out visiting the schools to share information about the summer reading clubs but be sure to check out our
Friends of the Library Book Sale
June 8th-11th, bag sale June 13th.
Book sale prices are as follows:
Adult hardcover books $ 2.00/ea.
Children's hardcover books $ 0.50/ea.
All other softcovers $ 0.50/ea.
Pocket Size softcovers $ 0.25/ea.
CD audio books, music CDs and DVDs $ 1.00/ea.
Videos and Cassettes $ 0.25/ea.
LPs $ 0.10/ea.
The Friends of the Library accept only cash for purchases and payment of entry fees. Book sales are held at the Bridgewater Library, 1 Vogt Drive, Bridgewater, NJ.
HOURS: Wed. June 8th 4-8:30 $ 20 pre-admission, Thurs. 9:30 a.m.-8:30 p.m., Fri. & Sat: 9:30 a.m.-4:30 p.m. Monday June 13th. BAG SALE – hours TBA.
Representatives of non-profits & educational institutions may come to take leftovers on Monday.
Father's Day Craft
(For ages 2-10)
Saturday June 18, 2011
10:30 to 11:30 AM Give your Dad a great big hug and make him something great! We'll have the craft supplies but feel free to bring any special decorations from home.
Registration Required.

Summer Reading Club
registration opens on
Monday June 20th.
It is a chance for your kids to keep track the time they spend reading or listening to books
(yes, pre-schoolers are most welcome as are audiobook listeners!)
All summer long, we'll have lots of programs, games, and prizes
so stop by the library and check us out!
Rocket Readers
Tuesday June 21, 2011
4:30 to 5:30 PM
Registration begins June 7.
An exciting program for brand new readers! At each program we will discuss a book, play some games or create a "book-tiful" craft related to the story. Students should read the book prior to the program. Copies of the book will be available at the Youth Services Reference Desk.
Iris and Walter; Lost and Found
by Elissa Haden Guest. When Baby Rose grabs and breaks Iris's special button necklace, their mother helps to fix it for show-and-tell. After school, Iris borrows her friend Walter's harmonica, given to him by his grandmother. When it disappears, she worries about Granny's reaction. Join us for a discussion and activity!
Talk It Up
(Limited to grades 5 - 8)
Tuesday June 21, 2011,
7:00 to 8:00 PM
Registration Required.
If you love to read and talk about books, you are cordially invited to an hour of book talk and friendly company. Parents and parent substitutes are welcome to join in the discussion.
A Wrinkle in Time
by Madeleine L'Engle. Meg's father, Dr. Murray, an eminent physicist, has been missing for two years. One night, Mrs. Whatsit, a strange old woman, appears as she's 'blown off course' while taking a shortcut through time and space along with her friends Mrs. Who and Mrs. Which. Taking Meg, her little brother, and their new friend Calvin, to rescue the imprisoned Dr. Murray on the planet ruled by IT, Charles Wallace also falls under IT's control and Meg discovers that she must now rescue them all.
Singing with Carol
(Families with children of all ages)
Wednesday June 22, 2011
10:00 to 10:45 AM and 11:00 to 11:45 AM
No registration required.
One world, many songs!
Join us and sing your way into the summer reading club!
Lego Club (For Grades K-2)
Wednesday June 22, 2011
1:30 to 2:30 PM
Lego Club (For Grades 3-6)
Wednesday June 22,
2011
3:00 PM to 4:00 PM
Registration for both begins June 8th.
Get together with other Lego-maniacs, share ideas and tips on building, and have a great time! Library Legos will be available for building.
(K-2 Parents and guardians, you are welcome to stay and build with your registered child. However, due to the nature of the materials, if you plan to stay we ask you to please make other arrangements for siblings younger than Kindergarten age.) Registration begins May 3 – please do not register pre-schoolers.
Click, Clack, Moo: Cows that Type
(For ages 3 and up)
Saturday June 25, 2011
10:30 to 11:15 AM
Registration begins June 10
Join us to hear the story and learn what Farmer Brown does about the cows' demands!
Story and craft.
Lunch and a Movie 'Gnomeo & Juliet'
Rated G (For ages 3 and up)
Wednesday June 29, 2011
1:30 to 3:30 PM
No Registration Required
Red Gnomes and Blue Gnomes do not get along except the two who fall in love! Who will win the "Garden Wars" when the Gnomes try and keep our star-crossed lovers apart? Bring your lunch or a snack and watch this hilarious movie by the producers of Shrek. No open top drinks, please!
Summer Reading Club Kick-Off 'THE GIZMO GUYS!'
(Suggested for ages 3 - 12)
Thursday June 30, 2011
7:00 PM to 7:45 PM
or
Saturday July 2, 2011
10:30 to 11:15 AM
No Registration Required – Please attend only one session.
Kick-off your Summer Reading Club with a rousing good time. Join the Gizmo Guys for juggling, jokes and antics that will keep you laughing all summer long!
Teens, we have a Reading Club for you as well starting June 20th – keep track of the books you read and earn chances for lots of terrific prizes!
Stress Relief Yoga
(For Grades 6 - 12)
Thursday June 23, 2011
5:00 to 6:00 PM
Registration begins June 9.
School's out and finals are over! Get a relaxing start to your summer as an instructor from Gurukul Yoga leads you through yoga exercises to help reduce the stresses brought on by the end of the school year!
A release form must be signed before participating in this program. Forms are available at the Youth Services Reference Desk.
Teen Advisory Board Meeting
(For students entering grades 6 - 12)
Tuesday June 28, 2011
6:30 to 7:30 PM
Registration begins May 24.
Do you want to make a difference at your library? Do you have suggestions for programs, new books and movies? Then come to the T.A.B. meeting. Community service hours will be awarded for attendance.
@ the Library – Displays & Activities:
Travel Far, Pay No Fare – Read Around the World with our books displayed atop the magazines.
Father's Day books are atop our holiday section.
Our Parent-Teacher Display by the Early Reader shelves has books and DVDs on "Positive Discipline."
Around the Community:

EDISON DAY IS JUNE 4!
WHEN:
Saturday, June 4, 10:00 PM to 4:00 PM
WHERE:
Thomas Edison National Historic Park, 211 Main Street, West Orange Cost $7 adults, under 16 FREE
DIRECTIONS HERE
The popular wax cylinder recording sessions will.feature the Paragon Ragtime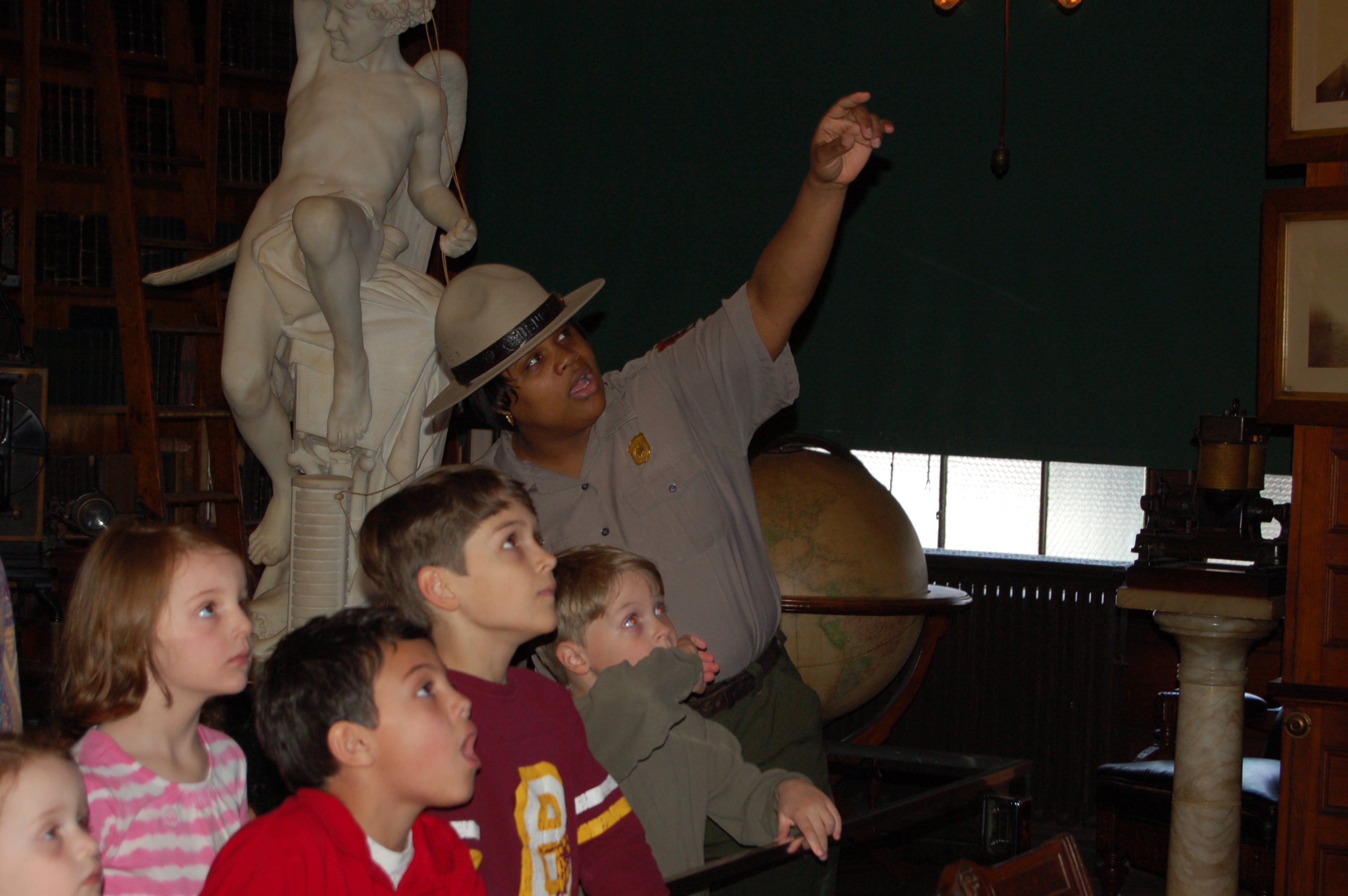 Laboratory Band, the Bob Ferrel Trombone Quartet and blues singer Mamie Minch. The heavy machine shop will be in operation, its belts and pulleys certain to raise a terrific racket. Rangers will lead tours of the chemistry lab and present additional programs all day. Stop by the Archives exhibit in Building 4 and see some of the documents behind our Twitter postings on Edison's activities in 1911.
Take a tour of Glenmont (below), and then check out the Edisons' cars in the garage. Play Parcheesi, Edison's favorite game! Sign up for tours of the geothermal system. Stop by the Conservatory and see the exhibit "From Famous to Forgotten: 125 Years of Guests at Glenmont."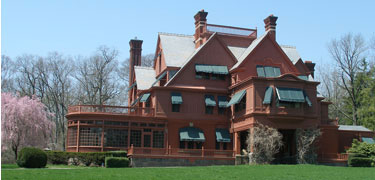 The Wizard of Oz opens the season at the Washington Crossing Open Air Theater in Titusville. Check out their full summer schedule.
June 3, 4 and 5, 2011
June 10, 11 and 12, 2011
By L. Frank Baum,
Adapted by Frank Gabrielson
Music and Lyrics of the MGM motion picture score by Harold Arlen and E.Y. Harburg.
After Dorothy's house squashes the Wicked Witch of the East, she and her dog Toto and her friends, Scarecrow, Cowardly Lion and Tin Woodsman go on a remarkable journey to see the great Oz, who will only grant them their wishes if they rid the world of the Wicked Witch of the West.
Washington Crossing Open Air Theatre • 355 Washington Crossing-Pennington Road • Titusville, NJ 08560-1517 • 267.885.9857
Bonnie Brae Scottish Games
Bring the family to the Bonnie Brae Scottish Games! Festivities include over 600 pipers and drummers in parade. (12 PM and 4:45 PM) Highland Dance competition, sheep dog demonstrations, The Scot's Horses, Scottish athletic competitions, children's activities, British car show, vendors and Scottish foods! See schedule below. Bring lawn chairs.
WHERE
: Bonnie Brae School, 3415 Valley Road, Liberty Corner. Across from the Lyons VA Hospital.
WHEN
:
Saturday, June 4, 9:00 AM - 5:30 PM (Rain or shine.)
WHO
: Families — all ages!
HOW
: No registration - just come by!
COST
: $12 per adult, children 6-16 are $3.00, and children under 6 are
FREE. Parking is $5.00.
For more info: Go to
www.eohebrides.com
.
Saturday, June 4 - Game Day
Here are some (mostly) FREE activities for your kids and families this weekend, June 4-5:
Animal Artifacts
Get a close up look at some unique animal artifacts during this hour-long exploration in Eat and Be Eaten. Examine snake sheds, turtle shells, skeletons, preserved animal specimens -- and even a fossil megalodon tooth! A Liberty Science Center Animal Specialist will be on hand to answer all of your questions.
WHERE
: Liberty Science Center, Jersey City
WHEN
:
Saturday, June 4, 11:00 AM - 12:00 PM
WHO
: Anyone
COST
: Free with paid admission in the Eat and Be Eaten exhibition.
Science Activity: Bubbles & Balloons

Explore the smallest frontiers of NanoScience and discover how the world changes when you look at it on a very small scale.
WHERE
: Newark Museum, 49 Washington Street, Newark
WHEN
:
Saturday, June 4, 1:00 PM - 4:00 PM
WHO
: Ages 10+
HOW
: No registration required
COST
: Free with suggested admission
For more info:
www.newarkmuseum.org
Art Activity: Victorian Games

Stop by for a family-friendly art activity.
WHERE
: Newark Museum
WHEN
:
Saturday, June 4, 1:00 PM - 4:00 PM (Saturdays & Sundays)
WHO
: Families
HOW
: Visit
www.newarkmuseum.org
for more info
COST
: Included in regular admission
Game Day
Drop by between 10am and 4pm to participate in the Yu-Gi-Oh tournament (from 2-3 p.m.) and play other games.
WHERE
: Bound Brook Library, Hamilton Street, Bound Brook
WHEN
:
Saturday, June 4, 10:00 AM - 4:00 PM
WHO
: Kids
HOW
: Registration preferred, but walk-ins are welcome! Please call the library (732-356-0043) or visit
http://www.somerset.lib.nj.us/boundbrook.htm
to register for this program.
COST
: free
Saturday Make & Take Craft
Stop by between 10 AM and 4 PM and make a simple craft or art project.
WHERE
: Bound Brook Library
WHEN
:
Saturday, June 4, 10:00 AM - 4:00 PM
WHO
: Ages 4+
HOW
: No registration required
COST
: Free
Free First Sundays at Zimmerli Art Museum
The first Sunday of every month at the Zimmerli becomes a free day of activities, tours, and fun for the whole family. Scavenger hunts are offered in English and Spanish between 12:30 and 4 PM. Tours for children and adults are available at 1 PM and 2 PM.
WHERE
: Zimmerli Art Museum, New Brunswick
WHEN
:
Sunday, June 5, 12:00 PM - 5:00 PM
WHO
: Families
HOW
: No registration required
COST
: Free
Colonial Craze!
Join a Naturalist on this fun adventure through the trails of Colonial Park. In celebration of spring, kids will engage in imaginary games, go on a nature scavenger hunt, and revel in springtime happenings. Afterward, take advantage of this great park and head to the innovative playground for more shenanigans!
WHERE
: Colonial Park, Somerset
WHEN
:
Sunday, June 5, 1:00 PM - 2:30 PM
WHO
: Ages 4 to 6
HOW
: Call 908.766.2489 to register
COST
: $10/pair
Thanks to Allison @ Macaroni Kids of Hillsborough Branchburg & Somerville
Tuesday, June 7 - Twice Is Nice
What do you do with all those old itty-bitty crayon pieces that are lying around? Bring them to class and learn the secret of making bigger and better recycled ones! We will also make some recycled paper and while our "new paper" is drying, we will play with our "brand new" crayons. Please feel free to bring a snack with you.
Where: Somerset County Environmental Education Center, Basking Ridge: 10:00 AM - 12:00 PM Ages infant to 5 Call 908.766.2489 to register Cost: $10/pair
Tuesday, June 7 - PJ Storytime
Night time story.
Bound Book Library 7:00 PM - 7:30 PM Ages 3-6 No registration required
Thursday, June 9 - Science In The Library
This month's Science in the Library will explore volcanoes and tornadoes around the world to look at what causes them.We will explore the Bernoulli Principle and its role in how tornadoes cause damage. You will each make a volcano, a tornado bottle and a Bernoulli funnel.
Where: Somerville Library 4:30 PM - 5:15 PM Grades 2 to 5 No registration required Cost: Free
Teen Scene:
Thursday, June 2 - First Look Books
Want a FREE BOOK? Get a sneak peek at new teen titles before they hit the shelves! Tell the library what you think, and take one home.
Where: Hillsborough Library When: 5:00 PM - 6:00 PM Grades 6 to 12 Call 908.369.2200 ext 14 to register.




Art for Families at the Princeton Art Museum
(most Saturday Mornings, see calendar for upcoming programs.)


Annual Family Barbeque
Join us for our second annual summer programming kick-off, the Museum's Family Barbeque! With face-painting, hands-on activities, great cook-out food, kid-friendly Museum tours, and more, this event is a great way for you and your kids to celebrate the beginning of summer! Be Late. Be Cool. Summer at the Art Museum.
Date/Time:
06/16/11 5:00 pm - 7:30 pm
LIBERTY HALL MUSEUM HOSTS "BRIGADE OF THE AMERICAN REVOLUTION WEEKEND
WHEN: Saturday and Sunday, June 4 and 5, 10 AM to 5 PM
WHERE:
Liberty Hall,1003 Morris Avenue in Union, New Jersey
ADMISSION;
$10 for adults, $6 for seniors and children. Museum members, Kean University faculty, staff and students and children under three are admitted for free.
For further information, contact Liberty Hall Museum at 908.527.0400 or visit
www.kean.edu/libertyhall
.
In commemoration of the 231st Anniversary of the Battle of Connecticut Farms and the Bicentennial of the Kean Family's acquisition of Liberty Hall, the museum offers
a weekend
of energetic and colorful activities. During Friday night and early Saturday morning, the 18th century camps will be set up, complete with soldiers' tents, officers' marquees, cooking areas and craft displays.
Liberty Hall Museum at Kean University, chronicling more than 200 years of American history is a treasure trove of significant riches. The museum served as home of New Jersey's rebel Governor William Livingston (1776-1790). Both British and American troops camped and skirmished on the grounds. The main house was ransacked by both sides repeatedly during the war.
PAPER MILL PLAYHOUSE ANNOUNCES SENSORY-FRIENDLY THEATER PERFORMANCE
PERFORMANCE IS DESIGNED FOR CHILDREN WITH AUTISM AND OTHER DEVELOPMENTAL DISABILITIES
STONE SOUP AND OTHER STORIES
WHEN: Saturday, June 11, 2011 at 10:00 AM
WHERE:
Paper Mill Playhouse, 36 Brookside Drive, Millburn
TICKETS:
Reserved tickets are $12-$15. Tickets may be purchased by calling 973-376-4343, or at the Paper Mill Box Office on Brookside Drive in Millburn, or online at Paper Mill Playhouse's website:
www.papermill.org
.
Paper Mill Playhouse gift cards, available in any denomination, can be purchased at the Paper Mill Playhouse Box Office. Visa, MasterCard, Discover and American Express accepted.
Designed specifically for children on the autism spectrum, or with other developmental disabilities, and planned in cooperation with Autism New Jersey and The Douglass Developmental Disabilities Center at Rutgers University, the theater environment will be altered for this performance, providing a sensory-friendly, comfortable and judgment-free space that is welcoming for all families. At this unique presentation, theater lights will remain up, sound volume will be lowered and consistent and children will be free to talk and leave their seat under parental supervision. The show will run about one hour with an intermission.
STONE SOUP AND OTHER STORIES
is a charming, well-seasoned blend of select folk tales from around the world that are dynamic, participatory and filled with zesty entertainment! For this performance Pushcart Players are taking steps to condense and adapt the show's script to ensure it is literal and free of dramatic devises like innuendo and sarcasm, which are not readily understood by some children with autism or other developmental disabilities. They are also taking steps to equalize the dynamics of the performances to avoid sudden or jarring changes in sound levels.
Additionally, Paper Mill Playhouse will host a free
Open House titled "Meet Your Seat!" on Friday, June 10, 2011 from 3:00 PM to 6:00 PM
. This is an opportunity for children who are new to theater experiences to visit the theater space before the show.
No reservations are required for the Open House
. Resource material will be available including a sequence book, study guide and sing-along prep video. These items may be downloaded or viewed on
www.PaperMill.org
.
Linda Meyer, Executive Director of Autism New Jersey consulted with Paper Mill staff to design an event that is inclusive and comfortable for all families. "Autism New Jersey is proud to support Paper Mill Playhouse's project,
Theater for Everyone
. Families, all families, will truly be welcomed at this performance. During Autism New Jersey's Listening Tour, we heard parents envision a future where their families are accepted and valued in their local community.
Elena Graziosi, Information Coordinator for Autism New Jersey agrees, "I am looking forward to bringing my daughter Katia to see Pushcart Players perform
Stone Soup and Other Stories
. We have seen them perform before and they were very warm and friendly with the children. Paper Mill Playhouse is offering an excellent opportunity for children like mine who otherwise might not be able to enjoy a theater environment, as darkness and loud or unexpected sounds can be frightening. The accommodations and preparatory materials being provided truly make a difference."
Thanks to
http://hillsborough.macaronikid.com/
,
www.njartsmaven.com
and
http://njfamily.com/en/events
for these listings.
Looking for more things to do?
Check out the many Events Listings under the
USEFUL LINKS FOR FAMILIES
on the right side of
our blog
. They are great resources when you are looking for an overview of what is available to do in our on a particular day.
Let Your Fingers Do MORE Walking:
June is National Fresh Fruit and Vegetables month. Mix healthy fruits and vegetables and counting with
Fair Shares
.
Check out this
Wonder of the Day – How Does 3D Work?
then get reviews on the latest 3D movies (as well as regular DVDs and videogames) at
Commonsense Media.
The librarians are always happy to guide you to amazing and wonderful books, music, and media …please ask us for suggestions!