@ the Library: Programs
Family Story Time
continues on Tuesday 2/22 at 10 a.m. and 1:30 p.m. There is
NO
Toddler Time
and
Baby Lap Sit
this week.
Family Story Time on Tuesdays at 10 a.m. and 1:30 p.m., Toddler Time on Wednesdays at 10 & 11 a.m. and Thursday at 10:30 a.m. and Baby Lap Sit on Thursdays at 9:30

all resume the week of March 8th

. For full details on this and other programs, see the Bridgewater Library Online Calendar
.
Fun with Math!
(For families with children 4 and up)Wednesday February 23, 2011 7:00 PM to 8:00 PM Hands-on Activities where Parents and children explore & learn together with engaging center-based Math activities.
Registration Required.
Speaking of Math, February 20-26 is
National Engineers Week
. Check out these fun engineering ideas!
Build a cardboard slide that takes three seconds to roll down.
http://mixinginmath.terc.edu/activities/rideonaslide.cfm
Build the highest tower you can out of recycled materials.
http://mixinginmath.terc.edu/activities/soaringtowers.cfm
http://www.facebook.com/pages/Mixing-in-Math/106528062702847
(And don't forget to take a look at our
continuing display of Math books above the Picture Book section
– there are lots of fun and fascinating books to help your children understand & enjoy mathematics.)
Volunteer Opportunities for entering Grades 5 - 6
Registration Required Thursday
February 24, 2011 7:00 PM to 8:00 PM Make a Difference @ the Library. Attention students in grades 5 and 6, here is your opportunity to make a difference by volunteering at the library.
Volunteer hours will be limited to the above listed date and time.
Singing with Carol
(Families with children ages 3 - 10)
No registration required.
Saturday February 26, 2011 10:30 AM to 11:30 AM
Happy Birthday Dr. Seuss!
Join us for a musical, Seussical Saturday as we celebrate Dr. Seuss's Birthday in song & story!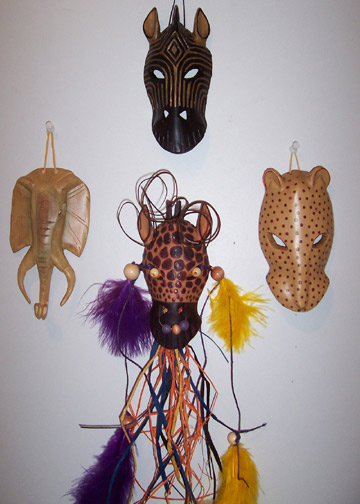 African Folktales and Mask Craft
(For ages 4-10) Monday February 28, 2011 4:30 PM to 5:30 PM
Registration required.
In celebration of Black History Month we'll listen to African folktales then create our own masks to take home.
"Over Here Molly Pitcher!"
(For families with children grades 3 and up) Saturday, March 5 at 2:00 pm. This performance is meant to be enjoyed by elementary school aged patrons.
No registration required.
Celebrate Women's History Month (and get a little New Jersey history, too!) when you meet "Molly Pitcher" and she tells you of her adventures during the Revolutionary War.
Storytimes, Toddler Times & Baby Lap Sits resume the week of March 8th.
See our
schedule
for dates & times.
Evening Storytime
Tuesday March 8, 2011 7:00 PM to 8:00 PM For all ages. Join us for family drop-in storytime and hear stories, songs and more!
No Registration Required.
Storytime with Spence
(For children in grades 1 - 5) Saturday, March 12 at 10:00am.
Registration begins February 25.
Come meet Spence, an English Labrador Retriever and certified therapy dog. Spence and his owner, Brielle will be here to share some stories and talk about one-on-one reading sessions to dogs in a comfortable, loving environment.
Lego Club (For Grades K - 2)
Saturday March 12, 2011 1:30 PM to 2:30 PM
Registration Required
Lego Club (For grades 3-6)
Saturday March 12, 3:00 PM to 4:00 PM
Registration Required
Here's a club just for you! Get together with other Lego-maniacs, share ideas and tips on building, and have a great time! Library Legos will be available for building.See previous creations at:
http://www.flickr.com/photos/bwljuv/
Chapter Book Club
(Limited to grades 3 - 4) Wednesday March 16, 2011 4:30 PM to 5:30 PM
Registration required
Calling all 3rd and 4th graders who enjoy books. Parents or caregivers of participants are welcome to join in the discussion. Check with the youth services librarian at the desk to get your book or ask questions.
Amelia Earhart : the legend of the lost aviator
by Shelley Tanaka ; illustrated by David Craig
Other biographies of Amelia Earhart may be read as a substitute for this title.
Wednesday, March 16 from 4:30 pm - 5:30 pm On July 2, 1937, aviatrix Amelia Earhart mysteriously vanished. This biography follows Earhart from her first sight of an airplane at the age of 10 to the last radio transmission she made before she disappeared.
The Music of Clara Schumann performed by "Clara Schumann"
Saturday March 19, 2011 2:00 PM to 2:45 PM (For families with children in grades 2 - 8)
No registration required.
Join us and "Clara Schumann" for an interactive, educational, musical experience of classical music. This performance is meant to be enjoyed by elementary school aged patrons.
And don't forget – you can attend programs at any of our NINE member libraries – just click on the "Events/Programs" tab at the top of our

home page

(or on the right side of our

children's home page

) for schedules and information.
@ the Library -- Displays:
There is still time to take a look at our
Black History Month display
in the adjacent bookshelves which include some of our favorite
African-American Historical Fiction Picture Books
and
Chapter Books
.
Also on display this month:
Great Family Read-Alouds for a snowy day (or any day)
on the Youth Services Reference Desk and
Fast Cars for NASCAR
above the magazines.
Around the Community:
46 Circus Acts in 45 Minutes: C!RCA


WHEN: Friday, Feb. 25, and Saturday, Feb. 2,6 at 7 PM
WHERE:
The Theatre at RVCC, 118 Lamington Road , Branchburg
TICKETS
: $25 908.725.3420
rvccArts.org
From Brisbane, Australia, comes a bold new vision of contemporary circus. A blending of bodies, light, sound and skills. A place where acrobats and movement meld into a seamless whole. A celebration of the expressive possibilities of the human body at its extremes. Since 2006
C!rca
has toured 18 countries across 5 continents. Critics have raved about its shows calling the work "stunning...exquisite... heart‐stopping" and "electrically charged."
Wherever
C!rca
has taken its breathtaking, heart-stopping show, audiences have flocked to see the impossible happen. Watch as intrepid acrobats battle the clock. Marvel at the astounding ways they bend, fly, juggle and balance. Be dazzled by their skills.
C!rca
is Australia's most innovative circus and
46 Circus Acts in 45 Minutes
is its all-time favorite family show. Fast, furious fun for everyone. Set to upbeat music and featuring four multi‐skilled performers, this is circus without the boring bits.
The combination of acts—some unbelievable, others humorously naff or botched—together with likeable performers, audience participation and breathless pace, made for a greatly entertaining and highly-recommended family show. —
THE ARGUS, BRIGHTON
Free Family Circus Skills Workshop
Run away and join the circus—at least for a day! Twist, turn, balance, bend, juggle, wiggle and spin your way around the circus ring. Trainers from C!RCA will share tricks of the trade at a
FREE
workshop
Saturday, February 26, from 2-3 PM
. Grab your spot for a fun intro to hula hoops, scarf juggling and acrobalance. Mom and Dad can join in or watch from the sidelines. (Recommended kids ages 7 and up.)
To register, e-mail cindy@rvccarts.org or call 908.231.8801
Circa is also performing a longer show on Friday 2/25 at The State Theatre of NJ in New Brunswick. Info here. $13 discount tickets are available.
The Children's Museum's annual train program, titled
'Westward Ho! A Train Extravaganza'
, will be held on Saturday February 26
th
from 1 to 4 PM in the Cafeteria of The PeopleCare Center, 120 Finderne Ave., Bridgewater. Activities for the program include a 'design your own' engineers cap, train buttons, a visit to the Wild West (with Lincoln Logs), several model train sets for assembly and playing, train books and videos, and our popular painted cardboard boxes, waiting to be turned into train cars by young and old alike. Several generic science exhibits, including our audio-kinetic sculpture, Bernoulli blower, and bubble machine, will also be on hand. Each program has interactive activities suitable for children ages 3 to 9. Suggested donation is $3 per child. More info is available at 908-595-0001 or
www.childrensmuseumnj.org
. The full schedule is in the useful websites section of this blog.
http://bwlibys.blogspot.com

.
3rd annual

Seed Swap & Gardening Gathering

!
Mar 8, 2011, 7:00 PM at the Bridgewater Library. Hosted by Holistic Moms Network of Somerset County.
Come share gardening tips, browse vegetable and flower seed catalogues, swap seeds, explore CSAs (Community Supported Agriculture), talk composting, discover local Community Gardens, discuss and share ideas! This is for gardeners of all levels, from ultra-experienced to newbie, organic or otherwise, for those willing to share their knowledge, to those who want to learn and have questions. Dads, grandparents and children are always welcome!
More info.
Drawing Club at the Zimmerli Art Museum in New Brunswick
Ages 9-14 SPRING SESSION:
Wednesdays, March 9 - April 6 Time:4:15 to 5:45pmFee per five-week session: Zimmerli members: $20 per five-week session Non-members: $25 per five-week session
Aspiring artists apply the full gamut of drawing techniques, including pencil and charcoal, to various genres such as still-life and portraiture. Teachers include Freda Rhodes, head art teacher in the New Brunswick school district, Alan Lazare, M.F.A. (Mason Gross School of the Arts), and other professional educators who address the needs of both beginners and advanced artists.
Spring registration opens on November 8 for members and November 15 for non-members.
For ages 9-14, you may print out the
SPRING registration form

.
Looking for something else to do with your kids? Check out this

daily guide from njfamily.com

.

(A permanent link is available in the "Useful Websites for Families" on the right side of this blog under "Events - NJ Family.")
Let Your Fingers Do the Walking:
Amy Chua's new book,
Battle Hymn of the Tiger Mother
has ignited a storm of parenting controversy. Here's the
New York Times
response:
http://parenting.blogs.nytimes.com/2011/01/14/raising-happy-imperfect-children/?src=tptw