Hopefully the groundhog didn't see his shadow and we can say "GOODBYE" to this winter very soon!
And welcome to the
"Year of the Rabbit"
-- according to the Chinese Calendar the new year begins February 3rd. Curious about the animals in the Chinese Zodiac? – the library has some wonderful
retellings
of this legend as well as many books about the
Chinese New Year
Holiday. Want to celebrate at home? Here's some more
information about the holiday
and some fun
crafts
.
@the Library: Activities
Family Story Time continues on Tuesdays at 10 a.m. and 1:30 p.m. (NOT at 1 p.m. – there is an error in our printed calendar) through February 22nd, Toddler Time is on Wednesdays at 10 & 11 a.m. and Thursday at 10:30 a.m. and Baby Lap Sit is on Thursdays at 9:30 through February 17th. For full details on this and other programs, see the Bridgewater Library Online Calendar
.
Lego Club (For Grades K - 2)
Saturday February 5, 2011 1:30 PM to 2:30 PM
Lego Club (For grades 3-6)
Saturday February 5, 2011 3:00 PM to 4:00 PM
Here's a club just for you! Get together with other Lego-maniacs, share ideas and tips on building, and have a great time! Library Legos will be available for building.
Registration Required .
See previous creations at:
http://www.flickr.com/photos/bwljuv/
Teen Advisory Board Meeting
(For students in grades 6 - 12)
Registration Required
Tuesday February 8, 2011 6:30 PM to 7:30 PM. Do you want to make a difference in your library? Do you have suggestions for programs, books and movies? Come to our T.A.B. meeting and share your thoughts!Community service hours will be awarded for your attendance.
Evening Storytime
(For families with children 3 and up) Tuesday February 8, 2011 7:00 PM to 8:00 PM. Join us for family drop-in storytime and hear stories, songs and more!
No Registration Required
Chapter Book Club
Wednesday, February 16 from 4:30 pm - 5:30 pm (Limited to grades 3 - 4 Parents or caregivers of participants are welcome to join in the discussion.)
Registration required.
Niagara Falls, Or Does It? by Henry Winkler and Lin Oliver
Fourth-graders Hank, Ashley, and Frankie are excitedly preparing for a magic show at the Rock 'N Bowl when Hank's creative alternative to an English essay lands him in detention and was grounded the week of the show. Copies of the book will be available at the Youth Services Reference Desk.
Elephant and Piggie Craftacular
(For ages 3 - 6)
Registration begins February 4.
Saturday February 19, 2011 10:00 AM to 11:00 AM Do you enjoy reading Elephant and Piggie books by Mo Willems? Join us for a story, activity, and a craft based on this fun duo!
Rocket Readers
(Limited to grades 1-3)
Registration begins February 8
Tuesday February 22, 2011 4:30 PM to 5:30 PM An exciting program for brand new readers! At each program we will discuss a book, play some games or create a "book-tiful" craft related to the story. Students should read the book prior to the program. Copies of the book will be available at the Youth Services Reference Desk.
Minnie and Moo: Will You Be My Valentine?
by Denys Cazet. Dressed up like two Cupids, the two friends set out to deliver Valentine's Day poems to everyone on the farm.
Talk It Up Book Discussion Group
Tuesday February 22, 2011 7:00 PM to 8:00 PM (Limited to students in grades 5 – 8)
Registration Required
If you love to read and talk about books, you are cordially invited to an hour of book talk and friendly company. Parents and parent substitutes are welcome to join in the discussion.
The Wright Three
by Blue Balliett. Spring semester at the Lab School in Hyde Park finds Petra and Calder drawn into another mystery when unexplainable accidents and ghostly happenings throw a spotlight on Frank Lloyd Wright's Robie House, and it's up to the two junior sleuths to piece together the clues. Stir in the return of Calder's friend Tommy (which creates a tense triangle), H.G. Wells's The Invisible Man, 3D pentominoes, and the hunt for a coded message left behind by Wright, and the kids become tangled in a dangerous web in which life and art intermingle with death, deception, and surprise. Copies of the book will be available at the Youth Services Reference Desk.
Fun with Math!
(For families with children 4 and up)
Registration begins February 9
th
Wednesday February 23, 2011 7:00 PM to 8:00 PM Hands-on Activities where Parents and children explore & learn together with engaging center-based Math activities.
Volunteer Opportunities for entering Grades 5 - 6
Registration Required
Thursday February 24, 2011 7:00 PM to 8:00 PM Make a Difference @ the Library. Attention students in grades 5 and 6, here is your opportunity to make a difference by volunteering at the library.
Volunteer hours will be limited to the above listed date and time.
Singing with Carol
(Families with children ages 3 - 10)
No registration required.
Saturday February 26, 2011 10:30 AM to 11:30 AM
Happy Birthday Dr. Seuss!
Join us for a musical, Seussical Saturday as we celebrate Dr. Seuss's Birthday in song & story!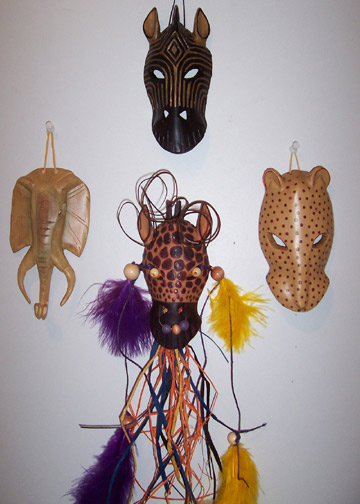 African Folktales and Mask Craft
(For ages 4-10) Monday February 28, 2011 4:30 PM to 5:30 PM
Registration begins February 14.
In celebration of Black History Month we'll listen to African folktales then create our own masks to take home.
And don't forget – you can attend programs at any of our NINE member libraries – just click on the "Events/Programs" tab at the top of our home page (or on the right side of our children's home page) for schedules and information.
@ the Library – Displays & Materials:
Extend your hand in friendship
(and make a wish for the the world) by decorating a hand for our Bulletin Board behind the reference desk.
While you are there, take a look at our
Black History Month display
in the adjacent bookshelves. It is a great opportunity to help your kids understand the difference between the Civil War and the Civil Rights Movement – and don't realize that equal rights for Black Americans were only achieved (relatively) recently when their parents (or grandparents) were children. Stories are a great way to convey this part of our country's history – and help kids develop empathy. Here are some of our favorite
African-American Historical Fiction Picture Books
and
Chapter Books
. Check them out!
Also on display this month:
Great Family Read-Alouds for a snowy day (or any day)
on the Youth Services Reference Desk and
Fast Cars for NASCAR
above the magazines.
Around the Community:
The Children's Museum
has lots of programs planned this winter & spring.
On Sunday Feb. 6th from 1-4 p.m. children are invited to explore science and try experiments. Includes a science magic show, and an inclined plane fruit rolling contest (bring your favorite fruit and see how it compares with our lemons and pears). Each program has interactive activities suitable for children ages 3 to 9. The full schedule is in the useful websites section of this blog.
http://bwlibys.blogspot.com
THE GROWING STAGE IS OFF TO SEE THE WONDERFUL WIZARD OF OZ!
The Wizard of Oz
WHEN:
February 4–27, Fridays at 7:30 PM, Saturdays and Sundays at 4:00 PM
WHERE:
Route 183, 7 Ledgewood Avenue in Netcong
TICKETS:
$16 for adults, $12 for children and seniors. 973.347.4946 or by logging onto the company's website at
www.growingstage.com
.
This professional production, which is based on the MGM classic movie, was originally conceived by the Royal Shakespeare Company in London.
The Growing Stage is a professional member theatre of the Association of Actor's Equity and is funded in part by the New Jersey State Council on the Arts.
500 Clown Macbeth
Wed, February 2, 2011, at 8 pm
Thu, February 3, 2011, at 8 pm
Fri, February 4, 2011, at 8 pm
Sat, February 5, 2011, at 3 pm & 8 pm

500 Clown smashes
Macbeth
to pieces, then tears through the rubble to forge a wild, unpredictable and hilarious deconstruction of Shakespeare's classic. Three clowns descend upon a stage to perform the Scottish play. Infected by ambition, they compete for the title role. In the process, they destroy the text, the set and eventually each other. Ripping through the fourth wall, the clowns generate a charged environment in which the audience is left to wonder what was planned and what was created for the first time. Featuring no red noses or big shoes, 500 Clown conspires with the audience to redefine "clown" and "Macbeth" as they propel
500 Clown Macbeth
to its exhilarating conclusion. These performances take place at the
Crossroads Theatre
, 7 Livingston Avenue, New Brunswick.
Tickets: $30
STREB: BRAVE
Fri, February 4, 2011, at 8 pm

STREB declares an all-out war on gravity, combining dance, gymnastics, circus skills, and stunt-work with high-tech, cutting-edge set design to redefine the possibilities of movement. Powerful bodies fly in an artfully dangerous, action-packed program of extreme sports meets gymnastics. The audience will be on the edge of their seats as the dancers move with breathtaking precision around, through, and against various contraptions-and each other. Gravity be damned!
Tickets: $22-42 WHERE:
State Theatre, 11 Livingston Avenue, New Brunswick, NJ 08901 call 732.246.SHOW Online:
www.StateTheatreNJ.org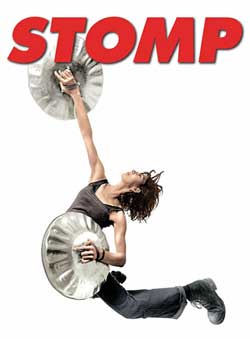 Fri, February 11, 2011, at 8 pm
Sat, February 12, 2011, at 3 pm & 8 pm

STOMP
is explosive, provocative, sophisticated and unique, and appeals to audiences of all ages. The international percussion sensation has garnered an armful of awards and rave reviews, and has appeared on numerous national television shows. The eight-member troupe uses everything but conventional percussion instruments—matchboxes, wooden poles, brooms, garbage cans, Zippo lighters, hubcaps—to fill the stage with magnificent rhythms. As
USA Today
says, "
STOMP
finds beautiful noises in the strangest places."
STOMP
. See what all the noise is about.
Tickets: $32-67
732.246.SHOW Online:
www.StateTheatreNJ.org
FREE SHAKESPEARE PRODUCTION IN JERSEY CITY
Actors' Shakespeare Company has a production perfect for Shakespeare lovers…and it's FREE:
SHAKESPEARE'S QUEENS: WOMEN IN POWER AND WHAT THEY SAY
Shakespeare's Queens
is a celebration of feminine strength and a tribute to the struggles of women who fail to conform to society's expectations. Often as not, Shakespeare's queens are the ones who speak the most sense in a situation, or cut directly to the heart of a problem. They are not always listened to or believed, which is generally a failure of imagination or foresight on the part of the men around them.
WHEN:
Friday, February 4, at 7:30 PM and February 5 at 3:00 PM
WHERE: New Jersey City
University's West Side Theater, 285 West Side Avenue in Jersey City. There is ample parking in the University's parking lot on West Side and Audubon Avenues. As part of its "ASC in the Community" series, ASC at NJCU will travel on
Sunday, February 6, for a 1:30 PM presentation
at Congregation B'nai Jacob, 176 West Side Avenue, Jersey City.
TICKETS
: free! For information, or to make reservations call the ASC at NJCU box office at 201.200.2390 or visit
www.ascnj.org
.
Actors Shakespeare Company at NJCU is a professional, classical theater-in- residence on the campus of New Jersey City University. The Company engages the community in clear, vibrant and affordable productions of Shakespeare and other classic works to entertain, educate, and inspire audiences of all ages and backgrounds.
TAKE THE KIDS TO SEE "ANNIE" CLOSE TO HOME!
WHEN: Saturday, February 12 and 19, at 7 PM, Sunday, February 13 and 20, at 2 PM and Monday, February 21, at 11 AM and 3 PM.
WHERE: Leon & Toby Cooperman JCC, 760 Northfield Ave., West Orange
TICKETS: $25; Seniors, Students $22. www.boxoffictickets.com/jccmetrowest or call 800.494.TIXS (800.494.8497).
For more information visit http://www.JCCtheatre.org
The JCC MetroWest Musical Theatre Company presents the timeless classic musical
Annie
, the story of a spunky Depression-era orphan determined to find her parents.Over its 23-year history, the JCC MetroWest Musical Theatre Company has been awarded with numerous accolades, most recently winning four NJACT Perry-Awards for last years' production of
Cinderella
.
Liberty Hall Museum at Kean University celebrates Valentine's Day with a series of special events. Visitors can enjoy seasonal activities and take in the museum's impressive collection of artifacts in the historic Victorian mansion of New Jersey's first elected governor, William Livingston.
On
Wednesday, February 9 from 2–4 PM
, Liberty Hall hosts its
Sweetheart-Valentine's Afternoon Tea.
The afternoon teas are a monthly tradition at the museum, and each is offered with a different timely theme.
"It's the perfect place to sip tea, lunch on finger sandwiches and enjoy desserts while gazing at the formal English garden—beautiful even in the snow—from the comfort of our glass-enclosed porch," says William Schroh, director of museum operations.
A tour of Liberty Hall
will follow the tasty repast, and is included in the program fee of
$35 per person
.
Will You Be Mine?
is a crafts workshop especially designed for children and
their families on
Saturday, February 12 from 10 AM to 1 PM
. Recommended for
7 to 12 year olds
, participants are guided in designing and constructing their own old-fashioned Valentine's craft.
"That special someone will love the hand-made gift the children make at our 'Hearts and Crafts' workshop," added Schroh. The fee for the workshop is
$10 per child
, and
all workshop materials are included
.
(Thanks, as always, to Ruth Ross of njartsmaven.com for some of these listings.)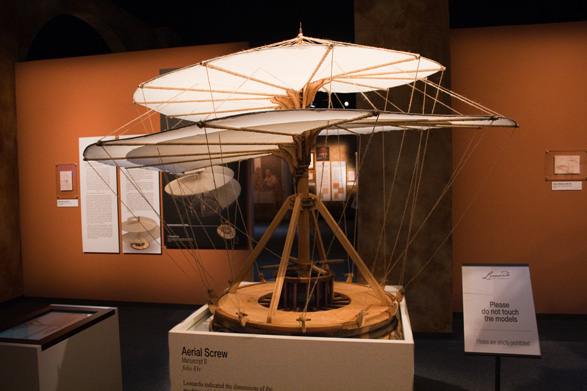 Venture into the mind and life of the ultimate Renaissance man during
Leonardo da Vinci's Workshop: Inventor, Artist, Dreamer
at the Franklin Institute from February 5 – May 22, 2011.
Explore model replicas of da Vinci's inventions including flying machines, robots, car and weapons of war recreated from his personal notebooks using materials and techniques from the 15th and 16th centuries. Visitors can also manipulate hundreds of interactive models using computer touch screens placed throughout the exhibit.
Highlights include:
The Great Kite
, da Vinci's "definitive" flying machine, the world's first working prototype of his
Self-Propelled Cart
, a
Harpsichord-Viola
designed over 500 years ago and the first physical model of his
Mechanical Bat
and
Mechanical Lion
. Visitors can also browse through interactive, digitized versions of Leonardo da Vinci's famed codices containing more than 500 sketches translated into 3-D models and examples of Leonardo's "mirror writing."
Tickets range from $17.50 – 24.50 with discounts available for Franklin Institute Members.
Click here to purchase tickets
or call 1-877-TFI-TIXS.
Bring your whole family in February for a fun-filled day at the New Jersey State Museum. There is something exciting for everyone! Take part in
Sunday Explorers
workshops, enjoy a
FREE
live performance on
Second Saturdays
, sit back and gaze at the night sky following any one of our spectacular full-dome
Planetarium
shows, or learn about endangered animals during the
Saturday Science Lecture
. Visit the website or view our
February calendar
for a complete list of this month's exhibitions and programs.
Stroll through many
galleries
and discover amazing and sometimes little-known facts about New Jersey and America. Go on a museum scavenger hunt! This month focuses on US presidents.
Click here to print your check-list!
Saturday & Sunday
1 pm: One World, One Sky
Ages 3 to 6 with adult
Elmo and Big Bird live in the United States and Hu Hu Zhu lives far away in China, but they discovered that they still see the same stars at night!
2 pm & 4 pm: Ultimate Universe
General Audiences. Go on a grand tour of the Universe and discover its most captivating secrets.
3 pm: STARS
General Audiences. Through every phase of their existence, stars release the energy that powers the Universe. Journey to the farthest reaches of our galaxy and experience both the awesome beauty and destructive power of STARS.
General Admission: $5 per person
Programs are approximately 40 minutes. Please call (609) 292-6333 for more information.
Bashi: The Journey
February 12 at 12:30 & 2:00 pm
Join us on a journey of rhythm. Feraba delivers a soul-inspiring and captivating combination of traditional instruments, vocals and energetic dance. Performers from four continents fuse tap, hip-hop, body percussion and traditional West African songs and dance into an electrifying art form that truly reflects the melting pot that is America.
Presented in partnership with Young Audiences New Jersey: Youth Stages. Please note that Free Second Saturday admission applies only to the live auditorium programs and not to the Planetarium screenings.
Quilt Designs at 1:00 pm
Children create their own paper quilt using the American and African-American Story Quilts on display in
Pretty Big Things: Stories of New Jersey.
African Drums at 2:00 pm
With plastic cups and tissue paper, children construct their own African-inspired drum. Each workshop is $3.00 per person.
Explore, Discover, Learn! through hands-on activities that bring the Museum's exhibitions to life. Children and their adult chaperones are invited to participate in hands-on workshops in the Museum's Learning Center on the 1st and 3rd Sunday of each month. A different pair of exhibition-specific activities are offered each month; workshops start at 1:00 pm and 2:00 pm and run for about 45 minutes. Seating is limited to 20 participants so please arrive early ~ participation is on a first come, first serve, basis.
Afterschool Walkabout - Winter Tracking
Wednesday, February 16
th
3:30 p.m. to 4:30 p.m. Fairview Farm Wildlife Preserve, 2121 Larger Cross Road, Bedminster
There is no charge for this program, but registration is required by Tuesday, February 15th
Children between the ages of 6 through 10 are invited to an afternoon hike at Fairview Farm to look in the mud and snow to see what types of wildlife has been walking around! Fairview Farm Wildlife Preserve is a 170-acre former dairy farm that is home to URWA. Its streams, fields, forests and pond are home to many creatures that are active in winter. We may see the tracks of mammals including deer, rabbit, mink, fox and others, and we'll also check out the footprints left by overwintering birds. For more information and to register, please contact Lauren Theis at (908) 234-1852 ext. 12 or via email at
ltheis@urwa.org
.
Take a Hike - Cushetunk Mountain
Sunday, February 20
th
10:00 a.m. to Noon Cushetunk Mountain Preserve, Old Mountain Road in Lebanon. Park in the gravel parking lot off of Old Mountain Road, near the railroad tracks.
There is no charge for this program, but registration is required by Friday, February 18th
Join the Upper Raritan Watershed Association for a hike along the trails in the Cushetunk Mountain Preserve. Cushetunk is part of a ring of mountains in Clinton Township that were formed by volcanic activity during the Triassic Period over 160 million years ago. The Lenni Lenape Indians referred to this area as "Cushetunk" meaning "place of hogs" due to the wild hogs that roamed the mountains.
In the 1960s, the valley at the heart of the Cushetunk Mountains was dammed and filled with water to create Round Valley Reservoir. Today, the mountain and its accompanying lake act as a vital water supply to Central New Jersey.
Due to the steep incline of these trails as you approach the ridge leading to the Round Valley Reservoir, this hike is considered difficult.
For more information and to register, please contact Lauren Theis at (908) 234-1852 ext. 12 or via email at
ltheis@urwa.org
.
Environmental Education Center
in Basking Ridge
190 Lord Stirling Rd, Basking Ridge, NJ • 908 766-2489
The Environmental Education Center has lots of programs for kids – check out their
Winter Classes
. Note: a link to the EEC schedule of events is located in the "Useful Links for Families" at the top right side of our
blog
(along with many other calendars for local events from other local organizations.)
Let Your Fingers Do the Walking:
Children's authors in the news: Here's an interesting story from National Public Radio:
A Parade, Restored: A Maurice Sendak Mural Goes From Bedroom To Gallery