@ the Library: Programs
Toddler Time resumes Wednesday January 12th at 10 & 11 a.m. and Thursday January 13th at 10:30 a.m. Baby Lap Sit resumes Thursday January 13th at 9:30. Family Story Time resumes Tuesday January 18th at 10 a.m. and 1:30 p.m. (NOT at 1 p.m. – there is an error in our printed calendar.) For full details on this and other programs, see the Bridgewater Library Online Calendar.
And don't forget – you can attend programs at any of our NINE member libraries – just click on the "Events/Programs" tab at the top of our home page (or on the right side of our children's home page) for schedules and information.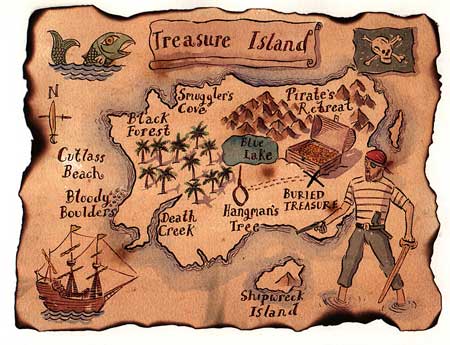 'TREASURE ISLAND' presented by the Trilogy Repertory Company
(For ages 4 and up) Saturday Jan. 22, 10:30-11:15
No
Registration Required.
Join Trilogy Repertory Company as they perform their version of Robert Louis Stevenson's TREASURE ISLAND! An exciting and interactive theater experience for young children!
Picture This! The Art of David Weisner
(For grades K - 5)
Registration Required.
Monday January 24, 2011 4:30 PM to 5:30 PM Celebrate the creativity of David Wiesner as we create art inspired by his newest book 'Art & Max.'
Rocket Readers
Tuesday January 25, 2011 4:30 PM to 5:30 PM Limited to grades 1 to 3
Registration Required.
Mr. Putter and Tabby Write the Book
by Cynthia Rylant Mr. Putter has always wanted to write a mystery novel--and Tabby is happy to help.
An exciting program for brand new readers! At each program we will discuss a book, play some games and create a "book-tiful" craft related to the story. Students should read the book prior to the program. Copies of the book will be available at the Youth Services Reference Desk. Pick up a copy when you register. Please, bring the book to the program.
Birds of a Feather
(for Families with children ages 4 and up) Wednesday, January 26. 7:00 – 8:00 p.m.
Registration Required.
Not all birds fly south in the winter. Parents and children explore & learn all about birds, and how we can all help the beautiful birds in our area throughout the cold winter months. Please bring a shoebox or other small box in order to take home your homemade bird "feeder".
Brrrr…Spectacular Winter Craftacular!
(For ages 3 - 8) Saturday January 29, 2011 10:00 AM to 10:45 AM Join us for some wintry stories and songs then create a craft that won't melt away!
Registration Required.
Second Annual Teen Talent Show
Attention students in grades 6 – 12
Think you've got talent? The Bridgewater Library will be holding its second annual Talent Show! Prizes will be awarded in several categories. All students in grades 6 - 12 who are eligible for a Somerset County Library System Library Card are invited to participate. Refreshments will be served following the performances.
All acts must complete an application in person at the Bridgewater Public Library. Only the first 20 applications received will be accepted due to time restraints.
Applications will be available beginning Monday, January 3rd 2011 and
MUST
be returned to the Bridgewater Library by 5:00 pm January, 28th 2011.
If you are not interested in performing but want to come and check out your friends' and classmates' talent, just
register to be a member of the audience on-line, or give us a call at 908-526-4016 ext.126 beginning January 3rd 2011. Audience members must be in grades 6 – 12.
Lego Club (For Grades K - 2)
Saturday February 5, 2011 1:30 PM to 2:30 PM
Lego Club (For grades 3-6)
Saturday February 5, 2011 3:00 PM to 4:00 PM
Here's a club just for you! Get together with other Lego-maniacs, share ideas and tips on building, and have a great time! Library Legos will be available for building.
Registration begins January 21st.
See previous creations at:
http://www.flickr.com/photos/bwljuv/
@ the Library – Displays & Materials:
Congratulations to the new Caldecott, Newbery, Siebert and Geisel winners!
Past
Caldecott, Newbery, and Siebert Award-Winning Books
will be display on the bookcase behind the Youth Services Reference Desk all month long. Check out our
Children's Home Page
for links to current and past winners and honor books (on the left-hand side) plus links to our librarians' favorite titles of 2010 as well as oodles of other wonderful links of interest to kids, teens, parents and teachers.
We continue with
"New Year, New You"
-- books and dvds on
nutrition, exercise
and
physical, mental, and emotional health
available atop our magazine shelves. And take a look at the ongoing
"Who Needs Math?"
display above the picture books section.
And for those of you who received eBook readers over the holidays, the library has eBooks (and e-audio) for checkout. Find them
here
or by selecting "digital media" on the search screen of our catalog at
http://catalog.somerset.lib.nj.us/search
.
Around the Community:
Jan 2 - FEB 13 NATURE THROUGH A CHILD'S EYES / ART EXHIBIT.
This children's environmental art exhibit showcases over 250 pieces of art by children of Somerset County. Free. 9am - 4:30pm daily. ADA accessible. Environmental Education Center, 190 Lord Stirling Road, Basking Ridge. 908-766-2489.
www.somersetcountyparks.org
Jan 28
GOLDEN DRAGON ACROBATS.
Golden Dragon Acrobats combine award-winning acrobatics and traditional dance with ancient and contemporary music to present a show of breathtaking skill and spellbinding beauty that represents the best of a time honored tradition. Tickets: $25. Friday at 7PM. The Theatre at Raritan Valley Community College, 118 Lamington Road, Branchburg. (908) 725-3420.
www.rvccArts.org
Duck for President, Fancy Nancy & Other Story Books TheatreworksUSA Sun., Feb. 6 at 1PM & 3:30PM
Tickets $10 & 12.
An all-new musical revue featuring mini-musicals based on best-selling children's books (stories subject to change):
Duck For President, Fancy Nancy, Babymouse: The Musical, I Have To Go!, Leonardo, The Terrible Monster
and
Pirates Don't Change Diapers.
The Theatre at Raritan Valley Community College, 118 Lamington Road, Branchburg. (908) 725-3420.
COMING TO A PLAYHOUSE NEAR YOU: A CONDENSED BARD
Do you (or your high school student child) find Shakespeare a drag? Well, once they've seen this comic romp acting out all 37 of his plays, they'll never groan again:
The Compleat Works of Wllm Shkspr (abridged)
WHEN:
Opening January 21–30, Friday and Saturday nights at 8 PM; Sunday , January 30, at 2 PM
WHERE:
Edison Valley Playhouse, 2196 Oak Tree Road, Edison
TICKETS:
$15 adults and $12 students and seniors. Tickets can be reserved by calling
908.755.4654
or visiting
www.evplayhouse.com
.
Looking for more things to do? – access our links to area activities and interesting websites listed on the right hand side of the Bridgewater Library Youth Services blog at
bwlibys.BlogSpot.com
.
Let Your Fingers Do the Walking:
Looking for something interesting to do with your kids when they are stuck inside on a cold day….check out the wonderful resources on our
Children's Home Page
. For example, we have a list of author & character websites full of online games, activities, coloring sheets, and more at our
Children's Home Page – Good Reads/Characters & Authors
tab (from our homepage
www.somerset.lib.nj.us
, select the "kids/teens" tab, then "kids", "good reads", and "authors & characters.") While you are there, check out the myriad other wonderful links our librarians have provided in our kids & teen homepages including"fun links," "award winners," "homework help," "resources for parents & teachers," "children's programs," and more!