---

TEENS – Want to Volunteer at the Library this Summer? Applications are now available HERE and must be submitted by April 28th.

---
LOOKING FOR HOMEWORK HELP?
GET IT AT THE LIBRARY!


Bridgewater Homework Help Center
Tuesday and Wednesday nights 6:30 PM - 7:30 PM.


---
Tween S.T.E.M. Challenge (Grades 4-6) Monday, April 25, 2016 7:00 PM - 8:00 PM Registration required. Who can build the strongest boat out of straws? Who can make a paper airplane that flies the farthest? Let's test our S.T.E.M. skills with some everyday objects!

---
Note: There will be no baby/toddler/PJ/storytime programs the week of April 25th. These will resume the week of May 2nd.
Storytime (For Ages 3-6, siblings welcome) Tuesdays 10:00 a.m. Second session at 1:30pm.
Toddler Time (For Ages 18 months-36 months) Wednesdays, and Fridays at 10:00 a.m.
Baby Time (For ages birth - 18 months) Thursdays 9:30 a.m.
Pajama Time (all ages) Wednesdays at 7:00 p.m. (PJs optional)
No Registration Required for any of these. Join us for stories, songs, movement and fun!

---
Click HERE to register for these programs.
AROUND OUR AREA:
ASTRONOMY DAY Saturday, April 23, from 2-5 p.m. and 6-9 p.m.
WHERE: RVCC Planetarium, 118 Lamington Rd., Branchburg
ADMISSION: Astronomy Day activities are free of charge, but there are costs for the Planetarium star shows and laser concerts being offered on April 23. These include Earth, Moon, Sun & Coyote, 3 p.m.; Laser Magic, 4 p.m.; Two Small Pieces of Glass, 7 p.m.; and Pink Floyd's Dark Side of the Moonlaser concert, 8 p.m.
Planetarium show tickets cost $8 for one show or $14 for two shows on the same day. Reservations are strongly suggested for all Planetarium shows. For additional information, call 908-231-8805 or visit www.raritanval.edu/planetarium.
The event will feature hands-on activities celebrating astronomy and science. Those attending may observe the Sun (safely) and the Moon through telescopes. Other activities include learning to use one's body to tell time on a sundial and examining the size differences between Earth and Moon. The 3M Observatory, located next to the Planetarium, will be open for solar observing during the day and examining the Moon and other celestial objects in the evening sky. The event is appropriate for families with children ages six and older.
Rockin' Rocket Ride Saturday April 30, 3 p.m.
Put on your space suit and blast-off into outer space to visit the Moon, Sun and planets. The show offers a lively experience for young people, with selected music from Journey Into Space by Jane Murphy. (Recommended for ages 3-8)
Earth, Moon, Sun & Coyote Saturday, April 23, 3 p.m.
Coyote has a razor-sharp wit, but he's a little confused about what he sees in the sky. Join this amusing character (adapted from Native American oral traditions) in a fast-paced and fun, full-dome show that tells Native American stories, explores lunar phases and eclipses, and examines other puzzles. Engaging and immersive, "Earth, Moon & Sun" also investigates how humans learn through space exploration. (Recommended for ages 6-12)
SkyLights Saturday, April 30, 4 p.m.
Enjoy a laser concert while the youngest audience members can sing along with songs by mr. RAY ("Family Ride," "Kalien the Alien") and Jane Murphy "(Moon Rock Rock," "The Planet Song"). Some songs are illustrated with lasers, while other songs feature video images. (Recommended for ages 3-8)
Laser Magic Saturday, April 23, 4 p.m.
Enjoy a laser and video concert featuring songs by a variety of artists including "We Are All Made of Stars" by Moby, "We Will Rock You" by Queen, "Best Day of My Life" by American Authors, and "Let It Go," sung by Idina Menzel. (Recommended for ages 6-12)
Two Small Pieces of Glass Saturdays, April 23, 30, 7 p.m.
Trace the history of the telescope from Galileo's modifications to a child's spyglass—using two small pieces of glass—to the launch of NASA's Hubble Space Telescope and the future of astronomy. Explore the wonders and discoveries made by astronomers throughout the past 400 years.

---
---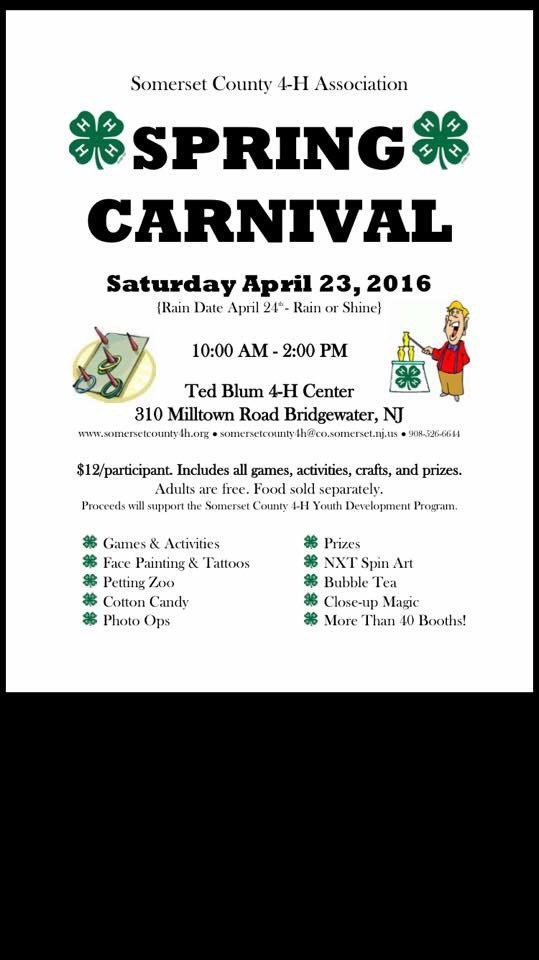 ---
SOMERVILLE - A community cleanup in the borough is being held on April 23, Earth Day, kids & adults are invited to clean up litter and other debris throughout the borough's parks, brooks and other public areas.
Last year's cleanup yielded many large garbage bags of litter, as well as bicycles, tires, shopping carts and construction materials which had been deposited in the brooks.
Those interesting in helping should meet at the Somerville High School Parking Lot at 9 a.m. April 23 where clean up assignments will be given. No pre-registration is needed. Work gloves, trash bags, and refreshments will be provided.
Tree seedlings pickup information and the annual May 1 Arbor Day event agenda will also be distributed. Educational displays and speakers will be present to answer questions and give guidance on tree planting and rain gardens.
Local Girl Scout, Boy Scout, school, and youth groups are welcome to help in the clean-up. Adult volunteer groups are encouraged to assist.
---
WHEN: April 9-24: Saturdays @ 2pm and 5pm, Sundays @ 11am and 2pm -- Sunday, April 24 @ 5pm Special Needs Inclusive Adjusted Performance
WHERE: Mile Square Theatre, The Artisan, Hoboken
TICKETS: Adults: $25 • Children and Seniors: $15
Purchase tickets at www.milesquaretheatre.org
GOODNIGHT MOON is recommended for ALL audiences 4 years and up. Approximate run time: 75 minutes

---