Also we've gone to a new format, with just the titles of the programs, please click on the titles to read more and register.
Programs for Children @ the Bridgewater Library:
April is National Poetry Month Sunday May 4th is the last day to turn in your solved secret message in the Poetry Treasure Hunt….. Come to the Bridgewater Library, get the clue sheet, look for the poems, solve the puzzle, and win a prize! More information is available at the Youth Services Desk!
Storytime (For Ages 3-6, siblings welcome) No Registration Required. Tuesdays 10:00 a.m. Second session at 1:30pm.
Play Group (ages Birth to 3 years) Monday May 5, 2014 10:00 AM to 10:30 AM Story Well. No registration required. Repeats May 12th.


Tail Waggin' Tutors: Children Reading to Dogs (Ages 4+) Tuesday, May 6th (Registration begins April 1) 4-5pm. Phone or In-Person Registration Only


Family Night Storytime (All Ages) Tuesday May 6, 2014 Story Well 7-7:30pm No registration required.


Lego Club (Grades K-6) Thursday, May 8 4:30 pm - 5:30 pm. Registration is required.


Rebel the Pirate Pony (For all ages) Monday, May 12 from 4:30-5:30 pm. Registration required and begins on April 28. Ahoy Mate! Come to the library to meet Rebel the 'Pirate Pony' from the Lord Stirling Stable. Learn about horses and ponies, and listen to the story about Rebel's quest to become the most fearsome Pirate Pony Somerset County has ever seen. Come dressed as a pirate and you too can be part of Rebel's crew!
Music and Movement (Birth to 3 Years)
Monday May 19th
.
10:00 AM & 11:00 AM (Ages Birth - 3 years) No registration required.
Click HERE for the complete calendar of May events.


@ Bridgewater Library for Tweens and Teens:


Make a Difference @ the Library! (Volunteer Opportunities for Grades 5 - 6) Monday, May 5th 7:00 pm - 8:00 pm Registration required . Want more info about upcoming programs? Check out the May teen calendar here.
Open Mic Cafe Night (Ages 13+) on Thursday May 22nd
from 6:45-8:45pm. Registration required to perform.
TAB Meeting (Grades 6-8)
Tuesday May 27th, 5:30 PM to 6:30 PM.
TAB Meeting (Grades 9-12)
6:30 PM to 7:30 PM Registration Required.
Do you want to make a difference at your library? Do you have suggestions for programs, new books, movies, or video games? Then come to one of our upcoming T.A.B. meetings! Community service hours will be awarded for attendance and snacks will be served!
Around the Community:
Registration begins May 7th -- more details here: http://www.somersetcountyparks.org/parksFacilities/eec/EEC.htmlPLANNING AHEAD FOR SUMMER….
if you are interested in other Summer Camp Opportunities, check the lower portion of this blog:
http://bwlibys.blogspot.com/2014/03/tonightmarch-20thcelebrate-world-day-of.html
Learn more about the festival HERE.
CLOSER TO HOME, CHECK OUT SUPER SCIENCE SATURDAY AT THE NEW JERSEY STATE MUSEUM IN TRENTON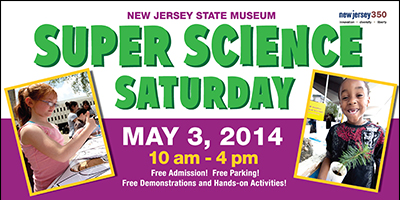 Fun hands-on family activities, free admission and parking! Now open- Meet real scientists at the Museum's new Innovation Lab and Learning Center! See Hadrosaurus foulkii- New Jersey's very own State dinosaur.
read more
7th Annual Dinosaur Day
WHEN: Saturday, May 3, 10 AM–4:30 PM
ADMISSION: Activities free with suggested admission unless otherwise noted.
Join in a fun-filled day of activities for the entire family.
Roaring, breathing 15 ft. T-Rex from Field Station: Dinosaurs
Live Reptile & Bird shows
Geological Demonstrations
Fossil Rubbings
Shark Tooth Fossil Dig
Planetarium shows*
Meet Dora the Explorer
Hurricane Simulator* —Experience winds up to 80 mph
Enjoy "Dinosaur Sandwiches" from the restaurant-parter Dinosaur Bar-B-Que*.
*With additional charge
Artwork by Dan Fenelon
"Hooray for May!", a free family art day at The Center for Contemporary Art, will take place on Saturday, May 10th from 1-4 p.m.
"Hooray for May!" will bring together families from the local community for a fun and interactive day of making art. A variety of hands-on art activities for kids of all ages and parents alike will take place in The Center's three art studios and in the outdoor pavilion, and include a variety of creative projects to keep or give on Mother's Day.
A highlight of "Hooray for May!" will be a unique art experience led by renowned New Jersey artist and muralist Dan Fenelon, who will work directly with families to help them create large, vibrantly-colored banners that will be prominently displayed in local business locations throughout the Bedminster area. Fenelon has created murals across the United States including the Peace Mural that welcomed the Dalai Lama to the 2011 Newark Peace Summit.
Rounding out the afternoon will be family-friendly guided gallery tours of The Center's current exhibitions, an art story time, a community hula hoop weaving project, and a creative do-it-yourself photo booth. Light refreshments including Friendly's ice cream, cupcakes from Pirate Cupcake Baking Company, and Herr's potato chips in a variety of flavors will be available. All children attending "Hooray for May!" will receive a "swag bag", and student members of The Center will receive a special gift. Free t-shirts will be given out to the first fifty children.
Participation in "Hooray for May!" is free thanks to the generous support of Lead Sponsor Investors Bank.


30TH ANNUAL FAMILY FUN DAY at LORD STIRLING STABLE IN BASKING RIDGE
Games on horseback are the centerpiece of this fun-filled day at Lord Stirling Stable, but that's not all we've got! Free pony rides and hayrides make horses accessible to everyone; local vendors offer their specialties for sale; and child-friendly arcade games ensure that everyone is a winner. The Friends have food and beverages available for purchase, so bring the kids, bring your appetite, and enjoy a day on the farm. (co-sponsored by the Friends of Lord Stirling Stable) May 4 8am – 4pm Lord Stirling Stable, 256 South Maple Avenue Basking Ridge
908 766 5955
Little Women—The Musical
Book by Allan Knee
Music by Jason Howland
Lyrics by Mindi Dickstein
Adapted from Little Women by Louisa May Alcott
WHEN: May 2 – 17; Fridays and Saturdays, 8 PM; Sundays, 2 PM
WHERE: The Strollers @ The Burgdorff Center for the Performing Arts, 10 Durand Road, Maplewood TICKETS: $20; $16 seniors & students
Little Women, based on Louisa May Alcott's classic 1869 semi-autobiographical novel, focuses on the four March sisters—brassy, tomboy-like, aspiring writer Jo; romantic Meg; pretentious Amy; and kind-hearted Beth—and their beloved Marmee, at home in Concord, Massachusetts while the family patriarch is away serving as a Union Army chaplain during the Civil War. Intercut with the vignettes in which their lives unfold are several re-creations of the melodramatic short stories Jo writes in her attic studio. It is a heartfelt story about the importance of family and how life and love changes you. It is a family-friendly musical appropriate for ages 8 and up.


IRREVERENT LOOK @ ROBIN HOOD LEGEND @ DUNELLEN SKYLIGHT THEATRE
ROMEO AND JULIET
by William Shakespeare
directed by Erik Hall
produced by Faith Dowgin
WHEN: April 25-May 10; 8 PM Fridays and Saturdays; 3 PM matinee Sunday, May 4. A wine and cheese reception and a celebration of William Shakespeare's birthday will follow the opening night performance.
WHERE: 416 Victoria Ave., Piscataway
TICKETS: www.circleplayers.com. ($1 per ticket discount online.)
One of Shakespeare's most well-known tragedies, it is the story of two star-crossed lovers whose untimely deaths ultimately reconcile their feuding families. This contemporary production places the Bard's timeless words into a modern setting—a private school. (This is a perfect opportunity to introduce teenagers to the 16th century world of Shakespeare while still making the play relevant to their lives.)
BARNUM
Book by Mark Bramble, lyrics by Michael Stewart, and music by Cy Coleman
Directed by Jeffrey Fiorello
Musical Director Jack Bender
Choreographed by Megan Ferentinos
WHEN: May 9 – 24; Friday and Saturday 8 PM; Sunday 3 PM
WHERE: Chatham Playhouse, 23 North Passaic Avenue, in Chatham
TICKETS: ccp.ticketleap.com. What happens when you set a Broadway musical at the circus? Let's just say you may want to "Join the Circus like you wanted to, when you were a kid."

SHREK—THE MUSICAL
WHEN: April 25 – May 4; Friday and Saturday at 8 PM; Sunday at 3 PM
WHERE: The Count Basie Theatre, 99 Monmouth Street, Red Bank, New Jersey
TICKETS: visit the website! or call 732.747.0014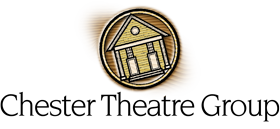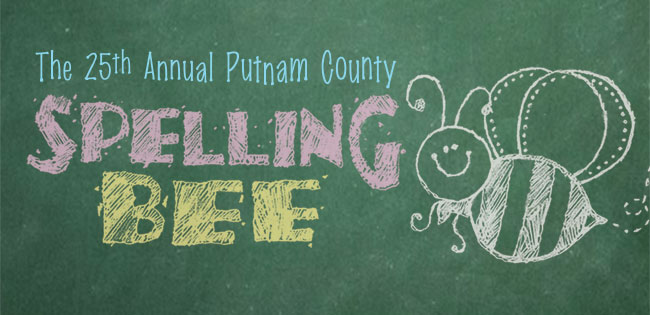 May 2nd - 18th at Chester Theatre Group
Six young people in the throes of puberty vie for the spelling championship of a lifetime overseen by grown-ups who barely managed to escape childhood themselves. Along the way, they learn that winning isn't everything and that losing doesn't necessarily make you a loser. A hilarious tale of overachievers angst set to music.

2014 Summer Theater Academy June 30 – July 25, 2014
View Class Descriptions and Prices for Ages 5 - 8
View Class Descriptions and Prices for Ages 9 - 12
View Class Descriptions and Prices for Ages 13 – 18
George Street Playhouse's Summer Theater Academy celebrates each student's creative expression; providing a fun, engaging environment to explore theater, develop self-confidence, and collaborate with others. Contact Diana Gundacker 732.846.2895 x117 for more information.
RVCC Planetarium
Public Star Shows
Astronomy Shows & Laser Concerts
Thanks to Ruth Ross of njartsmaven.com for some of these listings….